PHOTOS
Great Britain
1996
Great Britain
and Finland
1998
Travelogue: Texas and More
October and November 2006
By Roger W. Reini



By date:

October: 26 | 27 | 28 | 29 | 30 | 31
November: 1 | 2 | 3 | 4 | 5 | 6 | 7 | 8 | 9 | 10 | 11 | 12

Prologue

Soon I shall begin my next long-distance trip. This trip will take me to Texas for my high school reunion. It will also take me to St. Louis and Branson, Missouri – and that's just on the outbound portion. As of this writing, I don't know how I will return to Michigan.

The Branson portion of the trip is a dry run for a planned family outing next June, where relatives from Michigan, Tennessee and California will gather in a more-or-less central location. The St. Louis portion, besides being on the route from Michigan to Branson, will be an overnight stop for me as well as an opportunity to attend a ham radio swap meet. But it is taking on additional significance, for Detroit and St. Louis are to meet in the World Series. The day I arrive in St. Louis is scheduled to be the off-day between games 5 and 6, if they are necessary. The Series could also be over by then, too.

Top

Thursday October 26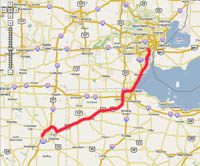 I knew I needed a vacation for quite some time, and finally the day was here. I could put aside questions of work for a little over two weeks. But not until the afternoon; today was still a work day, and I needed to take care of things before I left.

I woke up fairly early, as usual. I had loaded the car with most of my luggage and gear last night, and this morning I would finish the job. When I left the house around 6:15 or so, I was fully packed; I did not need to return home after work. I might have returned home had I worked at the west end of my building, though. A pipe had burst on the third floor during the night, and there was water all over the floor there as well as on lower floors. The elevator was out of order, and the escalators in that part of the building were eventually shut down. But my part of the building remained dry.

At 3:30, my work day was done. I went to my car and rolled out onto Oakwood Boulevard, listening to MLB Home Plate on XM Radio. Ever since the playoffs started, I'd kept the radio on that channel, rarely tuning away. Naturally, the discussions revolved around the World Series, game 4 of which was tonight in St. Louis. Due to a rainout last night, this was game 4 instead of game 5.

I got onto the Southfield Freeway, which became Southfield Road, then took Dix Highway to I-75. There was some construction in the Downriver area, and that slowed traffic a bit. It was an uneventful drive to and through Toledo. Construction that had been present on I-475 earlier this year was all gone now. There was a little slowdown at the intersection with Highway 2, but it was minor. Before long, I was on US 24 (Telegraph Road in Detroit, Detroit Avenue in Toledo) heading southwest towards Fort Wayne. And it wasn't too long before it started to rain, though not heavily. It was a cold rain, though, as I found when I gassed up at a truck stop in Napoleon, then went inside for a restroom break, a bottle of water, and some snacks. After taking some medicine, I continued on my merry way. XM's baseball channel continued to keep me company.

By the time I arrived in Fort Wayne, it was dark. Officially, US 24 took the loop around Fort Wayne to the south – the long way around, by my reckoning. But I went north. It would connect me to I-69 just as the southerly route would, but the north way was shorter. Soon I found myself at the exit for US 24 west. The Hilton Garden Inn, my destination for tonight, was on the southwest corner. But first, I wanted some supper, and the most convenient place for me to get some was at a McDonald's on the northwest corner. Here, I had an Asian salad and a hamburger, an unusual combination, one might think. Then I crossed the street and worked my way to the hotel. This involved a path through a grocery store parking lot, for the street next to the hotel was one way, the wrong way.

When I took the elevator to my hotel room, I couldn't help but notice that on the elevator inspection certificate was a cardinal, which happened to be the state bird of Indiana. It also happened to symbolize the St. Louis Cardinals, Detroit's opponent in the World Series. I hoped this would not be a sign of the eventual outcome of the series. I checked into the room in plenty of time to watch the pre-game show and the start of the game. Unfortunately, I fell asleep during the game, not because of the quality of the play, but because I was sleepy; it had been a long day for me. Sadly, the Tigers lost and were now down 3 games to 1. If they lost tomorrow night, the Series would be over.


Top

Friday October 27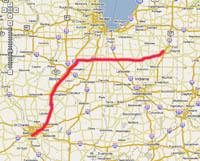 My body had not yet figured out that I was on vacation, so just before 5 AM, I found myself awake. So I showered, checked e-mail, then went downstairs for breakfast. Among the e-mails was one from Nick Lance, president of the Clear Lake Amateur Radio Club, which sponsors the radio club at Westbrook Intermediate, the Hamsters. I was planning to attend one of the Hamsters' meetings next Friday and might give a short talk. Breakfast at the hotel was not free, unlike at Hampton Inn, but you had more hot options, such as waffles, eggs, bacon and sausage, etc. It was quite good, and it gave me a good start for the day.

At 7:30, I set out for today's destination, St. Louis. This had nothing to do with the World Series, for as I said in the prologue, I planned to attend a ham radio swap meet Saturday morning. But tonight would be game 5 of the World Series, and the Cardinals were leading. If they won tonight, they would be champions. Back to my journey: I turned onto southbound I-69, but as I did so, I suddenly realized that I wanted to head west on US 24. Instead of turning right as I left the hotel, I should have turned left and stayed off the freeway. So I turned around at the next exit, backtracked, then got myself going where I wanted to go. And where I wanted to go was Route 66. The closest way to reach it was to take US 24 across Indiana and a short way across Illinois. Most of the way, it was a good road allowing me to keep good time. At one point, I passed an intersection where the road heading south led to Peru and heading north lead to Chili. What was this, South America? I listened to Baseball This Morning on XM's baseball channel in the morning, then flipped it during the Pacific time zone rebroadcast.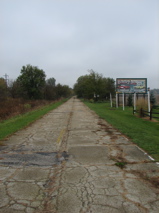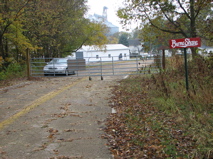 At last I reached Chenoa, and with I-55 in the distance, I turned south onto old Route 66. I had been on this stretch several times in the past, but this time I had a new guidebook with me,

EZ66 Guide for Travelers

by Jerry McClanahan. It proved its usefulness right away, as it pointed out a sight in Lexington that I wanted to visit. Memory Lane was a stretch of original 1926 Route 66 that was open to hikers but blocked to vehicle traffic for most of the year. I saw the northern end of it as I entered Lexington, then attempted to park at the southern end. There wasn't any proper parking there, so I stopped at the gates and walked onto the blocked area. I then backtracked and went to the northern end. There wasn't any parking there either, yet I parked and walked a good distance of Memory Lane. The road was two lanes, with grass poking through in many places and trees trying to form a canopy over the roadway. There were some recreated billboards and tributes, including a sequence of Burma Shave signs. It wasn't raining, yet I couldn't help but think of the words to "Is Anybody Goin' To San Antone?":



Rain drippin' off the brim of my hat,




It sure looks cold today




Here I am walkin' down 66,




Wish she hadn't done me this way.



Now it wasn't raining (though it threatened to), nor had I been mistreated in love, but I was walking down 66, and it was cold, so it seemed appropriate. I walked most of the length of the roadway, far enough that I could see the Burma Shave signs I'd noticed at the other end. I was by myself there, yet I was concerned that someone would mess with my car, which was out of sight at times (the road curved). But nobody did, so I was able to continue onward.

I stopped for gas and lunch at McLean, then continued onward to Atlanta, which was the new home for a giant statue that had been located in Cicero. The statue was of Paul Bunyan holding a giant hot dog. This was a Muffler Man statue, so named because it originally held a giant muffler. Naturally, I took pictures of the statue.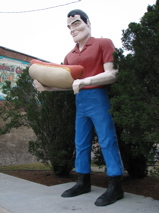 The weather remained cold and windy. Rain fell off and on. Somewhere north of Litchfield, I decided to abandon 66 in favor of I-55. With the lousy weather, it wasn't much of a scenic drive. I also wanted to avoid as much of St. Louis's rush hour as I could. So onto I-55 I went, and there I stayed until crossing the Mississippi River and picking up the beginning of I-44. The exit for southbound I-55 and westbound I-44 took me right past Busch Stadium, although there were few outward signs of the World Series. Now if the weather had been warmer, I might have stopped at the Ted Drewes Custard Stand on Route 66 in southwestern St. Louis.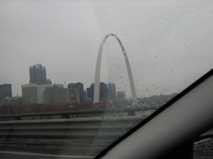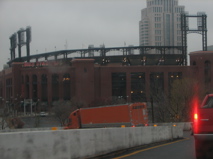 My hotel in St. Louis was at the corner of Lindburgh and Watson, right on Route 66. I missed the turnoff for the hotel, so I went through the intersection and turned into a shopping center that had a CompUSA. I went in there for a while but didn't get anything. Then I went back to the hotel and checked in. I was on the first floor at the back of the hotel, room 121.

I wasn't sure what I wanted to do for supper, but I figured I would find something at a nearby shopping center across the street from the one with the CompUSA. I had noticed earlier that there was a Borders there, and I decided to pay it a visit. These days, when you've seen one Borders, you've mainly seen them all. Naturally, the local interest section had a vastly different selection than in Detroit. Prominently featured on a table at the front of the store was a wide selection of Cardinals books and videos. I was in no real mood to look through that merchandise. However, I did find another tourbook for Branson. I also picked up Barack Obama's new book for reading on my trip. I didn't always agree with his philosophies, but he struck me as a decent man, one who might be contending for national office in the future. Afterwards, I went over to Saint Louis Bread (known as Panera Bread most places) for a sandwich and a bowl of French Onion Soup, which I took back to the hotel. I didn't want to miss any of game 5 of the World Series; St. Louis was in a position to win it all tonight, and I was rooting for the Tigers to win and send the series back to Detroit. Unfortunately, that didn't happen. The Tigers' pitchers turned into contenders for the Butterfinger Award by committing more throwing errors, allowing St. Louis to score. We had the lead but lost it and ended up losing the game and the series. Congratulations to the Cardinals, for they were indeed the better team. But wait 'til next year! I kept watching the local stations for their postgame coverage at the stadium and on the streets; the fans were very happy.


Top

Saturday October 28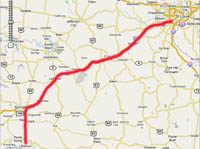 There was no paper rack on the grounds of the hotel, so if I wanted to get a copy of the local St. Louis paper, I would have to go to a nearby establishment. There was a Denny's right next door, so I went over there. The lead story was the Cardinals' championship, naturally. Undoubtedly, the Detroit News and Free Press would also have it as their lead stories, but with a vastly different slant. I read the sports section over breakfast in the lobby. The breakfast bar wasn't as fancy as yesterday's; the only hot items were French toast and sausage, but that was OK with me. The food was still good.

Now if this had been a normal driving day for me, I would have gotten an early start for the long day ahead. But I would not be setting out immediately. No, I would be attending a ham radio swap meet a few miles away. I had planned my route and stops in order to be able to attend this event, for I would be missing another swap meet this weekend back in Detroit (Sterling Heights, to be precise). Most events start early in the morning, and this was no exception. I loaded the car, wiped the windows off with a towel from the room, checked out, and headed for the event. It was a cool day, but the sun was out, a welcome change from the rain and drizzle of previous days. The meet was at the Kirkwood recreational center, which bordered a park and pond, making for a picturesque setting. The parking lot was filled with cars, many of which had one or more ham radio antennas. My car had two ham antennas, one for VHF and one for HF (shortwave), but there were others that had three or four or more. I saw one with 15 to 20 antennas on it; it had recently been featured in leading radio magazines, and I might have seen it at the big Dayton Hamvention this past May.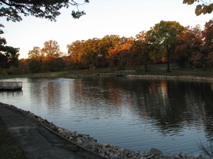 Admission was $5 at the door; I paid for my ticket, then went to the ticket drawing area in the secondary room to drop off my stub for a possible door prize. None of the vendors in this room had anything I wanted, so I went to the main room. Now I had some definite items in mind, such as an antenna analyzer and some license study material. But at the first table I visited, I was reviewing their antennas when I noticed their 2-meter quad antenna. Having only two elements, it was quite small, small enough for me to use in my condo, or even to carry in my hand. I hadn't planned on getting an antenna, but I left that table carrying the floor sample, the only one they had. Next, I visited the table of a dealer from Memphis who was carrying quite a large inventory, and among his wares was the antenna analyzer I was looking for – on sale, too! Yes, I bought it, along with an accessory package (carrying case, batteries, etc.). Another booth had the study material I wanted, so I made out quite well today. But when I got to the car, I found I had a problem. My quad antenna wouldn't fit in the back seat. Normally, it would have, but I had the seat backs lowered to accommodate the stuff I'd brought on vacation that there was much less room than normal. The trunk was full with my luggage, so I couldn't put the antenna in there. What to do? I figured out a way to disassemble the antenna as best I could, and then it went into the back seat. I hoped that I would be able to reassemble it again when I needed to. Then I took a walk around the pond to get the blood flowing. It wasn't a very long walk, just .35 mile, and I had to contend with some surly geese that hissed as I walked past.

At 8:55 AM, I left the swap meet and set off towards Route 66 and Branson. This part of Kirkwood appeared to be a nice neighborhood. A little farther along, I passed a Sports Authority store, where they would undoubtedly have Cardinals championship merchandise available when they opened. But I wasn't going to inflict myself with any of that, so I passed it by and picked up Watson Road, a.k.a. Route 66. Just west of town, the XM signal dropped out completely. At first, I thought it might have been a loose antenna connection, but that seemed to be OK. I exited I-44 briefly, intending to pull over to check the antenna, but just as I exited, the signal returned. Back onto the freeway I went, exiting again at the exit for Route 66 State Park, built on the site of the former Times Beach. I drove through there, listening to XM's MLB Home Plate and their coverage wrap-up of the World Series, along with the surprising news of Joe Niekro's death at age 62 from a brain aneurysm. He had been one of the Astros's star pitchers in the late 70's and early 80's and had a son (Lance Niekro) who played for the Giants.

The McClanahan Route 66 guidebook was always close by, and that proved very useful as I followed the Mother Road across the state. There were Historical Route signs, but nowhere near as many as in Illinois, and there were times when I would have gotten lost had it not been for the guidebook. For those times when I misread the book and did get lost, the GPS helped me get back on track. I stopped at a Wal-Mart Supercenter in Sullivan for a restroom break and an opportunity to pick up some Atkins snack bars. I continued southwest through areas I'd visited before, such as Cuba and Rolla. In the town of Waynesville, I misread the guidebook and turned north when I should have kept going straight, and this put me several miles out of my way. The GPS tipped me off when I failed to see I-44 appear as expected. When I realized my error, I got quite upset, but then I turned around and got back on track.

When I reached US 65 at Springfield, it was time to leave Route 66 and head towards Branson. The drive there was uneventful, and I eventually found myself on the north side of Branson. Now I had a map showing me how to follow a special crosstown route (the Red Route) to bypass the congestion of Highway 76 through the center of town. Parts of this route were still fairly undeveloped, but other parts were lined with hotels, businesses and the occasional theater. The area was also quite hilly; anyone riding a bicycle here would have to contend with some lengthy grades. I passed Yakov Smirnoff's large theater, which was visible from Highway 65. I also passed musician Shoji Tabuchi's theater (tickets to his shows are said to be the most expensive in town) before arriving at the Hampton Inn on Highway 76. The hotel was fairly nice, but I couldn't get a wireless signal. Part of the problem, I would learn at the desk, was due to a bad access code given at the front desk. The correct code worked, but only in the lobby. The room was still out of luck; it appeared to be out of range. But I didn't stay in the room that long, for I had other things to do.

As I said in the prologue, this trip to Branson was something of a dry run for a trip planned for next summer. In order to give my relatives a feel for what the town looked like, I took my video camera and went around town with it. Traffic was moving quite slowly on the Strip, making it easy to take video and make comments as I crept along. I passed by Mickey Gilley's theater, a successor to the original Gilley's in Pasadena. There was a theater featuring a Beatle tribute band, and not far from there was the Jim Stafford Theater, where I would attend a show later that evening. I passed by so many theaters, I could hardly remember them all, but I know I passed some of the longest-running shows in town, the Baldknobbers and Presley's Country Jamboree (no relation to Elvis). I eventually went into downtown Branson, then turned north to pick up the Red Route and return to my hotel.

Now when I selected my hotel and my show for tonight, I had thought they would be located close together. Well, the hotel was farther away from the theater than I thought, but my drive convinced me that I could easily walk between them. So I set off towards the theater, but at the same time I was looking for a place to have supper. The first restaurant I came to was connected to Mickey Gilley's theater, so that's where I went. The hostess was wearing a jersey from the original Gilley's in Pasadena, which burned down in 1989. I hadn't seen one of those long-red-sleeved, white-bodied shirts in a LONG time! They were fairly common during my high school days; I never had one, though. I could see the merchandise area from my table; no, those shirts weren't offered, but ones promoting the current location were. You could also get several Mickey Gilley CD's, as well. Now what did I have tonight? I had a ribeye steak with baked potato and a salad; it was very good. Since I hadn't had a proper lunch today, I was quite hungry.

The Jim Stafford Theater was almost directly across the street from the Gilley theater and restaurant, so it wasn't very long before I was there. The box office was inside the theater, and I claimed my ticket and walked around the lobby for a while before taking my seat. There was a gift shop and a concession stand, and around the lobby were several mementos of Stafford's career. The gold record for "Spiders and Snakes" was hanging on the wall in the concession stand area. After using the bathroom, I took my seat, front row center – actually, slightly stage right of dead center. The stage itself was eye level from my seat, so I had to look up during the whole show. No problem with that, for I was very close to the action. In fact, I got to shake Stafford's hand after the opening number (he shook everyone's hands in the first few rows). The show itself featured a mix of music and comedy (he was an excellent guitar, not to mention his 9-year-old daughter G. G., an accomplished pianist and harpist in her own right. During intermission, one could buy a 3-DVD set that included a disc of tonight's performance, along with two other historical performances. I decided to get one, not only as a souvenir for myself but also to take back home and show my family members what I saw. In fact, I was part of it. The hand-shaking was shown on a video screen during the performance and was part of the DVD. Also on the DVD was an intermission interlude where the camera focused on individuals in the audience and showed funny captions. I got one: "Spent 15 minutes combing his hair – then left it at home." We'll want to take in some shows when we come here next year, and this may well be one of them. I would recommend it.

Top

Sunday October 29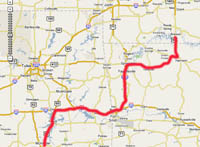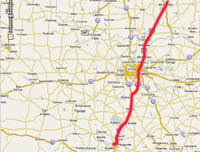 Ahead of me lay a long day of driving. My desired destination was Austin, Texas, over 600 miles away. Could I do it in a day? I was sure I could, for I've done 600 miles in one day on many occasions. When doing such long drives, it helps to get an early start, and that's what I did. I was on the road shortly after 5:30 AM, which meant I left before the hotel started serving breakfast. Unlike yesterday, there was hardly a vehicle on the Strip as I cruised through town. I could see the faint glow of sunrise in the southeast as I drove southward on US 65 heading towards Arkansas. I was listening to WJR from Detroit early on in the drive; they were carrying coverage of the pre-race activities for the marathon. My chiropractor runs marathons, so I'm sure he was downtown that chilly morning preparing to race in two countries (the route extends into Canada for a few miles).

As I neared the Fayetteville area, I stopped for breakfast at McDonald's. The restaurant had an aviation theme, which presumably meant that an airport was nearby (I saw it as I was leaving). I got onto I-540 and traveled towards Fort Smith, and then when it intersected I-40, I took that freeway into Oklahoma. There was hardly a cloud in the sky for my trip today, a great weekend for driving to make up for the lousy weather of Thursday and Friday. Satellite radio was my companion for most of the day; in the morning, XM, but I switched to Sirius in the afternoon to keep up with the NFL action. The Lions had a bye week, so they weren't playing, but the Texans were. I couldn't find their game, though, so I kept it on the main NFL channel, which constantly updated every game as they progressed, taking you to the action at key times. It turned out there wasn't much action in the Texans' game, as they were being beaten by the Titans.

My drive took me through the community of Checotah, Oklahoma. I had been through here before in May 2005, and at that time, I remember seeing a few signs cheering on their hometown girl competing in

American Idol

, Carrie Underwood. Well, she won the competition, and this year, there was a big sign on I-40 trumpeting that fact.

I didn't have lunch today; instead, I nibbled on what I had in the car, wanting to make time. On the ham radio, I made contact with a ham driving back from a camping trip to Lake Texoma, but it was only a short contact because we were driving in opposite directions and wouldn't be in range very long. I called my aunt Marie and uncle Bill from the road; it turned out he went to the swap meet in Sterling Heights. After crossing into Texas, I tried calling Keith Zabalaoui, wanting to advise him of my progress, but I got no answer (I would be staying with him for a few days). Onward I went down US 75 through Denison, Sherman (home of the Buck Owens Freeway – he was born there, though I connect him more with Bakersfield, CA), the northern Dallas suburbs, downtown and central Dallas (lots of traffic heading for the zoo), and then I got onto I-35E, which became plain old I-35 south of Waxahachie and took me through Waco, Temple, and Round Rock (home to an Ikea store opening mid-November) before arriving in the Austin area.

[Details of my stay with Keith have been removed to protect the innocent, but I will keep this picture of Ping the cat: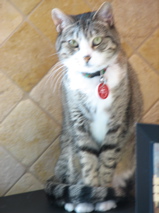 I wonder about his innocence, though ...]

Top

Monday October 30

Today was a rest day for me, having driven all or part of the previous four days. Nothing of any significance happened today.

Top

Tuesday October 31

[Details of today have been removed, but the highlights included a meal at the Oasis on Lake Travis, a trip to Fry's, and my first Halloween trick or treat duty.

And what did I get at Fry's? I found the latest version of the ARRL Handbook, which included a reprint of the January 1942 QST Magazine. That was the first one published after the bombing of Pearl Harbor and contained an order suspending amateur radio for the duration of the war. It also contained the normal technical articles and advertisements, which were fascinating to compare to today's articles and products.]

Top

Wednesday November 1

I woke up around 6 this morning and did my usual web checks and e-mail checks. I had a double breakfast of sorts this morning; the first one was a Pop-Tart, and the second were breakfast tacos. Both were good, in their own ways. The morning consisted of another session in the media room, this time watching

Saturday Night Live

with guest host Hugh Laurie and another recent

South Park

episode, this one revolving around a 9-11 conspiracy theory. I had gotten out of the habit of watching South Park, and I was enjoying getting caught back up.

The big thing today was a trip to the Salt Lick barbecue establishment in Driftwood, southwest of Austin, out in the Hill Country. It took Keith and I 40 to 45 minutes to get there. The restaurant had a certain rustic charm with its sparse décor, picnic tables on a concrete floor (all the better to hose out, my dear). Mark Wilkinson was already there, having come down separately. I had been recommended to try the family style barbecue dinner, which had brisket, sausage and ribs, along with side dishes. We all got that, though Mark asked for turkey to be added to the mix (good choice, that; the turkey was great). When last we met, Mark was taking some time off after doing quite well for himself in the dot-com boom. Now he had another company specializing in computer network security. He planned to come down for the reunion but could only make it for the actual event itself, for he was involved in a weekend conference. The three of us discussed many items of greater or lesser import, including the whereabouts and doings of Carl Guderian (in Amsterdam), Chris Kemmerer and Kirk Ott.

Not wanting to sit at the school waiting to pick Hannah up, I went off on my own. My first destination was the Barton Creek Mall, home to Austin's Apple Store. The last time I was here, it was under construction, but now it was fully open. I didn't find anything here today. Elsewhere, I noticed some interesting hats at the Y'alls Texas Store, a store featuring Texas memorabilia (the state, not the university). These hats had the slogan "Keep Austin Weird." Yes, you could say that weirdness was part of the city's charm. Then I drove a short distance to the Borders store. It wasn't the easiest to get there because of the major freeway interchange, but I eventually got there. Here, I saw a book called

Hacking MythTV

, a do-it-yourself version of TiVo, in effect. The idea intrigued me, so I picked up a copy. Then it was back "home" in time to miss most of rush hour.

Top


This morning, I had a Pop Tart and toast for breakfast. Hannah left early for school, and as I would be leaving later that morning, I said my goodbyes to her. Then I started to pack. It wasn't easy getting everything to fit when I packed at home, and it wouldn't be easy this time, either. I had picked up a few items along the way, which made it even worse. But I managed to get everything in. Then, after watching one final South Park in the media room (and a hilarious one it was, from Richard Dawkins to Buck Rogers), it was time to take my leave.

It was around 10 in the morning when I left. I wasn't sure if I would head towards Houston via the northern route (US 290) or the southern route (Highway 71, then I-10). Recalling reports of construction on the Katy Freeway, I thought it best to avoid it by taking 290 in. I did encounter some construction east of Austin related to the construction of tollways around town, but once I was past those, I had little difficulty. The weather was great – sunny, with a bit of a breeze. I stopped for gas at a Valero station mid-route, then continued eastward. For a while, I was monitoring the 2-meter amateur bands, then put on XM. Later, I'd tune in Rush Limbaugh, first out of Austin and then out of Houston as I got closer.

For lunch, I stopped at a Dairy Queen west of Brenham and got a steak finger basket. I wouldn't make them a habit, but I hadn't had one for several years, and this would cover me for a few more years. Now I started looking for signs for the Blue Bell Creamery, which offered factory tours and (presumably) samples of their fine ice cream. But I never saw any. As I left town heading east, I did catch sight of a sign in my rearview mirror, but I was of no mind to turn around. That tour would have to wait for another trip.

I encountered some highway construction between Hempstead and FM 1960. This involved widening the highway and bringing it to freeway standards, so my travel wasn't affected. This was not a part of town I was very familiar with, so I wouldn't be able to tell what was new since my last trip. That wouldn't happen until I got downtown and headed towards home. Based on traffic advisories, I thought it best to take the North Loop over to the North Freeway and go down that way, rather than take the West Loop and South Loop around. Something that I hadn't noticed before: lane markings advising what each lane was for. As I passed through town, I heard a lot of noise on my 2-meter radio; it sounded like interference from pagers, police or fire radios, or other systems. The interference was so bad it made it impossible to hear any regular amateur stations. Later on, I would learn that the volume on the secondary channel had been turned up; perhaps the interference was coming on that channel. When I realized this, I turned down the sound on that channel.

I arrived a little too early to check into the hotel, so I stopped at the Super Target on Bay Area for a few items, such as bottled water, a loaf of bread, and some snacks. Then it was on to my hotel. The Extended Stay Deluxe on Bay Area Boulevard was to be my home for the next week and a day. I had never stayed there before; in recent years, I would generally stay at the Extended Stay America on Nasa Road 1 in Nassau Bay. However, knowing that construction of the Nasa 1 bypass was well underway, including the intersection with the original Nasa 1, I thought it best to stay someplace else this trip. The ESD used to be a Wellesley Inn, if I recall correctly. My room was on the third floor facing south. Yes, I heard the traffic on Bay Area, but I also had an excellent view of the XM radio satellites. I could set up my SkyFi Audio System and be assured of excellent sound. I was close to several businesses, close enough to walk to them if I wanted to. One of those businesses was Rocket Town, which specialized in NASA and space-related memorabilia. I knew they also carried Spacecraft Films products, and I walked over there today to see what new products they had. They had the Apollo 12 set, and I bought a copy.

For those who've read my previous travelogues about trips to Houston, you'll know that one of my favorite restaurants is Laredo's Mexican Restaurant in Seabrook. And if you guessed that Laredo's was my destination tonight for dinner, you would be correct. As I set off towards Seabrook on Bay Area, I tuned my 2-meter radio to the frequency for the Johnson Space Center amateur radio club repeater and made a call saying that I was listening, if anyone wanted to speak. I got a call back from Nick Lance, KC5KBO, who had been listening for me. We had been e-mailing each other recently about plans for me to attend a meeting of the Westbrook Intermediate Amateur Radio Club (it's sponsored by the Clear Lake Amateur Radio Club, of which Nick is president), and while I drove to Laredo's, we firmed up plans for tomorrow afternoon's meeting. It turned out that Laredo's was a favorite restaurant of his, too (small world).

Laredo's food was just as good as ever. As is my custom, I got the deluxe dinner: a tortilla with a thin layer of cheese, a tostada, a taco, two enchiladas, beans and rice, along with a dollop of guacamole. When combined with their chips and salsa, and accompanied by a tall glass of ice water, you have an excellent meal. And I wasn't disappointed tonight. My next stop was a nearby Walgreens. No, it wasn't for indigestion medicine; I needed to get some plastic cups. I also picked up a generic version of Airborne, the cold preventative, for I noticed my sinuses beginning to get congested. I did not want to come down with a cold on the eve of my reunion.

My next stop was the Harbour Club at the South Shore Harbour resort hotel. On the mailing list for our class, Kay Kinney Ellis had mentioned that she would be at the club tonight and invited us classmates to join her there. The club was a restaurant/bar that had a piano bar section, and when I arrived, the regular Thursday night pianist was tinkling the ivories. I wasn't sure where to go when I walked in, but Kay noticed me right away and called me over. She had not changed very much from the 2002 Un-Reunion, the last time I saw her. In fact, she hadn't changed all that much from high school. With her was Natalie Gates Footitt, who was also a classmate, but I didn't know her in high school. Our paths didn't cross then, which wasn't terribly surprising in a class of nearly 500 students. She was only at Creek for our senior year, having attended Lake for the first three years but then saw the light and came to our school. Oddly enough, she recognized me; that might have had to do with my having spoken at graduation (I gave the final segment of the valedictory speech). I enjoyed the piano player and the conversation while sipping my Diet Coke (as a Bahá'í, I don't drink). Before long, everyone had gathered around the piano and was singing along to "Piano Man". Natalie was doing harmonica-holding duty for our piano man. I left shortly afterwards, for I was beginning to cough from the smoke. At least that's what I thought.

An aside for politics: I had cast my absentee ballot before leaving on vacation, so all of the political ads of the next few days would have no effect on me. Still, I found it amusing to see news stories about Maryland senatorial candidate Michael Steele, for every time I heard his name, I couldn't help but think of another Michael Steele, the one who used to sing and play bass in the Bangles. They were approximately the same age, but while Michael Steele the bassist was an attractive white woman, Michael Steele the politician was a black man, and I couldn't care less how handsome he might be.


Unlike the other Extended Stay hotels I'd stayed at, this one had a complimentary breakfast every morning. Compared to the breakfast bar at the Hampton Inn, though, the breakfast selection here was quite limited. Toast and bagels, muffins and danish, orange juice or fruit punch, and coffee – that was it. It was OK, though I would have preferred more options. While I had breakfast, I started reading the paper and watched one of the news shows (Today, I think).

Later on, I went out for a short drive around the area. I didn't get very far before making my first stop, a new Borders store at the northeast corner of Bay Area and the Gulf Freeway. This corner also has a Best Buy and a Lowe's, and across the street on the southeast corner was a Barnes and Noble. Now the layout of this Borders reminded me a great deal of the store in Arcadia, California at the Santa Anita Mall. The selection at the store was comparable to that of any Borders store. I didn't get anything here today. Then I headed south on the freeway, past the construction zone for the Nasa 1 bypass, past a new Cheddar's restaurant and a new Academy store (the League City store must have moved up the road), and down to the FM 518 exit. Naturally, I turned off here and made the drive past the old homestead. The house was still in good shape. Next door, there were quite a few signs for Democratic candidates at the Mallios household. I continued my drive down Newport Boulevard, past the park where the pool used to be and down to Kingsway. It looked like the Coneys were home; I would have to contact them to see if we could meet up this trip. Then I worked my way back to 518 and headed west, past Creekside Intermediate and the new Clear Springs High School, visible in the distance.

As I headed westward, the radio was playing the original version of "Hot Rod Lincoln" by Charlie Ryan. I was more familiar with the versions by Commander Cody and a live version by ex-Cody guitarist Bill Kirchen, and frankly, I thought they were much better than the original. But I digress. At Bay Area, I stopped at the CVS drug store and picked up some cold medicine, for my congestion had gotten worse. I didn't have a sore throat, but my sinuses were clogging up, and I wanted to nip whatever I had in the bud before it became worse. Then it was back to the hotel to take my medicines and to rest. I started watching the Jim Stafford DVD from last Saturday, and it was indeed made at the show I attended. I was quite visible in the front row. At times, one could see the back of my head on some of the stage shots. I didn't watch the whole DVD, just enough of it to know that it worked.

I thought about heading to a nearby Chinese restaurant for hot and sour soup for lunch, but when I arrived at the restaurant near the Borders and the Best Buy, I found that, contrary to my expectations, it wasn't a buffet. I no longer felt like stopping there, so I continued onward. I considered heading back to League City and its Grand Buffet, but all of a sudden, I felt the combination of being chilly yet clammy. Was this a symptom of not being able to figure out how to dress for the weather, or was it a sign that I was getting sick? It felt more like the latter to me, so I went back to the hotel and sent a note to the 1981CCHS group, saying I feared I wouldn't be at the game tonight, mentioning my symptoms and hoping for the best. That prompted a reply from Mark Wilkinson, who thought my symptoms indicated allergies rather than a cold. Ragweed season was just wrapping up in Texas, he said. It had been some time since I was down there at this time of year, so he may have had a point. He suggested I take some Claritin and some decongestants. Having nothing to lose, I went to the Super Target and got the Claritin. I also got a maroon hoodie for tonight so I would be dressed appropriately for the football game.

The Claritin and decongestant would take some time to work. But the decongestant in the inhaler I'd bought earlier today would take effect very quickly, and thanks to it, I was able to meet with Nick Lance and the Westbrook "Hamsters" without feeling completely miserable. Now this was the first time I'd visited Westbrook Intermediate, a brand-new school that replaced Webster Intermediate. Visitors in the classroom area had to get badges, and so I got one (Nick already had one). I helped him bring his equipment in, which included a slide projector for today's presentation. Before the meeting began, Candy Silcott arrived with two students who were taking a mini-course in debate, figuring that I might be able to answer some of their questions. Though it had been 25 years since I had last debated, I answered their questions as best I could. And they answered a few of mine – for instance, it's still common to wheel in lots of drawers of 4x6 cards of evidence as an intimidation tactic. I counseled them to develop their extemp skills and to become skilled flowcharters.

At the meeting, there were a number of parents there with their children, and some of them were hams as well. Also in attendance was a teacher from the Pasadena school district, who wanted to start a club at his school. I gave a brief talk on what being a ham has meant to me, and I showed off some of the equipment I'd brought down with me – the Buddipole antenna and the Yaesu FT-817 transceiver. The main presentation was a video from Dayton 2001, where Nick's son spoke at the youth forum about a radio-related program he and a friend did for Earth and Sky. Later, one of the students accessed an IRLP node and contacted a Las Vegas area repeater, speaking with a ham who was driving on the Hoover Dam (the dam carries US 93, until a new bridge opens up in a few years). The meeting culminated with a radio-direction-finding foxhunt, where the students attempted to find a hidden transmitter. For this hunt, I was the fox, for I wore a bag containing the transmitter, with my arm concealing the antenna. The mosquitoes were out in force that evening, and they were feasting on my hands.

After the club meeting, I had to return to my hotel room to take some medicine. With that out of the way, I headed back out for the football game. I found a place to park over by the 9th grade center, then walked across the parking lot to get to the stadium. Although Clear Creek High was being rebuilt, this part of the campus was unchanged, so everything looked very familiar to me. I bought my ticket, went inside, then stopped at the concession stand for a hot dog, a box of popcorn and a drink. I went up into the stands, looking for where our class was sitting. At first, I didn't see anyone, then I saw Shawn Merrell, followed shortly thereafter by Karl Hamelman. We walked towards the west end of the stands, and then we noticed Kathy (Matchette) and Eric Douglas, who had laid out a blanket on the bleachers and were sitting on it. Before long, more of our classmates trickled in: David Williams – Kelly Griffith – the Scalawags (David Zabalaoui, Greg Laurence, and Joe Buggy), and Brian Moore. We were enjoying each other's company so much, we didn't notice when the band started playing the national anthem. Unfortunately, from our position, we could hardly hear the band, but once we knew what was going on, we stopped and gave our proper respects. Then it was time for the game. We were ready for some football! And so were the Wildcats. In our senior year, they only won one game, but it was the most important game on the schedule (Clear Lake). This year, the team was a playoff contender. Things started a little shakily with Alvin getting a safety on us, but we were in control the rest of the way.

Other classmates showed up – Rob Wohrer and Amy Ellison, Stacie Barnett Bemis, Tim Rice and wife Dawn Halbrook (they didn't stay long, for Dawn wasn't feeling well), Skip Hartley, Steven Long and Cari Evans. Kay and Natalie were there as well. Cameras were out in full force tonight. I brought both a still camera and a video camera and made good use of both. As the game went on, the point totals on the Creek side kept on rising, while the mercury kept falling. My voice started going on me due to the allergies and my yelling. We got an announcement read over the loudspeakers that our class was here tonight. At one point, we saw a group of students wearing wigs that looked like bad mullet haircuts. Perhaps these were the Scalawags of the Class of 2007? Many of us bought Creek baseball caps sold by the booster club; I was no exception.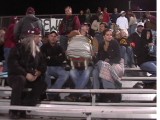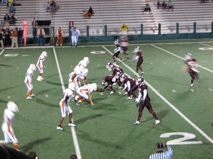 As the game drew to a close, the final result was well in hand. No way would Alvin be able to come back and win this game. And so, with the score 39-2 in favor of Creek, I decided to bail out and head for T-Bone Tom's in Kemah, for I was getting cold. And I wasn't the first to bail. As I walked underneath the stands, I could hear someone calling "Dad – Dad", and then I felt a pull on my hoodie. Someone had mistaken me for her father, that was all. It didn't take long to arrive at T-Bone Tom's, although this was the first time I'd ever visited the place. I changed to a heavier jacket, then went into their beer garden area, which was still quite chilly. There was a live band playing when I arrived, but their night ended shortly thereafter. Before long, the rest of the crowd from the game showed up (the class of 81 crowd, that is), along with a few additions. Melissa Mayo and new husband showed up (she was getting over bronchitis and wasn't at the game), as did Liz Hoober and husband Mike Scanlon. Joe Buggy bought the first round of drinks; I got a Diet Coke, a rather large one at that. Later on, I ordered a hamburger from the menu. It was tricky finding a table to eat at, but I managed. Eventually, most of us congregated near the bar, for there was an outdoor heater going in there. It was really going, for I ended up standing near it, and I was getting uncomfortably warm at times. But it did feel good after the cold night at the game – the final score was 39-8, by the way. And with that win, Creek made the playoffs! [Epilogue: that would be their final win of the year, as they lost the regular season finale against Ball High and the first round playoff game against Hightower]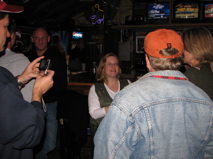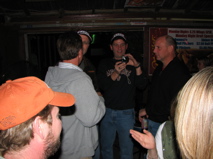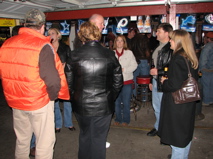 When I went down to the lobby for breakfast and a paper, the rack was out of papers, and the selection in the breakfast room was rather meager. So on a whim, I decided to drive over to Denny's at Baybrook. It's been there forever, or so it seems, and it was still there today. Their paper rack had a paper – yes, one single paper, the one in the rack window. So with paper in hand, I went inside, was seated, and proceeded to order breakfast. It really hit the spot. Afterwards, I planned to go to Wal-Mart for some more medicine. The closest one was just up the freeway at El Dorado, but I suddenly realized that a new one had recently opened in League City at the FM 646 interchange with the freeway. I wanted to see that one, but as I headed down the feeder, I could see a backup forming on the freeway. Instantly I recalled that the freeway would be down to one lane between Nasa 1 and FM 518. This called for a change in plans; I would take Highway 3 down there, instead. At that time of the morning, it wasn't busy at all, and I got there in reasonable time. League City now has a Wal-Mart – whoopee! It wasn't any different from other Wal-Marts. I found the medicine I was looking for and checked out, making sure to get some extra cash. Upon leaving, I saw that the gas station had gas for $1.89, the lowest price I'd seen in over a year. Although I was not in desperate need of a fill-up, I proceeded to get one. Then I went up the freeway and back to my hotel room, noticing along the way that the Academy store in League City moved to a new facility just up the freeway.

Back at the hotel, I transferred the video I had taken last night to my Powerbook. I only shot 9 ˝ minutes' worth of video, a combination of game action, halftime activities, and views of friends in the stands. Still, I thought that those who were there would be interested in getting a copy of the video. And I had the tools to make that happen: a Powerbook loaded with iDVD and a DVD burner. What I didn't have were blank DVD's, but a trip to the nearby CompUSA store took care of that. Soon, I was burning DVD's. I was only able to burn 4 of them before it was time to leave for Tookie's, so I packed up the Powerbook and my still camera and set off for Seabrook.

I parked at the overflow parking lot, then walked towards the restaurant. Someone who was parking waved at me, but I couldn't see clearly who it was. It turned out to be David McFalls. Class of 1980, and his daughter Ariel, who looks very much like her mother, the former Cindy Hurst. When we went inside, it was already fairly busy. Some had already arrived (I recall Dale and Natalie), and with our arrival, we proceeded to look for one or more tables together. I sat at a table facing the entrance so I could keep a watch out for arrivals. Dale, his wife Kasey, Natalie, and Daniel Hart, the son of Lee and Lynda Hart (Lee was in our class), were at the table with me. Soon, I was enjoying a large Diet Coke while monitoring the progress of my DVD burns, as well as passing out the DVD's I'd burned earlier. We attempted to grab tables as they became available, and we did a pretty good job; I think we had six or seven tables altogether.

Now who all was there? I'd already mentioned David McFalls and Ariel, Dale and Kacey and Natalie. Rob and Amy were there, as were Kathy and Eric. Shawn Merrell and Skip Hartley were also there, and we also had the full contingent of Scalawags. Later on, David Horrigan arrived straight from the airport. Traffic on the freeway heading toward Galveston was very heavy, he reported (there was a big biker gathering on the island that weekend). On an unfortunate note, I learned from him that he had broken up with Claudia (whom I had met in July 2005 when I stayed at their DC co-op) and was getting a divorce. Keith, Karen, Hannah and Becca showed up; originally, they were to have surprised brother David, but the secret got out. They were in town for a second reason as well, albeit a more somber one: Keith's ex-mother-in-law had died on Friday. The recently married Melissa Mayo Snell was there, as was Helen Rickards, whom I thought at first was Kelly Griffith (they did look somewhat alike). Even my former teacher Candy Silcott was there. I'd invited her because several of us (David Horrigan, Joe Buggy, Greg Laurence, as well as me) had been students of hers. And it was here at Tookie's that she and Melissa finally got to meet. Now Melissa had not been a student of hers (she lived in Kemah and went to Seabrook Intermediate), but her mother had worked in the office at Webster and had told Melissa about Candy. And of course, she would have heard many stories from her friends.

I wish I could have sat at every table and enjoyed as much time as I could with all my friends, but that wasn't possible. It was hard enough for me to burn the DVD's, catch snippets of conversations from the other tables, and eat a #99 burger. I wish I could have spent some more time with McFalls, but circumstances didn't permit that. Becca was a big hit with the gang; everyone was saying how adorable she was. She and Hannah got their pictures taken many times over! And speaking of pictures, I took a few, mainly from my seat. I held up the camera, rotated the display so I could easily see it, then took pictures of each table. That proved difficult in the case of the table behind me (the one with Helen, Joe, Candy, Melissa and Greg), for the display was in a position where it showed a mirror image of what the camera was seeing. Moving your hand one way but seeing the picture move in the opposite direction made for a very counterintuitive experience! After all that, the picture still turned out pretty well.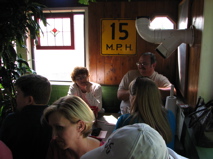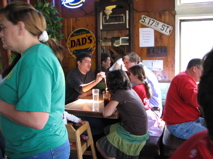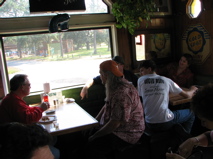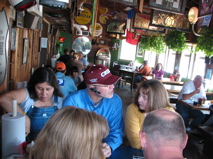 After Tookie's, I went back to my hotel room for a while to rest up, to shower and to change into my good clothes for the reunion. It was going to be jacket and tie for me tonight. The humidity in the hotel room was a little high, so I had to sit for a little while in front of the A/C fan to help dry off. Then, it was time.

I left for the reunion shortly after 6:30. I wanted to be sure where the country club was located, and I thought it might be helpful if members of the reunion committee, of which I was one, were there early. I drove down South Shore Boulevard, seeing several gated entrances, but nothing that was obviously the country club. Perhaps it would have been obvious had it still been daytime, but that was no help to me at night. Eventually, I reached FM 518, realized I must have gone too far, then turned around (another reason why I left early). There was a well-lit entrance with a guard shack where vehicles were entering, so I took a gamble that it was the country club. My gamble paid off; it was indeed the country club. The guard asked if I was here for the reunion (yes, I said), then directed me to the first building on the left. I drove in, parked, and went inside.

It turned out that the committee members didn't need to be there early after all. The professional planners from ReunionTeam were taking care of everything, and they were setting up. Those of us who arrived early went to the bar. I noticed that Shawn Merrell could pass for my brother-in-law if he (Shawn) got a buzz cut (or if my brother-in-law had long hair). David, Joe and Greg (a.k.a. the Scalawags) were among the early arrivers, with David going a bit more casual than most in his Tommy Bahama shirt.

As promised, Mark Wilkinson arrived from his weekend seminar. I finally figured out that Rob and Amy were now a couple. In between bites of the food provided by the caterers, I asked Rob if he and Amy were engaged. No, he said. But one week later, they were indeed engaged. I wonder: might my question have helped to prompt that other Question? Leslie Everette Buffington was there with husband Damon; she was wondering about the whereabouts of our teachers, such as chemistry teacher Mrs. Kimzie and physics teacher Mrs. Lee. I would be interested in knowing, too, though I feared some of them might have passed away by this time.

At one point, I saw Julie Wrinkle Kasbaum, whose husband David (also a classmate of ours) had lost his fight with lung cancer in August. She was doing fine. She'd kept us informed over the last several months about his progress, his ups and his downs. We all hoped he would have been able to attend, but sadly, that was not to be (no doubt he was there in spirit). She was there with a friend who was wearing Debbie Corcoran's badge, which had me thinking she was Debbie for a short time. When Julie explained the situation, I was relieved, for this friend didn't really look like the Debbie I remembered. Kelly Marcom was there with his second wife; he was a doctor in North Carolina, following in his father's footsteps. He had been married for a while to classmate Cory Coldwell, but they'd divorced, and he hadn't heard from her for at least six years. Cory was not present tonight, nor had she been at any of our reunions other than the first one, the 5-year one. That was unfortunate, for I would have liked to see her again. Still would, actually.

Later on, Keith Zabalaoui and David McFalls "crashed" the reunion after having seen Borat at the theater. I had been invited to go with them, but I declined because of a prior commitment: the reunion! The man at the reception table did not want to admit them at first, but intervention from brother David did the trick.

Now after the 20-year event, many of us drove over to the IHOP on Nasa Road 1 for a late-night breakfast. But that wasn't to be this year, for the plans turned into a Sunday-morning visit to the Seabrook Classic Café, also on Nasa Road 1. That was all right with me. However, this was decided fairly late in the evening, so not everyone got the word.

To the best of my recollection, I was the only person to shoot video at each of the 10-year, 20-year and 25-year reunions. Had I owned a video camera at the time of the 5-year reunion, I probably would have shot video there. Due to the lower quality of consumer video cameras in 1991 and to the low light of the facilities we used, the 10-year video was very dark, but it and the other videos are still priceless records of those events. Now someone else was shooting video at this reunion; I noticed while I was out on the dance floor, having been persuaded out there by Kay Kinney Ellis.

Now for a question on many people's minds: how was everyone looking? No, I won't name names here, as I don't want to embarrass anyone or get anyone upset. I will say that, in general, 25 years on, we still were looking pretty good and healthy. Many could easily pass for a few years younger than our true ages. Some of us had put on extra pounds or lost some hair (I was guilty on both counts). I didn't notice many gray hairs on anyone; whether that was due to the genes, the dye bottle or the Grecian Formula – or maybe the fairly dim lights – I didn't know and didn't really care. Someday, we will all start looking like old people. Now for someone in the current senior class at Creek, we probably do look like old people, but from my perspective, we're not there yet.

1 AM rolled around, and it was time to leave. Nobody wanted to, but everyone had to. I shot some video of the last few stragglers leaving the banquet facility. Joe Buggy would be leaving the next morning, and David Zabalaoui would be taking him to the airport, so we said our farewells there. Then it was into the car, out of the parking lot and back to the hotel. No late-night IHOP trip this time out.

Again, five hours was not enough time to see everyone I wanted to see for as long as I wanted to see them. Thankfully, our class has the 1981CCHS Yahoo Group to keep in touch – a perpetual reunion, as it were. It's unfortunate that not everyone in the class belongs to the list (15-20% did belong as of the reunion date).


After I woke up, I sent an e-mail to the 1981CCHS group announcing our plans to meet for breakfast at the Seabrook Classic Café. Since the decision to go there wasn't made until the end of the reunion, not everyone knew of it. We were going to meet around 9, so I set off for there at 8:30. The parking lot was pretty full, but there was more parking at the businesses behind the café. Scott Sims and I arrived at the same time, and we went in via the back door. At first, we were going to take a seat in the bar section, but we moved up front after learning that Skip Hartley was already there. He'd already ordered, in fact, and he also had his iBook (he wasn't using it, though). Dale and Kacey Fortenberry came a bit later, as did Rob and Amy and Kathy and Eric. Kathy was wearing the official reunion T-shirt that we received when we signed up. In my case, I thought the public good was best served by my not wearing it. Natalie arrived a little bit later, and we all enjoyed our meals. Skip told us of his midnight cruise on the creek with Scott and Debbie Caylor ; a bit chilly, a bit humid and a bit spooky was how he described it.

It was after 10:30 when I left. I called Keith to see if brunch plans were still on; they were not. The family would be going to the Museum of Natural Science, instead. So I ended up going back to the hotel for a rest. Later, I turned on the Texans' game and watched it. It wasn't that great, though; I actually fell asleep during it. Well, I had been up late last night and had woken up fairly early, and I was still coping with allergies, so the nap did me some good.

Later in the afternoon, I took a short drive down to Fry's. It wasn't too hard to get there from the hotel; I just took Texas Avenue south past Nasa 1, behind the former Webster Intermediate and over to Kobayashi, then turned south to Fry's. The overpass for the Nasa 1 bypass was under construction, but that wasn't all. Just past the overpass was a brand-new apartment or condominium complex still under construction, and just beyond that was the new Academy store. All of this was new since my last trip. The Fry's wasn't new, though. But I did get something new there: the new South Part Hits #1 DVD set. I'd be able to put the DVD player in the hotel room to good use. I drove over to the Academy store and went through it, but I didn't get anything there. After I left, I didn't immediately drive off. Instead, I called my aunt and uncle, and we had a good chat.

Now it was getting close to 5 o'clock, and I was thinking of supper. Where would I go? I had a hankering for Souper Salad, the salad-bar restaurant. The closest one I knew of was in Pasadena, at Fairmont Parkway and the East Belt, so that's where I drove. I had been here before, so I knew I would get a good meal. I went in, got my plate, and proceeded to make my salad. But that wasn't all I had; I got some soup and pasta as well. The waitress came and asked me what I was drinking; Diet Coke, I replied. Now my seat faced the cash register, and I saw customers paying when they came in. When I came in, though, nobody was at the cash register, and it wasn't obvious to me that you paid when you entered, so I didn't. At the Souplantation restaurants, you paid at the end of the serving line; at Luby's Cafeterias, your meal was tallied at the end of the line, and then you paid as you left. It occurred to me that I could leave without paying and get away with it, but that would not have been right, so when I was done, I went up to the register and paid, telling the cashier I'd already eaten. It was irregular, but no harm was done.

Then I drove down to the Barnes & Noble store in the nearby strip mall. I had also visited this store before. This time, though, I noticed that the basic store layout was nearly identical to the store in Allen Park, Michigan, a new store close to work for me. Tonight, a number of books with spiritual themes caught my eye, and I ended up buying four of them. One was a new biography of the Prophet Muhammad by Karen Armstrong, while three were inexpensive public-domain translations of Rumi, the Dhammapada, and

The Imitation of Christ

. With my potentially enlightening bag of books in hand, I set off for the hotel, deciding to go via Space Center Boulevard.


Now late yesterday, Keith had sent me an e-mail asking if I wanted to meet him, Karen and Sherri McAdams Dullingham for lunch downtown. I thought it was a good idea, so I said yes. I wasn't sure that parking downtown was a good idea, though. More accurately, I thought that taking the new light rail system from the Astrodome area into downtown was a better idea. So I set off for the South Fannin Park and Ride lot, which was a mile south of the Dome. There was plenty of parking there, but paying for the parking pass and the rail pass was a little difficult; the screens on the ticket machines had a lot of glare. It took me a while to find a forward-facing seat on the train, and I was jostled around a little bit as the train pulled out, but I soon found a seat near the front of the train. The system was nearly two years old, so it was still quite new and clean. The train line followed Fannin up past the Dome, through the Medical Center, past the zoo, Hermann Park and Rice University, went near the old Sears store on Main Street, then went up Main Street to the UH-Downtown campus. I got off at the stop before the college and walked around for a while, moving in the direction of the Chase Tower (originally Texas Commerce Tower), the tallest building in the city.

As noon approached, I was sitting down near the main entrance. I called Keith to find out where he was, then started walking that way. He saw me first and called out, and then I noticed that Karen and Becca were with him. They had not planned to still be in town, but Keith's former mother-in-law (and thus Hannah's maternal grandmother) had died on Friday. The visitation was this afternoon in Texas City, the funeral Tuesday morning. Becca was insistent that the canopy on the stroller be pulled down; every time it was pulled back, she forcefully pulled it back down. We entered the building using one of the regular doors rather than the preferred revolving doors, for strollers don't fit through revolving doors. Then we waited for Sherri in the lobby, and it wasn't very long before she did show up. She had a good explanation for not answering calls to her cell phone: she didn't have it with her. I noticed that she was mostly a redhead again, save for a few blonde streaks (when I last saw her in 2002, she was all blonde).

The question before us now was, where to eat? Keith and Karen had had a late breakfast, so they deferred to whatever Sherri and I wanted. Sherri suggested Ninfa's, which had a restaurant in one of the nearby tunnels. That was fine with me, so down we went to the tunnel level. The tunnel system in downtown connects most of the major buildings so that one could go from one to another in comfort, something very much appreciated in the scorching summertime. There were also scores of business catering to office workers, including restaurants such as Ninfa's. The Zabalaouis split a quesadilla, while Sherri and I both got El Henry combination plates, and we all shared some chili con queso.

Near the end of our meal, Keith and I needed to visit the restroom, which was not in the restaurant itself but in the lower lobby. It turned out to be well hidden behind some mirrored doors, which gave one the impression of entering Dr. Evil's lair. The reality behind those doors was far more prosaic and unworthy of further discussion. Back at the restaurant, the bill had come, and I was the last one who needed to pay, so I contributed my share of the bill, and we were on our way. At least some of us were. Because of the stroller, Karen and Becca waited for the elevator, while Sherri, Keith and I took the escalator up to the main lobby. But after several minutes without seeing Karen, we were wondering what was going on. I went back down and found her still waiting for the elevator, which had been tied up with deliveries. Eventually, she made it on board and up to the lobby, and then we proceeded to the sky lobby, which is where one boards the elevators for the top floors (Sherri's office is on the 75th and top floor). We said our goodbyes to her there, then stayed for a few minutes, for the sky lobby also serves as an observation deck to the west. Becca was having a good old time running around up there. After a few minutes of that, we went back down, and then I said my goodbyes to the Zabalaouis, who would be heading to Texas City later on for the visitation for Renee's mother

Now what else did I want to do downtown? I did visit the downtown Macy's store (formerly the downtown Foley's store) briefly, and I entertained thoughts of going over to The Shed at Minute Maid Park, but all I did was get back on the train to the South Fannin Park and Ride. The train was much busier this time around, so I had to stand for most of the way. Traffic heading "home" wasn't too bad.

During our meal today, the subject of

Ultraman

came up. This was the Japanese TV show from the '60s that aired occasionally in Houston on channel 39. That reminded me that it had come out on DVD recently, but I'd never seen it anywhere. Knowing that Fry's had a good video section, I went back to the Webster store to see if it was there. Sure enough, it was – or volume 1 was, anyway. I bought it and went back to the hotel. The hot topic of discussion on the 1981CCHS list was future reunions and un-reunions. Someone suggested that next year's un-reunion be in Austin or in the Hill Country, due to the high number of classmates who live out there. That was well received. Another suggestion was to forego a 30-year reunion and instead have an event one or two years later, which would correspond to our turning 50; that also was well received.

I called up the website for the Galveston Daily News and searched the obituary section to see if I could find one for Renee's mother. It wasn't easy, for I didn't know or remember Renee's maiden name, but I knew her mother had died on Friday. There was one obituary for a woman from Texas City who died Friday, Rosie Ramirez. Then I noticed Renee and Hannah in the list of survivors, so I had found the right one. I briefly considered going to the funeral home, but I wouldn't have made it on time, so I prepared an iCard and sent it to Renee.

I wasn't sure what I wanted to do for supper, so I went over to Baybrook and wandered around for a bit. I parked in my usual spot, which used to be the family's usual spot. Back then, it was by Joske's (later Dillard's); now it was near Foley's/Macy's. The Waldenbooks was no longer there; it had been in the same location since the mall's opening in 1978. With the Borders nearby, the store could have become superfluous. However, the Borders was on the other side of the freeway, so I suppose it could have turned into a Borders Express (as did a Waldenbooks at 12 Oaks Mall in Novi, Michigan). But it didn't. Nothing at the food court impressed me, so I went over to Luby's for a chopped steak dinner. Frankly, it didn't impress me that much, either; I might have still been sated from lunch. Then it was over to Super Target for some envelopes (needed to pay bills) and some no-sugar-added Blue Bell Ice Cream (yum). Back at the hotel, I popped in one of the

South Park

DVD's I got yesterday, and the episodes on it were hilarious, especially the one where they satirized the Church of Scientology.


I set off at the tail end of rush hour and didn't have any problems to contend with, though I noticed that inbound traffic on the North Freeway was quite heavy for so late in the morning rush. I passed Gallery Furniture on the right-hand side of the road. Farther up on the left-hand side was the first Fry's in town, a store I visited frequently until the one in Webster opened. Compaq used to have an outlet store located across the parking lot from Fry's, but that was gone (so's Compaq, for that matter). I drove on past FM 1960 until the exit for Cypresswood, when I left the freeway. Spring High School was on the corner; I can't remember if I ever visited it for any tournaments, although I don't think so (I might be thinking of Klein High School, which is farther to the west). I followed the instructions on the store's website but did not see anything behind the Blockbuster Video store except a large strip mall with a Super Target store. Now I had to use the restroom, for that had been a fairly long drive from Clear Lake, so I went inside. Today was also the day that

Cars

came out on DVD. I had seen it in the theater and enjoyed it, so I was going to get it today. Then I noticed that the final season of MASH was also out. I'd been collecting those, as well, so I picked up two copies, one for myself and one for my sister. I also found a Christmas present for my nephew Brandon.

When I went to put the bag in my car, I noticed that a small building across the parking lot had one or two unusual antenna structures. I suspected that was the ham radio store. But I didn't go there immediately, for my next visit was to the nearby Best Buy store. While there, I happened to notice the DVD set for

Ultraman

volume 2. Since I had volume 1, why not get volume 2 and complete the series? I'd never seen either set at Best Buys in Michigan. I wonder why that was? Then I drove over to the store with the unusual antennas. It was indeed the ham radio store. The description of its location on the website was somewhat misleading, for this was west or southwest of the video store, not behind it (not really that close to it at all, in fact). As I said earlier, this was the only ham radio store in the Houston area. That put it one up on Detroit, where the closest stores were located in Ohio (Cleveland or Columbus). Although small, the store did have a decent selection of radios, books, antennas and accessories. Today, I was looking for antennas or ideas for antennas. I left there with a Hamstick antenna for 80 meters and two mounts that could hold that antenna, or other antennas with a similar attachment (3/8-24, for those interested). One mount was for a vehicle, and the other could be for a vehicle or possibly for a picnic table. As I left, the owner was starting a contact with a ham in California. In the car, I could only hear the local signal, not the California one, and I lost the local signal a few miles down the road.

On to the Woodlands. I'd driven past a few times and had visited once (Brian Horrigan had a barbecue out here a few years ago), so this was rather new territory for me. My first destination was the Woodlands Mall, which was located at one end of a canal that connected one part of the community to another. Boats plied the canal, enabling one to go from, say, the mall to the Cynthia Woods Mitchell Pavilion. I found a parking spot in the lot of a closed department store, then walked over to the clump of restaurants. There was a Cheesecake Factory there, but I was in the mood for P.F. Chang's, so that's where I went.

Every time I go to P.F. Chang's, I always get the same main meal, lo mein. Sometimes I order spring rolls and/or hot and sour soup. Sometimes I get shrimp lo mein, other times the combination of beef, chicken and shrimp. The lo mein is good, though. And today, I placed my usual order, this time with the spring rolls and the soup. My chiropractor recommended hot and sour soup for getting over colds; I hoped his advice would hold true for allergies.

My next stop was a Barnes & Noble across the street. Of course, it had a strong local interest section, but what caught my eye today was a new biography of Bahiyyih Khanum, the Greatest Holy Leaf, daughter of Bahá'u'lláh. My bank account was a little smaller when I walked out of the store. The mall itself – well, it was a shopping mall. How much difference is there from one to the other, really? In the case of the Apple Store, the one here was a bit larger than others – quite a bit larger than the one in Austin, frankly. No, I didn't get anything from here, either.

Not too far away was Market Square, one of those constructed-downtown developments, with an HEB store at one end, a Borders and Sharper Image at the other, with movie theaters and other shops in between. I parked in the HEB lot, then walked towards the Borders. I didn't get anything there, but the Sharper Image had something very useful: a junk organizer for the car seat. Just strap it around the headrest, and you've got a place to put drinks, phones, important papers, etc. I was in need of such a tool, and I bought one. Back at the HEB, I walked around seeing what was what inside. This store seemed to be on the verge of being a Central Market; perhaps in a few years, it will be converted into one. They carried wasabi peas, and I bought some, but they looked different to me [they tasted different, too, and not as good as true Central Market ones, I would learn later]. I bought some water for the road, but when I opened the bottle in my car, it was almost completely frozen! It took a lot of shaking and crushing to break up the ice to where I could get a meaningful drink.

My drive "home" had me using the Hardy Toll Road to avoid traffic, at least until I reached the North Loop. I was listening to some of the talk channels on XM today, which was Election Day. For a while, I had on Fox News Radio; later, I put on Air America for a different point of view. I had voted absentee back in Michigan, so I didn't have to rush to the polls to cast my vote. Not that that would have been possible, for I wouldn't have been able to vote in Texas. Back at the hotel, I had some microwave yakisoba (noodles, either chicken or teriyaki beef flavored) for supper and then settled in to watch the election results (or the exit poll predictions of the election results, to be more precise). It didn't appear to be a good night for the Republicans.


This morning, I would be making a return visit to Westbrook Intermediate and the WAVE program, as I had been doing for the last few years when it was at Webster. I arrived around 8:20 AM; Candy Silcott was not there yet, but I didn't have to wait long for her to arrive. And what would I be doing today? I didn't know when I arrived, but I would be sitting in on another mini-course and contributing musically, and I would be proofreading the robotics team's submission for the state finals.

The mini-course was another music-related one, this time covering rock music. It was taught by Ruth Baxter, who'd taught the mini-course on folk music I'd visited on my last trip. One of the students remembered me from that visit. Today, the lesson was on the blues. We got to hear Robert Johnson's version of "Crossroads", which was a bit of a contrast from the more familiar version by Cream. However, the lesson got a bit sidetracked when I was asked to play a song or two for everyone. I didn't have my guitar with me, but someone obtained one from the orchestra room. It was a classical guitar that didn't keep in tune that well, but I managed. Using a quarter for a pick, I played "Long Tall Sally" (I tried to keep within the blues realm), "Mr. Tambourine Man" (requested by Ms. Baxter, as I recall), "I Can't Explain" and "Sgt. Pepper's Lonely Hearts Club Band". The difficulty I had hitting high notes several days ago had vanished; I had no problem with them today, although I sang "Long Tall Sally" an octave lower than Little Richard's and the Beatles' versions (I'd have done so anyway). Afterwards, the class got to vote on which song was better: "Honey Don't" (the Carl Perkins original) or "Whole Lotta Shakin' Goin' On". They tied, and I was asked to break the tie. I went with Jerry Lee. It was close, though. If it had gone up against "Blue Suede Shoes", it would have been much closer.

The proofreading of the robotics presentation wasn't very difficult, as I was asked to focus on verifying a third-person voice throughout the document. Some corrections were easy and straightforward, but there were some sections that I felt needed more of a rewrite to not read or sound awkward. I met two former WAVE students who were now on the speech and debate team at Clear Brook High; they helped teach the debate mini-course. They informed me that my coach during my last years at Creek, Valleri Parsons/Jolly (now Spears), was still there. Wonder how many of my other teachers are still there? Lunchtime rolled around, and Candy and I went to La Madeleine for some soup and salad and to the Cake Lady bakery in Friendswood for some cookies. I would end up snacking on my cookies when I drove down to Galveston in the afternoon.

The drive to Galveston was nothing out of the ordinary, until I got to the causeway. A new one was being built on top of the pilings of one of the old ones. One side was already complete and was carrying both directions of traffic. It wasn't much higher in terms of peak height, but the average height was indeed higher than the old ones. There was a wave pattern sculpted into one side that made it difficult for anyone in cars to see over the edge. Past the causeway, Galveston was – well, it was Galveston. I exited at 61st Street and gassed up at the station on the corner. I didn't go to Moody Gardens (nothing exciting at the IMAX theater today), nor did I visit the new Schlitterbahn indoor water park. I did stop at the Hastings book/music/video store briefly but didn't get anything. I also made a pit stop at the Wal-Mart on Seawall Boulevard, then drove to the west end of the seawall and parked. I got out and walked around briefly, even walking off the edge down to the beach below. The beach was set back quite a ways from the front of the seawall; that would no doubt be the true beach line if the seawall didn't exist. Back in the car, I turned on the ham radios. On 40 meters, I had a conversation with Jim, N5ITE, in Black Rock, Arkansas. He said my signal was coming in quite well; even though I was running only 20 watts or so, the salt water of the Gulf of Mexico must have given me an excellent ground. He had two other hams try to contact me, K9SBQ and N0WNZ, but I had a lot of noise to contend with, so I couldn't hear them. Then I drove down Seawall Boulevard to Broadway and back to the freeway.

I had not yet been to Joe's Barbecue in Alvin on this trip, and I was running out of time. Although it was a little on the early side for supper, I thought this would be my best opportunity to go, so after I crossed back to the mainland, I took Highway 6 up through Hitchcock and Santa Fe and into Alvin. Joe's wasn't very busy at all at this in-between time. But I got my traditional barbecue baked potato. It was still huge, and I couldn't finish it all. If this had been at the start of my trip, I might have boxed it up and taken it back to the hotel, but I didn't bother today. I wouldn't have wanted to eat it in the next two days. Then it was back to the hotel, where later on that evening, I participated in the Clear Lake Amateur Radio Club's weekly net. I used my low-power Yaesu FT-817ND transceiver to join in the fun, and I was able to make a contribution. One of the participants wanted to know about the Buddipole antenna, so I related my experiences with it.


Thursday November 9



My vacation was winding down, and tomorrow I would start to head back to Michigan. I got up around 5:30, watched the news on channel 13, had breakfast downstairs in the lobby, then went on the treadmill for a few minutes. On tap today was a visit with Lou Miller, longtime friend of the family and former employer of my mother. She had moved since the last time I visited; the old house and yard on Webster Street were getting to be too much work to keep up. Also, the neighborhood had changed drastically, for there were two new schools just down the road. So last year, she moved into a community off of Davis Road, not far from the high school and a mile to a mile-and-a-half away from the old house. It was a very nice house in a gated community with a small yard, both front and back. We had a good talk for a couple of hours. I brought over my Powerbook because it had recent pictures of my nieces and nephew, mainly from last July, although I did have Candice's prom picture from this spring.

When I left to go to Seabrook, I went on 518, even though it was under construction, for I wanted to see the new high school building for myself. The new front entrance was near where J Building used to be. There was still plenty of construction, so it was difficult to see what the completed school would look like. Down by the Wal-Mart, police were forcing traffic to go through the parking lot, for there was an accident blocking the roadway. That didn't slow me down too much, though, and soon I was on 146 heading back to Laredo's. Thursdays had been the day I would go there when I was working at AER, so I guess this was the temporary resumption of an old custom. I got the Deluxe Dinner again and enjoyed it, again. Then it was back to Wal-Mart, where I thought I might buy something and get some cash back, for I did need some cash. But there was nothing I wanted today, so I went to the money machine and pulled $140.

When I left, I took Hansen Avenue. According to very old maps, this used to be part of the main League City-Kemah road; the section of today's FM 2094 between 146 and the intersection with Hansen didn't exist. Today, the road ran behind the Target and Home Depot before opening onto 2094 (no light, just a stop sign). Then it was back to the hotel. Later on, I walked over to the Borders store, which wasn't easy due to the lack of a sidewalk. I ended up using the parking lots of several restaurants and going through some shrubs before crossing a small ditch underneath the high-voltage lines (the route of the old Interurban Railway in the early part of the 20th century). Now I was looking for a calendar, preferably something with a Texas or Houston theme. But the calendars I saw today didn't impress me, so I went away without getting one. Back at the hotel, I started to pack my suitcase with items I wouldn't need during the trip. I was feeling a bit down because the end of my time off was near. Watching some more

South Park

episodes cheered me up a bit.

Top

Friday November 10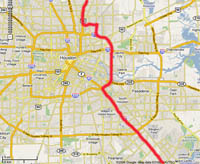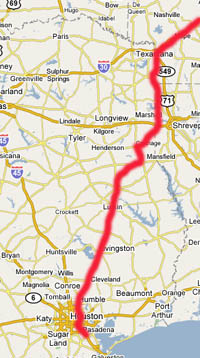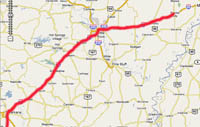 This was it, my last day in Texas. I got up before 6 o'clock, took my medicine, and finished my packing. I went downstairs and got a luggage cart, then started wheeling my stuff to the car. It was not easy trying to get everything to fit in the car. It wasn't easy when I packed at home, and it was even harder now, for I'd acquired a few more things along the way. I had folded up the quad antenna as best I could, then put it under the folded-down seat backs of the rear seat. I tucked some books and bags wherever I could.

At 8 o'clock, I started up and pulled out. This was the height of rush hour, but I didn't encounter any problems on the freeway. When I took the 610 loop to avoid downtown, I didn't have any problems on the South Loop or the East Loop. Then I saw an electronic sign stating that travel time to US 59 was 27 minutes. Now that was an ambiguous reference – did it refer to the Eastex Freeway or the Southwest Freeway? That would be a reasonable travel time to the Southwest Freeway, but for the Eastex Freeway, it would mean horrible traffic jams were ahead. A few minutes later, traffic started backing up. Fortunately, I was at the Homestead exit, and I left the freeway there and started driving northward. I'd never been in this part of town before, but I had the GPS to guide me. I knew I would find a road that would take me over to the Eastex Freeway, and when I did, I took it. Before long, I was on the Eastex Freeway heading northeast, not encountering any difficulties, other than stopping at a Home Depot in Humble for a restroom break (why a Home Depot? I knew they were open). I had an uneventful drive up 59 through east Texas – Cleveland, Livingston, Lufkin, Nacogdoches, towns familiar from many previous trips.

Before I left, I had entertained thoughts about visiting the point where Texas, Louisiana and Arkansas meet. A few years ago, I had gone to the point where Michigan, Indiana and Ohio meet (a point in the middle of a gravel road), so why not travel to the point that could be called the real Ark-La-Tex? I wasn't sure of the best way to get there, so I asked the GPS device. It directed me to follow 59 up to Carthage, then take US 79 to near Shreveport, then go north on some smaller Louisiana state highways. The portion past Carthage represented a new experience for me, for I had never been on these roadways. There was a Jim Reeves memorial on 79 east of Carthage; I did not stop, though I did let up on the gas briefly while I debated whether to stop.

At last, I had arrived at my destination: the area where Texas, Louisiana and Arkansas meet. But it was not like I had pictured. I had thought there was a roadside park at the meeting point, but there wasn't. There were just two liquor stores in the area, one close to the corner point and the other several yards away on the Arkansas side of the border with Louisiana. The only monument I saw was a marker for the Texas border. I thought it best not to get out and look for the actual meeting point, since it appeared to be on private property. All I did was take a picture of the Texas border marker, then drive back into Texas. Later, I would learn that the official marker was very close to that Texas border marker; perhaps I should try again to locate it on a future visit. I used the GPS to route me into Texarkana, Arkansas, and it took me through some back roads and onto a freeway that looped around the city. While on the freeway, I made a call on the national 2-meter calling frequency and heard from Randy, N0UYX. We had a nice QSO (conversation) for a few minutes. When I started getting out of range, he advised me to tune to a local repeater, which I did, and then we chatted for a few more minutes until I stopped at the rest area and welcome center.

My purposes in stopping here were twofold: one, to use the restroom, and two, to pick up literature on the Eureka Springs area, which is not far from Branson. Perhaps we might want to make a short trip to Eureka Springs during our Branson trip. I then noticed a laptop dock. The receptionist informed me that it could be used to hook up one's laptop for an e-mail check, so I went out to my car, got my Powerbook, and retrieved my e-mail. Some of the messages were quite large, for David Zabalaoui had sent me several photos from the reunion. Thankfully, this was a high-speed connection. From the brief glimpses of the photos I got, they appeared to all be of high quality. I then got the idea to make a hotel reservation for the night. That way, I would have a definite destination in mind as I continued onward. I ended up making a reservation at the Hampton Inn in Forrest City, which was between Little Rock and Memphis. That would represent a good day's drive for me.

Back on the road I went, past Bill Clinton's birthplace of Hope, stopping at Arkadelphia for gas, passing through Benton, and then arriving at Little Rock. I didn't stop there, though, for as I-30 ended, I got onto I-40 and continued eastward, past the Maybelline and Remington factories, past the town of Brinkley, and then arriving at Forrest City. All the while, I was listening to XM's 60s on 6 and their weekly salute to a famous radio station. This week, it was KHJ Los Angeles, home of Boss Radio. From west of Little Rock to Forrest City, the sky was aflash with lightning, although it never rained, and I didn't hear thunder. Clearly, a front was coming. It was still warm at night, though, when I drove to a nearby McDonald's to pick up supper. I got back to the room in time to catch the last few minutes of

Doctor Who

and all of

Battlestar Galactica

. I wasn't concerned about missing Doctor Who, for I was recording it at home.

Top

Saturday November 11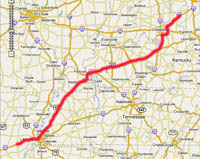 I'm not sure at what time I first awoke this morning; I couldn't see the clock radio from my location, nor could I easily read my watch. When I got up to use the bathroom, though, I noticed that it was 5:26 AM. It wasn't worth it to go back to bed, not with the long trip ahead of me today. Had the hotel not had a breakfast bar, I might have set out earlier than I did. As it was, I hit the road just before 7 AM. It was already light, but it was overcast. It was also windy and cold; clearly, the lightning display of last night had heralded a cold front. Instead of the Hawaiian shirt I wore yesterday, today I had on a heavy long-sleeve shirt and a brown suede jacket of medium weight. Before setting out, I partook of the hotel's breakfast bar – Cheerios, a muffin, and some scrambled eggs.

I was not sure how I wanted to head home, what route to take. At my first decision point, the intersection of I-40 and I-55 in West Memphis, I decided to go straight, to go into Memphis. Now I've never spent any time in Memphis; I've been through it several times but have never spent any appreciable time there. I should do so sometime. But today would not be that day. As I continued on I-40, another decision point arrived: the intersection of US 51. If I took it, it would take me close to the Mississippi River banks and into western Kentucky. And that is what I did. The going was slow just north of Memphis and in the towns I encountered, but there were times where I could go 60 or 65 miles an hour legally. And in the stretches that were marked "Future I-69 Corridor", I could go 70. In Covington, I stopped for gas and for a restroom break. The break turned awkward when I opened the unlocked door to the men's room only to find it occupied. Oops! When my turn came, I made sure the door was locked!

At the border with Tennessee, the roadway became the Purchase Parkway, which intersected I-24 near Paducah, which in turn intersected the Western Kentucky Parkway. This was a long and somewhat boring drive across the state, with few opportunities to stop and stretch anywhere. One place I did stop at was the service plaza on the WK Parkway (many years ago, it was a tollway, and this plaza must date from then). I listened to the tail end of a rebroadcast of a 1970-vintage American Top 40 (the number 1 song was "I'll Be There" by the Jackson Five), then went inside for lunch at the Arby's. I needed the rest and the caffeine from the Diet Coke (I didn't want to do the Diet Dew). A side note: this service plaza was located near Bill Monroe's boyhood home (Monroe effectively founded bluegrass music). Earlier, I'd passed near Henning, Tennessee, home to Alex Haley of Roots fame (there is an Alex Haley Museum there).

I had listened to Michigan State play Minnesota earlier today, and I put it back on as I left the service plaza. Unfortunately, they were losing and eventually lost the game to the Golden Gophers, guaranteeing a losing season and eliminating their hopes for a bowl game. The coach had already been fired. So I turned the sound down and put the ham radio back on. At one point, I heard some exchanges on the Maritime Net about a vessel that was overdue.

As I drove around Louisville on I-264, the skies grew grayer and damper. It never flat-out rained, but it sure looked like it would. And with this being November, it grew dark earlier. Did I want to push all the way home tonight? I would be driving in the dark for around six hours, possibly in the rain. I had also seen a number of dead deer alongside the road today, and I feared running into one in the dark. Frankly, I feared running into one at any time, for I had in fact run into a deer at 1 in the afternoon in suburban Northern Virginia back in 2004. Discretion suggested that I stop somewhere for the night, and so I stopped at a Hampton Inn in the town of Carrolton, Kentucky, roughly halfway between Louisville and Cincinnati. Yes, they had a room available for the night. It ended up being a room intended for someone in a wheelchair (there was very little counter space in the bathroom), but that was no problem for me. The only problem was that my toiletries bag took up the entire counter space.

What did I want to do for supper tonight? Near the hotel, it was mainly fast food, so I drove north into town. But I didn't see anything there, so I turned around and ended up eating at a Waffle House near the hotel. Then it was back to the room for some college football and some e-mail work and web surfing. I had to go to the lobby for that, as the wireless signal was weak to non-existent in my room. Back in the room, I read some of Barack Obama's new book, then fell asleep watching the last few minutes of the Texas Tech and Oklahoma game.

Top

Sunday November 12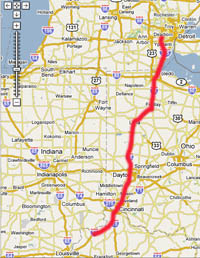 I got up around 5:30. It turns out that the wireless signal worked better in the morning than it did last night. But at 6 AM, I was informed that the hotel's access code had expired. I went down to the desk for a new one; apparently, it is reset every Sunday morning. I could have had breakfast at that time, but I wasn't hungry. Around a half-hour later, though, I was hungry and went down for a bagel, some cereal, and some scrambled eggs with ham (they went overboard on the salt – fortunately, neither the eggs nor the ham were green).

At 7:25, it was just beginning to turn light as I set off from the hotel. I had no difficulties traveling through the northern Kentucky and Cincinnati areas; indeed, I didn't have any traffic tie-ups at all on this driving day. I passed by a number of hotels where I had stayed on previous visits. In Florence, Kentucky, there was what used to be a Signature Inn, where I stayed in 1997 while meeting my sister and her family for a layover on their trip from Europe to Texas. In Covington, there was the Hampton Inn next to the I-71/75 bridge over the Ohio – I'd spent a day here in Easter 2004 or 2005. Up in Dayton, there were the Homewood Suites, where I'd stayed with my uncle in May when we attended Hamvention 2006. Once again, I listened to a combination of satellite radio (XM and Sirius) and ham radio (MidCARS, mainly) as I drove northward. I stopped for a rest break at a Cracker Barrel restaurant in Lima, and later I stopped for gas and some lunch items at a Speedway station in Findlay. Just before noon, I arrived in Toledo and started to hear some activity on my 2-meter radio; I was on the fringes of receiving the Detroit-area repeaters I normally monitor.

The weather was still chilly and overcast as I crossed into Michigan, but I could see some breaks in the clouds in the distance. Northward I continued, first on I-75 and then on I-275. I passed the exit for Willow Metropark, where I'd ridden my bike several times this year. Then came the exits for Metro Airport, I-94, Ecorse Road, Michigan Avenue, a rest area, and lastly Ford Road. This was my exit. Not much had changed in two weeks – a building under construction was farther along, and gas prices seemed a bit higher ($2.19). Finally, I pulled into my driveway at 1 PM precisely. I got out of the car to lower my HF antenna, which was too high to go into the garage, and then I pulled in. Now it was time to unpack. I was home.

THE END

Top


©2006 R. W. Reini. All rights reserved.

Map images based on Google Maps.

Written by Roger Reini
Revised May 13, 2014