First Attempt
Prelude to Departure
Departure for the Holy Land
Day 1
Day 2
Day 3
Day 4
Day 5
Day 6
Day 7
Day 8
Day 9
Return Home


This is the story of my pilgrimage to the Bahá'í World Center in the Holy Land ('Akká and Haifa, Israel) in December 2007 and January 2008. It is a story some 13 years in the making, dating from when I originally applied to go on pilgrimage. It mentions one attempt at pilgrimage that fell through back in 2001. But the important story is the attempt that did not fall through, the one that allowed me to attain my goal of visiting and praying at the sacred Shrines of Bahá'u'lláh and the Báb.



First Attempt

-- the journal for the attempt at pilgrimage in 2001


Prelude to Departure

-- the resumption of the journal upon confirmation of the new date for my pilgrimage


Departure

-- leaving Detroit for Haifa


Day 1

-- orientation, first visit to the Shrine of the Báb and the terraces


Day 2

-- first visit to the Shrine of Bahá'u'lláh, welcome by the Universal House of Justice


Day 3

-- visit to the Prison Cell of Bahá'u'lláh and the House of Abbud in 'Akká


Day 4

-- visit to the Mansions of Mazraih and Bahjí near 'Akká


Day 5

-- the lower terraces, the German Colony


Day 6

-- another visit to 'Akká and Bahjí


Day 7

-- visit to the House of Abdullah Pasha in 'Akká


Day 8

-- the buildings of the Arc, 4 Haparsim Street and the House of the Master


Day 9

-- the special archives exhibit and the pilgrim farewell


Return Home

- returning to Detroit

If you are a Bahá'í and want to go on pilgrimage or apply for a 3-day visit, go to this website, and here you'll find all of the details. If you are a member of the public and would like to visit the gardens in Haifa or 'Akká, you can find the important information at this website.

For a taste of what the Terraces at the Bahá'í World Center are like, check out this short video clip I made on day 8 of my pilgrimage:


I've also included some photographs of my pilgrimage, as well as some photographs taken from the Bahá'í Media Bank. Those pictures are generally, though not always, of locations where pilgrims were not allowed to take pictures. One photographer in a holy place can do his/her work and still keep the holy atmosphere intact; 40+ would-be photographers in that same holy place could not!

Here are links to pictures of Haifa's Central Carmel area and of Ben Gurion Airport in Tel Aviv at the Visual Travel Guide. These excellent pictures will give you an idea of what it was like around my hotel in Haifa (the Dan Panorama, visible in these pictures) and what the airport was like.

Here is an orientation map of northern Israel showing the locations of the holy places I visited during pilgrimage.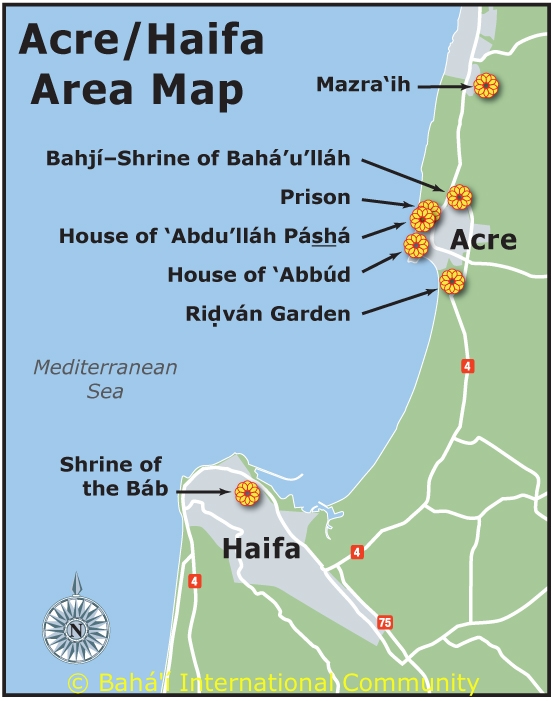 Ready to get started? Then let's go! You can begin either with the story of my aborted pilgrimage attempt in 2001 or with my preparations for this pilgrimage journey.



DISCLAIMER

: this is not an official page of any Bahá'í Institution. All comments are my own and derive from my personal understanding of the Bahá'í Teachings. For official information about the Bahá'í Faith, you may wish to visit www.bahai.org or www.bahai.us.

Text and Video ©2008 Roger W. Reini. Photos ©2008 Roger W. Reini except where noted. Photos marked "© Bahá'í International Community" are reproduced with permission of the Bahá'í International Community (http://media.bahai.org/).

Written by Roger Reini
Revised March 19, 2009