First Attempt
Prelude to Departure
Departure for the Holy Land
Day 1
Day 2
Day 3
Day 4
Day 5
Day 6
Day 7
Day 8
Day 9
Return Home

Pilgrimage Home Page
Departure for the Holy Land



December 22, 2007



10:49 AM -- The day of departure is here. Can it really be? Yes, it can, and it is! I just sent an e-mail to my sister and paternal aunt using a special e-mail account "pilgrim@rreini.com". My regular e-mail account will be too jammed with messages, since I don't intend to check it frequently, if at all. I watched two episodes of

Little Mosque on the Prairie

this morning, a CBC show about the Muslim community in a small Canadian town. The Christmas/Eid episode was quite funny yet also quite touching. People of all faiths can enjoy it. I am fortunate to live close to the Canadian border so that I can receive it.

I can hear roofers working nearby. Even though this is winter, they are performing urgent repairs on our condo's roofs. The previous repair job was substandard, and the contractor who did them either went broke or skipped town. Perhaps they will do my unit while I am away.

I am nearly complete with my packing, though I won't finalize it until after I've showered and gotten dressed. I have all of my prescription medicines in my carry-on bag; I almost forgot to bring a supply of one medicine along, but I discovered my error when I checked.

I fear I may not be able to take along all of the books of Writings and talks I would like to bring. They'd take too much room in my luggage. I will take the Indian volume

Writings of Bahá'u'lláh

. I wonder if it could be made more compact if it were printed in the style of a Bible, with very thin pages, gold leaf on the edges, etc. Long-term, an e-book repository will be more likely.

1:02 PM -- I just returned from a trip to the post office to mail a package to my sister in Uganda and a stop for lunch at Casa Fiesta near Westland SC. And now I have on XM's 70's on 7 channel, where they are replaying an American Top 40 from December 1973 -- a special countdown of the top 40 Christmas songs of all time (to that point in time, naturally -- I would think the countdown would be a bit different if done today).

I am a bit sleepy, having awakened around 4:15 AM. Now my body clock will be facing a major readjustment as I prepare to go 7 time zones eastward. I will never have been as far east in my life.

5:04 PM -- I have showered and have partially dressed. My packing is nearly complete; I'm rearranging items and removing others to make sure I'm well below any weight limits.

7:45 PM -- I am at Max & Erma's in Concourse A at Metro Airport. At 6:07 PM, as I was preparing to have a dish of Cheerios, the taxi driver called, saying he was nearby. I wasn't expecting him till 6:30. But I was already packed. The cereal went back into the box (most of it, anyway). Brought a Texas Monthly but left the News and Wall Street Journal at home. Went to airport via I-275 & Eureka. Saw the cell phone parking lot. Driver had difficulty processing my charge electronically, so he did it the old-fashioned way with paper. Hardly anyone at Lufthansa check-in. Suitcase is checked through to Tel Aviv. Went to Level 2 for security - no line at all. No beep - no need to remove belt. Concourse has lots of interesting stores -- Henry Ford Museum store, Motown store, several restaurants (not all of them fast food). I went to Religious Reflection Room on level 3, said 2 prayers there. Interesting fountain in middle of concourse - water flows in irregular and regular patterns. It sometimes looks like it's spitting in arcs! Decided to have a light supper at Max & Erma's; I really needed to eat something, for I don't know when we'll be fed on the flight. It would be a late dinner.... Ordered a Diet Pepsi & bowl of tortilla soup. Soup was not very heat-hot but was certainly spicy. Got to see some of the Michigan State-Texas game. Halfway through the second half, State was winning.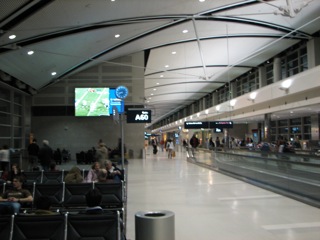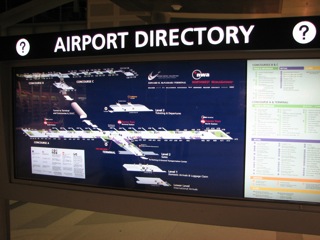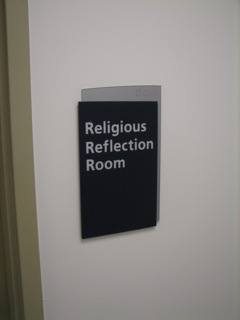 9 PM -- I'm at the gate cooling down. The flight is now scheduled to leave at 9:50. Doesn't seem too busy here yet, but it's 20 minutes to boarding. I took 2 short vid clips of the fountain in action. It went steady, then shut off completely for a minute, then started its "spitting."

I do feel a bit different on this trip, more relaxed, more tranquil, even though my journey has just begun. I am sure that the purpose of my trip is sinking in, that it is affecting me. This is no ordinary trip, no ordinary vacation. From a spiritual perspective, this is the most important trip of my life so far, possibly forever if I don't get to go again. Once the pilgrimage ends, I have to wait 5 years before applying again, and who knows how long it will take to go on another full pilgrimage. I would be able to make a 3-day visit before then, which would allow me to pray at the Shrines, but that would not be a full-fledged pilgrimage.

11:22 PM -- Airborne over Ontario, between Toronto and Kingston. We got a late start because we went back to the gate. Seems there was a bag on board with no passenger. But when we got to the gate, it was quickly determined that there was no extra bag, that all was well. So we took off around 10:45, I believe -- to southwest then quickly to northeast. We went into the clouds either over Downriver or over Windsor. Some bumps in places, which got on my nerves. Seat is a bit cramped; I come close to touching seat ahead of me with my knees, especially if I slouch. Announcements are in German and English. Watching the flight info channel. Getting sleepy.



December 23, 2007



9 AM (German time) -- we are mid-route over the Atlantic. I am trying and failing to find a satisfactory position in which to fall asleep. I can't stretch back. I can't stretch my legs out.

But my complaints must pale next to whatever else is happening. One of the flight attendants called for a doctor, and I can see several people standing around in the cabin in front of where I am seated. I don't know if they are related, but I said a prayer for healing.

2 PM Frankfurt -- in El Al boarding area. My carry-on was examined with a fine-toothed comb (or a chemical residue checker) -- no problems. Not everyone's bag was inspected -- non-Israeli citizens, perhaps? [no, I think it was the connecting passengers who received this treatment. The ones originating in Frankfurt undoubtedly had it before when they checked in.] Landed around 12:15 - bused to terminal. Seemed a bit chillier than Detroit; evidence of frost & a little snow.

Shopping area inside terminal - a gadget store, convenience store with German mags - but a decent selection of British papers & mags (a few American ones). Drinks from vending machine cost €2.50 - but coins only, and all I had was a €10 bill. Took blood pressure medicine in the sink - my hands were the cup (didn't see water fountains anyplace). Frankfurt airport is a big place. Must admit to the nerves ramping up. El Al security asked for my suitcase key. I had better get it back!

9:45 -- Just boarded train to Haifa. 34.50 shekels. Almost took a taxi there, but that would have been 616 shekels - well over $150!! What?! That seems way out of line. I DID receive my key on the plane. Sat in next-to-last row, window seat. Did see the moon rise over the clouds. Passed over coast of Turkey & out into Mediterranean. Entered Israel at Tel Aviv, just south of downtown. Reminded me of a North American city. Chicken dinner was excellent! Chicken, rice, pita bread with hummus, even the baby tomatoes!

No problem at Passport Control - said I was on Bahá'í pilgrimage & I was leaving Wednesday, January 2. Agent smiled, stamped my passport & waved me on. Took a while for bags to come. I changed $150 into shekels while waiting. First went through red line at Customs, but agent asked a few questions (are your goods used, do you intend to take them with you when you leave Israel) and, liking my answers to those questions, told me to go through the green line (nothing to declare). I thanked him.

It has been a long double day. I'm not sure how much sleep I got on the plane overnight. I think I ended up leaning against the seat back in front of me, against the display panel. Not the world's greatest, but I think it worked. First class seats were almost like your own recliner - La-Z-Boy sized. Business Class seats weren't too shabby, either. [this was the flight to Frankfurt]

And now I have to figure out how to get from one of the 3 Haifa train stations to my hotel. Taxi, most likely [yes, a taxi from Haifa Merkaz up the mountain to the Panorama].

11:45 PM - I am in room 1909 of the Dan Panorama. My room has a diagonal view across Haifa and the bay, and I have a direct view of the Shrine of the Báb, the Seat of the Universal House of Justice, and the International Teaching Center. Can't get more Bahá'í than this!!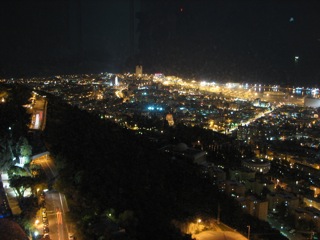 Next

: Day 1


Back

: Prelude to Departure


Up

: Pilgrimage Home Page



DISCLAIMER

: this is not an official page of any Bahá'í Institution. All comments are my own and derive from my personal understanding of the Bahá'í Teachings. For official information about the Bahá'í Faith, you may wish to visit www.bahai.org or www.bahai.us.

Text ©2008 Roger W. Reini. Photos ©2008 Roger W. Reini except where noted. Photos marked "© Bahá'í International Community" are reproduced with permission of the Bahá'í International Community (http://media.bahai.org/).


Written by Roger Reini
Revised January 3, 2009