First Attempt
Prelude to Departure
Departure for the Holy Land
Day 1
Day 2
Day 3
Day 4
Day 5
Day 6
Day 7
Day 8
Day 9
Return Home

Pilgrimage Home Page
Day 7



December 30, 2007



I popped awake around 4:30. Not being able to get back to sleep, I turned on the TV, for I knew that ESPN International was carrying the Patriots-Giants game live (this was the NFL Network broadcast from the States). I watched the second half partially awake, and I got to see the Patriots come from behind to complete a perfect 16-0 regular season. Next, the playoffs.

As a result of my expensive ride last night, I was inspired to start a pilgrimage survival guide for the practical aspects of pilgrimage (logistical, too). The spiritual aspects can be left in the hands of the Lord. That way, no one would have to repeat my mistakes.

When I set off this morning, I went down the public stairs to the east of the hotel. I discovered another set of stairs that really shortened my time to the PRC -- 5 minutes shorter, I figured. Most of it was downhill, but there were uphill portions near the PRC that resulted in my getting a bit warm. At the PRC, I had a glass of water and visited the restroom, and then I went outside to cool off. The Pilgrim Kitty was there, and I was able to pet him or her (a her, I think). I took some pictures and a short video.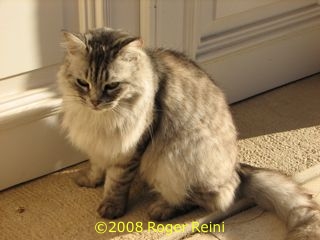 At one point, a black cat stopped by, and I got a picture of the two of them near each other. Our guide Furio stopped by to introduce me to the manager of the bus company handling our transportation. He told the manager I was the best reader he'd ever had while he's served as a pilgrim guide. This was high praise, and I felt honored and humbled. The manager said that his grandson had been recognized by his school for his reading (recitation). He received a paper crown with "King of the Readers" written on it.

Since I had a large-capacity memory card in the camera, I took some video as we approached and drove through 'Akká. I only took still pictures, though, at the House of Abdullah Pasha, home to 'Abdu'l-Bahá and His extended family for many years. It was beautiful, both inside and out. There was a window where one could look out and see the windows of the prison cell where Bahá'u'lláh had been kept His first few years in 'Akká. It wasn't hard to imagine the Master looking out that way from time to time.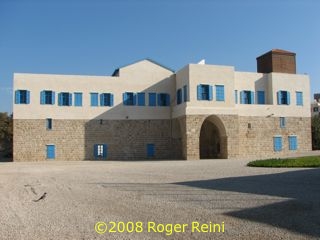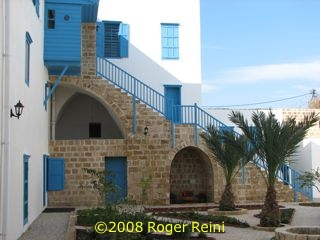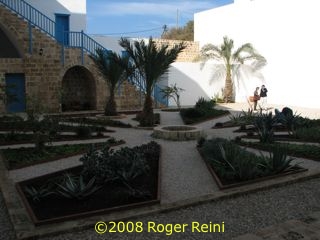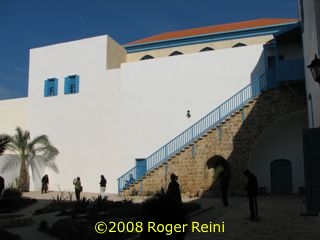 We saw His bedroom, His wife's, His sister's (the Greatest Holy Leaf), the room where Shoghi Effendi was born, the rooms where pilgrims were received, dined and slept -- much happened here (now there's an understatement). It's hard to keep track of it all! The stairway to reach these rooms was known as the Stairway to Heaven to the early Western pilgrims. It was in those rooms that Laura Barney asked the questions and the Master provided the answers that were compiled into the book

Some Answered Questions

, an important book of teachings.

Back at the hotel, I stopped at the Internet café again for 45 minutes or so, receiving one more prayer request. Then I walked around the area, seeing what was what. I think I passed an English-language bookstore, though I didn't stop in. I saw a restaurant called At David's that tempted me. At first, I resisted, for I'd just had a snack at the Internet café. But I walked by again later, and this time I was ready for beef shawarma and falafel. With a Diet Sprite, it was 39 shekels, and I even had some leftover bread.

I went back to the hotel for a bit. When I left, I decided to leave the camera in the room. It was wonderful walking down the terraces without the bag on my shoulder, small though it may have been. I made my way to the Pilgrim House library, where I briefly perused the latest edition of

Bahá'u'lláh and the New Era

and a few other books. Back at the PRC, I found time to write, play the center's guitar, and even start composing a song. This was a classical guitar, with nylon strings and a wider neck than I was accustomed to. But it held tune quite well, so it was by no means a cheap guitar (the strings might have been due for replacement, though). Still, I felt that a narrower neck, steel string guitar might be useful, too. Ian Kelly saw me; he didn't know that I played (I hadn't told him, frankly). He liked the bluesy noodling I was doing (he was more into heavy metal and thrash). After I relinquished the guitar, I went downstairs for a cup of tea and my leftover bread while I sat with the Kelly parents. Then we had another evening talk at the International Teaching Center and another ride back up Mount Carmel for the night.



An aside about TV



Before turning in every night, I would turn on the TV. I found myself watching Fox News (the US channel, not an international version), Sky News and ESPN (an international or European version) because those were the main English-language channels. I did watch BBC Prime for an episode of

The Vicar of Dibley

(subtitled in Hebrew, but I didn't need the subtitles, obviously) and some ski-jumping on the Eurosport channel. There was also the English-language channel Star World (I noticed it was airing "Brothers & Sisters"). MTV and VH1 (international versions) were present, but I didn't watch those; I think I've outgrown them. Channel 33 (educational?) carried an IMAX film about flight narrated by Tom Selleck that I hadn't seen before. Nor had I seen Peanuts or old Baby Huey and Casper cartoons dubbed into Hebrew before. Overnight, Israel channel 1 and channel 33 carried vintage music performances, with black & white footage that sure looked like it came from the 1970's (I seem to recall reading that color TV arrived late in Israel -- 1981,said an article on Wikipedia). There were a number of Russian-language channels for the Soviet Jews who emigrated. There were channels from Germany, Spain, France and Italy. There were even Turkish and Lebanese channels. The Israeli sports channel carried soccer, mainly; you didn't always need the commentary for that. Back to news: the info card in the room said the TV had CNN, but not anymore; it was Fox News now. I seem to recall hearing about that change a few months back. Neither Fox News nor Sky News carried any commercials; the time for their commercial breaks was filled by other stories. Sky News had an automated news/sports/weather report, while Fox News had Fox News Extra reports using stories originating from Fox affiliates in the US. Some stories originated from Detroit, for I saw reporters Lila Lazarus and Deena Centofanti in a few such reports. The TV gave me a bit of a hold on the outside world.



Next

: Day 8


Back

: Day 6


Up

: Pilgrimage Home Page




DISCLAIMER

: this is not an official page of any Bahá'í Institution. All comments are my own and derive from my personal understanding of the Bahá'í Teachings. For official information about the Bahá'í Faith, you may wish to visit www.bahai.org or www.bahai.us.

Text and Video ©2008 Roger W. Reini. Photos ©2008 Roger W. Reini except where noted. Photos marked "© Bahá'í International Community" are reproduced with permission of the Bahá'í International Community (http://media.bahai.org/).


Written by Roger Reini
Revised January 3, 2009