First Attempt
Prelude to Departure
Departure for the Holy Land
Day 1
Day 2
Day 3
Day 4
Day 5
Day 6
Day 7
Day 8
Day 9
Return Home

Pilgrimage Home Page
Day 9



January 1, 2008



Happy New Year! I did not stay up until midnight to welcome in 2008, but I could (and did) watch the celebration in Times Square at 7 AM. That was odd, seeing the ball drop while the sun was already up. I'd awakened around 4:30 and saw the second half of the Chick-Fil-A Bowl game, which Auburn won in overtime.

While flipping through the hotel magazine, I saw an ad for Mini Israel, a park that had miniature replicas of important buildings and sites in Israel. The ad showed a miniature Shrine of the Báb.

When I looked across the bay, the 'Akká area was not as visible at it normally had been. Was this symbolic of the start of physical separation, the winding down of my pilgrimage and my approaching departure?

I had my breakfast buffet again, the last one of my stay, for I would be leaving before breakfast tomorrow. Then I started to pack my bags. I visited the Internet café for a final time to check e-mail. No additional prayer requests were waiting for me, which was good because I might have had trouble honoring them. I did have an e-mail from John Suggs, who told me that he and his wife were somewhat envious of me because I got to see 'Akká (they had been here during the rocket attacks in 2006 and didn't get to see the outlying sites).

Around 11:15, I started walking towards the Golomb gate using the public stairs. I did not have my camera bag or anything else with me; I wouldn't need them and wouldn't be able to use them where I was going. This was to be my next-to-last official pilgrimage activity: a visit to the Archives display. This would not be in the Archives building, which was closed for earthquake retrofitting. The special exhibit would be in the Seat of the Universal House of Justice, which had given over the banquet hall for a temporary archives exhibit.

By 11:45, all 8 members of our group had arrived. Four of us were from Michigan: Aaron and Bahia (or Bahiyyih?) Seely from Washtenaw County, Naseem Alizadeh from Oakland County, and me from Wayne County. We were met by our guide, a young man of Persian ancestry from the Democratic Republic of Congo whose name escapes me. He conducted us over to the Seat. After a visit to the restroom, we went up in the elevator to the main level. The previous group was still there, so we waited outside the exhibit room for 20 minutes or so while our guide told us about the exhibit, why we wouldn't be seeing some of the exhibits that pilgrims normally see (too fragile to move, basically), etc.

At last the other group left, and we were able to enter. We all removed our shoes and put them aside. The room was filled with several cabinets of East Asian design. At the head of the room were three cabinets, the center one with a peacock on top. These were the most important cabinets, for contained within were portraits of Bahá'u'lláh and the Báb. One by one, from right to left, our guide opened the cabinets. The first cabinet contained the only known authentic painted portrait of the Báb. The second contained a triptych painting of Bahá'u'lláh painted during His time in Baghdad by an Armenian painter. The third was one of two known photographs of Bahá'u'lláh taken while in Adrianople (Edirne), Turkey, shortly before being sent to 'Akká.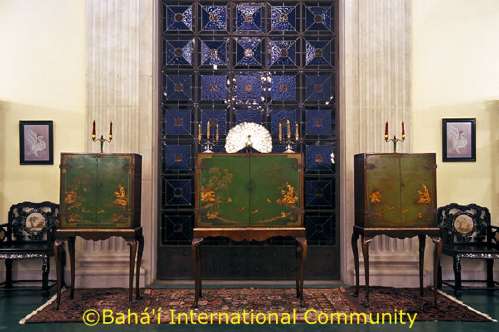 The portrait of the Báb showed Him in a seated or kneeling position wearing a tan-gray outer cloak, a green tunic, and a green turban (green denotes descent from the Prophet Muhammad). He had long facial features, thin lips, and a moderate-length beard. As I approached, the more I felt He looked like John Lennon to some extent. I could easily visualize Him wearing a pair of Lennon's National Health granny glasses.

The triptych of Bahá'u'lláh featured Him in three settings: at the public bath, as a Christian holy man (the Armenian was Orthodox, after all) and as a Sufi dervish. He had jet-black hair that was somewhat long and a black beard of moderate length. He seemed to have a slight squint in His right eye. Put Him in hippie attire of the '60s and '70s, and He'd fit right in (physically, that is). Alternatively, put Him in white robes, and one might think He looked like Christ (or looked like how Christ is typically portrayed in the US). He would have been in His late 30's or early 40's when the painting was done, not much younger than I am today (44). Unlike the Báb, He did not appear to look like anyone familiar to me. I felt happy and joyful when viewing these portraits of Him.

When I viewed the photograph of Bahá'u'lláh, though, I felt somewhat sad. It had nothing to do with His being older (50); rather, He showed some lingering after-effects from an attempt on His life in which His half-brother Mirza Yahya had tried to poison Him. I could see a look of grim determination in His face, as though He knew the trials that He, His family and His companions would soon be facing. I had encountered a photograph of Him before via the Web; it was on a site run by a non-Bahá'í, for no Bahá'í would dare put His picture up in an undignified setting. We have a rare bounty in being able to gaze upon the faces of the Manifestations of God after Their ascension from this plane of existence; it is a bounty that should not be abused. I studied and admired the portraits as long as I could until it was time for the cabinet doors to be closed.

We then moved to the other exhibits. First came view of Tablets revealed by Bahá'u'lláh, the Báb and 'Abdu'l-Bahá. I believe they were reproductions as opposed to the original Tablets, though I could be mistaken. One could see the Words of God in the handwriting of their Revealers. There were examples of Tablets written by Bahá'u'lláh both before and after the attempt on His life; the effects on His handwriting were quite apparent. We saw one of Bahá'u'lláh's tajs (something like a fez), an undercap of His (worn beneath the taj to keep it from being dirtied by sweat), samples of His hair, lockets with His nail clippings, a vial with some of His blood, His comb, some of His toilet kit, and one of His ábas or cloaks (brown with white trim). One of our group asked our guide if he knew how tall the Blessed Beauty was. He did not know for sure but knew that the Báb and 'Abdu'l-Bahá were taller. I mentioned that I heard He was fairly short -- 5 foot 1 or so.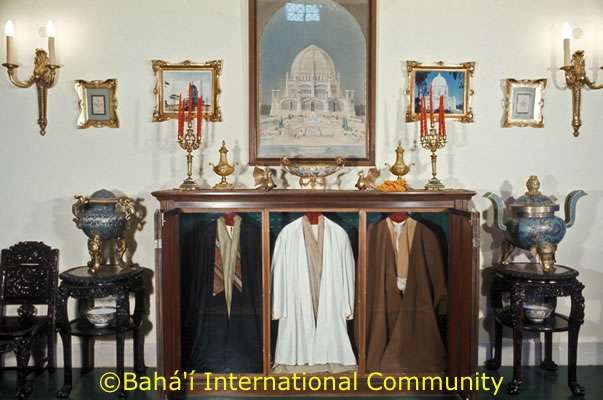 We got to see one of the Báb's shirts -- green, finely tailored, befitting His status as a textile merchant. We saw more relics of the Báb, 'Abdu'l-Bahá, the Greatest Holy Leaf and Shoghi Effendi. We saw a sword that belonged to Mulla Husayn, the first to accept the Báb. It may or may not have been the sword that he used when, with one swing, he cut through a tree, a gun, and the neck of someone attacking him. There's no way to know for sure. We also saw a stone from the floor of the Siyah-Chal, a terrible prison in Tehran where Bahá'u'lláh was imprisoned for several months in 1852.

Our archives stay came to an end. We left as another group prepared to enter. Most of us went over to the PRC, as did I. I then proceeded down the public stairs to the downtown area heading for the train station. It took me a while to navigate the streets and construction to get there. There was a security guard at the entrance who asked me for my passport. I told him it was back at my hotel. He asked me my purpose, and I told him: get a train ticket to the airport for overnight departure. He let me get the ticket. I then walked over to the Carmelit subway, which was more like an underground cable car. The cars themselves were not flat; you had to walk up or down steps inside the car to get to your seat. It was 5 1/2 shekels a ride, and I rode it all the way to the top, exiting next to the Internet café I frequented.

Back at the hotel, I finished packing. I took my passport from the hotel safe, just in case. I also left my camera and memory cards in the safe, again just in case. Tonight's farewell ceremony would be after dark, and I didn't think it was a time for taking pictures. I made arrangements for a taxi at 4:30 AM, then set off for one final walk down the upper terraces to the Shrine of the Báb and the PRC.

As I descended, I offered two more obligatory prayers, even though I'd already officially offered one for the day. When again would I be able to offer them in view of the Shrine of the Báb and the Qiblih? I cooled down for a little while at the first terrace before the Shrine. For a brief moment, I became a tree-hugger, embracing at arm's length one of the orange trees on that terrace. I circumambulated the Shrine once, then visited the Báb's Shrine. I bowed and prostrated myself at the Threshold and placed my prayer book there again, keeping my loved ones and liked ones in mind. I prayed for the answer to my previous prayers to be sent (or sent again if I missed it the first time around). At 5, I visited 'Abdu'l-Bahá's Shrine. This time, I did bow at His Threshold. I noticed the little girl whom I saw at the Shrine of Bahá'u'láh approach the Threshold with her father. She bowed, prostrated herself, and I then saw her take a rose petal from the Threshold and put it in her prayer book. I offered a prayer for forgiveness on her behalf; then again, I don't begrudge her for doing that. Perhaps the Master smiled as He saw what happened. Then it was time to leave. I went out to the gardens for a longing look at the Shrine, and then I went over to the PRC. I got my last container of hummus from the refrigerator and went upstairs.

As I surveyed the scene, I saw card games, guitar playing, meal eating, lots of fellowshipping, and that was just in the upstairs lounge of the PRC. I wondered how the other pilgrims might remember me. Those in my group may recall how I read from the Writings and the account of Professor Browne. Others might recall me sitting at the table and writing. I did do a lot of writing while I was here, mainly in my little notepad. That was easier to carry around than the bound pilgrim journal I also had with me. I wanted to capture and record the experiences while they were still fresh.

One of the pilgrims from Miami (Eric Green?) had his MacBook Pro out and was reviewing his pictures. They were very nice indeed, and I couldn't wait to offload and review my pictures as soon as I returned home.

At 6:45, I walked over to the Pilgrim House for the farewell. There were many pictures being taken, though not by me; I'd left my camera deliberately back at the hotel. The time for taking pictures was over for me. At one point, the illumination of the Shrine increased. Then, at 7:20 or so, the program began. The Tablet of Visitation for the Báb and Bahá'u'lláh was chanted; I don't believe I had ever heard it chanted before. The Tablet of Visitation for 'Abdu'l-Bahá was read in English. Then we circumambulated the Shrine one final time as a group and returned to the courtyard. The Shrines were prepared for visitation, and after a few minutes, we were permitted to enter. This time, I used the rooms closer to the pilgrim house and the PRC. I noticed I had to step up to enter the Shrine of the Báb on that side and that the Threshold was much lower. I bowed at the Threshold and noted for the first time that the carpet over the spot where the sarcophagus lay had the Greatest Name on it. I recited some prayers from the prayer book and remembered the one who was martyred with the Báb. Then I visited the Shrine of 'Abdu'l-Bahá and bowed at His Threshold. Again, I was conscious that others desired and deserved time at the Shrine, so after one last view inside the Shrine of the Báb, I took my leave. I saw Eric Green taking some pictures of the Shrine (meaning the superstructure, not the rooms) from the gardens with his digital SLR. I went inside the Pilgrim House where I ran into Kian Tavackoli again. He asked for my e-mail address, and he gave me his mother's. We had a nice talk for a bit. Then it was back to the PRC for a bathroom break and a last chance at water & cookies (I wasn't in the mood for tea). I then boarded a sherut for one last ride up the mountain, back to the hotel. I set up a wake-up call for 4 AM, then went to bed.



Next

: Return Home


Back

: Day 8


Up

: Pilgrimage Home Page




DISCLAIMER

: this is not an official page of any Bahá'í Institution. All comments are my own and derive from my personal understanding of the Bahá'í Teachings. For official information about the Bahá'í Faith, you may wish to visit www.bahai.org or www.bahai.us.

Text ©2008 Roger W. Reini. Photos ©2008 Roger W. Reini except where noted. Photos marked "© Bahá'í International Community" are reproduced with permission of the Bahá'í International Community (http://media.bahai.org/).


Written by Roger Reini
Revised January 29, 2009