Travelogue: Texas,
March 2012

By Roger W. Reini



By date:


Prologue

Once again, it is time to determine where I want to spend my vacation time this year. I have six weeks' worth, although four days are committed to the week of July 4 (mandatory vacation at work). In recent years, I have taken two weeks in March -- California in 2010 by train, and Texas in 2011 by car (SUV, to be precise). And what will it be this year? Texas again, a close duplication of last year's spring trip: a few days in Austin and a few days in League City, more visits with old friends and a chance to do some bike riding.

I had chosen the date range of March 16 through 31 several weeks ago. But now, as that time drew near, there were some events that might cause me to push the dates back. The launch of the next generation of the Apple iPad was rumored to start March 16; I was very interested in getting one to replace my first generation model. And issues from work were threatening to compel me to delay my plans until they were resolved. I'd know more about the iPad on Wednesday, March 7 after its public introduction, and as for work, my boss had not yet told me to delay my plans. And so I made arrangements today for mail to be held and papers to be stopped during the trip. Was I being too presumptive? No, I wasn't; my boss would approve my vacation time and asked me what needed to be covered during my absence; I told him (mainly meetings that I was conducting).

The next-generation iPad was indeed announced on March 7 and would go on sale March 16, with pre-orders accepted that afternoon (meaning the 7th). It was difficult to access Apple's site to order the device, for everyone had the same idea I had: get your pre-order in right away! After some struggle and some patience, I was able to place my order. Even better, I was able to have it shipped to my friend Keith's in Austin; no need to delay my order or delay my trip, for it should be waiting for me when I arrived on the 18th. As of March 12, my new iPad was sitting in a FedEx warehouse in Nashville, promised to be delivered by 3 PM on the 16th. I almost could have had it shipped directly to me. Ah, but what if the delivery time had slipped? That would have prevented me from hitting the road in a timely manner. Even setting it up would have delayed my departure. No, I had made the right decision to have it shipped to Keith's. And what of my old iPad? I had three people express an interest in it: my uncle, my niece, and Keith. Family took precedence, and my uncle eventually deferred to my niece, who was very happy to be promised my old iPad.

On Monday, I folded down the seats in my SUV and packed one suitcase nearly full. That was enough preparation for that day; I wouldn't load the SUV until Thursday, so no need to pack any more that evening. On Tuesday, I brought up a guitar case and pulled a few more items for packing. On Wednesday, I did a little more packing. On Thursday, I loaded my SUV with most of what I would be taking; I was fortunate to complete that before severe weather came into the area and I went into trained weather spotter mode. The severe weather stayed away from my area; unfortunately, it hit the town of Dexter rather hard.

Top



Friday March 16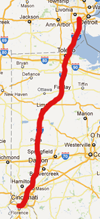 Miles today: 267.6
Miles to date, this leg: 267.6

When I got up for good, it was a bit after 5 AM. That was plenty of time for me to do my normal morning Internet checks and normal freshening up, as well as finish packing for the trip. The last thing to be loaded was my bike; that went on the rack, naturally enough. By 6:30, I was on my way to work with no plans to return home. The papers had been stopped as of today, and so had my mail. I tried calling out on the Tin Lizzy club repeater, but there was no response, which I thought strange. I didn't get any response until I reached Michigan Avenue and Outer Drive. Perhaps something had gone wrong in yesterday's severe weather. A few days later, that appeared to be confirmed when our repeater expert determined that the amplifier had quit working and had removed the repeater for repairs.

This being my last day of work for two weeks, I had to brief my boss on a series of meetings I'd been hosting and he'd been following. Now he or another co-worker would conduct this meeting in my absence, so I briefed him as best I could. Today's meeting had been moved to 10 AM because of my pending trip; it turned out to be an informative meeting, and the team should be able to continue its work next week and the week after. I sent out the results of that meeting and then had a lunch meeting with a supplier that also proved to be informative. In the afternoon, things had really slowed down, and I had wrapped everything up by 2. Yes, I was a bit antsy to get going, and get going I did.

As I drove down I-75 through Michigan and Ohio, I noticed that the gas prices were 20 to 25 cents cheaper in Ohio. Whereas the $4 per gallon barrier was about to be broken in Michigan, I could get gas for $3.77 a gallon in Sidney, Ohio at the Kroger there. But for some reason, I didn't get the 3 cent a gallon discount I normally get by using my Kroger Plus card (I would later learn that Kroger Family of Stores stores, of which this was one, did not offer the discount). Now as I drove down, I listened to satellite radio, naturally; Radio Classics had some fine programming this afternoon, including two episodes of the Green Hornet, Hopalong Cassidy, and St. Patrick's Day episodes of Jack Benny and Town Hall Tonight (a.k.a. the Fred Allen show). One of the channels was offering content from WonderCon this weekend, and of course the Underground Garage was playing the music it normally plays.

By the time I reached Dayton, I was in need of a rest and another bathroom break; I was also hungry. And so I stopped for supper at Skyline Chili, home of one of Cincinnati's contributions to American cuisine. I didn't say it was a contribution to FINE American cuisine! I brought my laptop in with me to check e-mail; there was quite a bit to check. I also learned that my new iPad had been delivered to my friend Keith; either he or wife Karen had signed for it, but all the Fedex site said was that "K. Zabalaoui" had signed for it. Time of delivery, 3:55 PM. They had promised 3 PM delivery; shame on you, Fedex!

The drive through Cincinnati was uneventful, although traffic was heavier, and I had to be extra alert. But I had no real difficulty making it to the Hampton Inn near the Cincinnati airport by 7:20. I wouldn't be going anywhere tonight, not that there was anything near the hotel other than parking lots and more hotels. The only exciting thing I did was to go outside and take some pictures of Venus in the evening sky.

Top

Saturday March 17




Miles today: 598.9
Miles to date, this leg of trip: 866.5

I woke up for good around 5 in the morning, took a shower, dried off, did my normal e-mail and web checks, and then had breakfast in the lobby. A lot of people were waiting for the shuttle bus to take them to the airport; I was not among them. I was eating scrambled eggs and turkey sausage, which was actually pretty good this morning. Around 6:40, I checked out and loaded up the car. Around 6:42, I went back to the front desk and asked for my key back, for I feared I had left something in the room. Indeed, I HAD left something: the 6 CD set of I, Claudius I'd ordered last fall. I'd listened to the first 2 discs but not the remainder; this drive would be a good chance to complete the listening.

And so, with my CD's retrieved, I left the hotel around 6:45. A few more miles away, I got concerned that I'd not packed my toilet kit, which contained my medicines. I was pretty sure I had, but I wasn't absolutely sure. And so I stopped at the rest area and opened up my suitcase; yes, the toilet kit was there, and so were the medicines. I could continue my drive in peace and security. Well, as much peace and security as there can be in the dark in places where deer have been known to cross. Fortunately, I didn't see any deer.

My drive today took me down I-71 into Louisville, where I picked up I-65, which took me through Bowling Green and down to Nashville. Then came I-40 through Memphis and into Arkansas. For two hours today, I listened to discs 3 and 4 of the I, Claudius dramatization. It was good, but it clearly differed from the miniseries that ran on the BBC and on Masterpiece Theater in the '70s. How could it not differ, being a 6-hour radio drama versus a 13-hour television drama and using different actors (though having Derek Jacobi, the TV Claudius, play Augustus in the radio drama was a nice touch)? Then came some more Radio Classics, including Studio One's version of "The 39 Steps" with Glenn Ford and an interesting Dimension X of which I missed a large portion because I was getting gas. In the afternoon came music: an American Top 40 from March 1979, which originally aired during my sophomore year of high school; it was appropriate to hear it this weekend as I was traveling homeward to see school friends. Later came a '60s Satellite Survey from March 1961, also interesting to hear, although it wasn't from my favorite musical period.

I'd had lunch at a Denny's in Fairview, Tennessee, west of Nashville; my lunch was a Western Skillet, which was pretty good. Back on the road, I made it through Jackson and Memphis, although I got concerned in Memphis when I passed a cop on the side of the road, and after I passed, I saw him pull out onto the roadway. Was he coming for me? No, he pulled over someone else. Whew! Soon, I was crossing the Mississippi and heading into Arkansas, where I would stop for the night. Precisely where, I didn't know; it would depend on how well the drive went and how I felt. I stopped for gas in Forrest City, a town where I had stopped in several occasions before. Some thirty miles down the road, past Brinkley, a drive that had been reasonably smooth sailing went to pot. A major construction zone loomed 10 miles ahead, but the backup stretched back all of those 10 miles, and I got stuck in it. There was no chance to turn around; the median had a fence to prevent it, and there was a state trooper at the Brinkley exit ready to bust anyone who made the attempt in the areas where there wasn't a fence. Traffic came to a dead halt for several minutes at a time on three or four occasions. I tried calling on 146.52 for a traffic report; I did get one from AB9xx, several miles ahead of me in the backup. His news was not promising. The next exit was not until the construction zone began; I vowed to exit then, no matter what. And that's what I did; I took that roadway down to where it intersected US 70, which I took westward. I passed through the small town of X, where there was a gas station and convenience store. I didn't need gas, but I did need to use the restroom rather badly. Was I grateful for the presence of that store! I bought some rye chips to munch on as I drove westward.

It was nearing suppertime, and there was a McDonald's in Lonoke where I could eat and make reservations for that night. There was also a Holiday Inn Express not more than 100 yards away; that's where I made my reservation for the night. Why bother going any further this evening, not after the stress of the traffic jam. I'd stayed at this hotel before, last March in fact, so I knew what to expect. My room number was 212 (boiling!), easy enough to remember. Now I wasn't quite done for the evening; no, I made a short run over to the Walmart to pick up a couple of snack items. Once I made it back to the room, I was indeed done for the evening.

Top

Sunday March 18




Miles today: 542.3
Miles to date, this leg of trip: 1409.8

For some reason, I didn't have the world's greatest sleep last night; maybe it was the caffeine that I had later in the evening. I was up for good around 5, which would have been 6 by body clock time. I made my usual e-mail and web checks and then went down to the lobby for breakfast. Hampton Inn has a waffle maker, but this Holiday Inn Express had a pancake maker. As I was not in the mood for pancakes, I didn't use it. No, I had cinnamon buns, Cheerios (real or generic, I don't know), and 2 small cups of yogurt.

By 7:15, I was on the road. Not long afterwards, I was driving right through Little Rock, and soon I was on I-30 heading to Texas. Since I was on Central time now, radio programs started one hour earlier; thus, it was at 8 that I tuned into Breakfast with the Beatles on Sirius XM. In recent weeks, I had not listened all of the way through, but today, I did (not counting when I was out of the car). And there was nothing wrong with that at all. Today's show was a "slightly different" show, featuring not-so-familiar versions of the familiar songs. To be honest, if you were a regular listener to BWTB, you would have heard these not-so-familiar versions before. But they were still good. I especially enjoyed hearing the "Paperback Believer" mashup (backing track of "I'm A Believer" and the vocals from "Paperback Writer" -- it must be heard to be believed).

Around 10:30 in the morning, I crossed the border into Texas and stopped at the rest area and visitor center, where I learned that Pearland has a tourist leaflet now (huh?). Then it was back onto I-30 for a fairly long and unexciting drive to Dallas, made a bit more bearable by listening to disc 5 of I, Claudius (only one more disc to go) and some of David Johansen's Mansion of Fun on The Loft.

Now what would I do for lunch? (Note to Baha'i friends: I am unable to observe the fast) I had an idea of going to the Steak & Shake in Rockwall, for I had stopped there before on at least one occasion. It turned out that a lot of people had the same idea as me, for there was quite a wait to be seated. I ended up sitting at the counter for my meal. And here was where I got some possibly disturbing news: my friend Keith had come down with something and was not feeling well at all. Uh-oh!

The drive around Dallas wasn't too bad, and neither was the drive down I-35E. However, when it and I-35W merged to form plain old I-35, there was a backup starting in Hillsboro. Not wanting a repeat of yesterday's problem on I-40, I got off at the nearest exit. The atlas said this was an alternate route through town, and it worked for a while. Unfortunately, it put me back on the freeway and back into the traffic jam. Traffic never came to a complete stop, but it was slow going off and on all the way down to Killeen (but not in Waco or Temple, though; the freeway was wider there). It was getting to me, and I was tired of it. Fortunately, after Killeen, traffic moved smoothly all of the way down to Round Rock, which was where I turned off to head to my destination.

[Details suppressed, other than to say I opened my new iPad and enjoyed it]
Top

Monday March 19

At one point in the night, I developed very painful cramps in my legs that I couldn't get to subside; I ended up pulling the CPAP machine onto the ground as a result of some thrashing, but it kept on operating. At this point, I figured enough was enough, so I turned it off and was effectively up for the day. I did my usual e-mail and web checks, taking my sweet time to get up. The wind was howling in the room, as it usually did whenever it was windy outside.

[Big items from today: a trip to Rudy's, buying an iPad 2 cover for an iPad 3, and monitoring potentially severe weather]

Top

Tuesday March 20

[Not much of significance happened today other than the chance to review and use a true iPad 3 cover]

Top

Wednesday March 21

One thing different from previous trips has been my need to wear a CPAP mask when asleep, for I was diagnosed with sleep apnea last November. The mask has definitely helped me, I'm sure of that; there were times during previous vacations that I felt quite sleepy behind the wheel while I was driving, probably because I wasn't getting a good quality sleep, and I haven't felt that on this trip. However, the fit of the mask is a very difficult thing for me, and I had trouble with it overnight. It did its job, but I knew I had to adjust the fit again. When I got up around 7, I felt I'd had a reasonable sleep.

Today was the day for a major announcement related to Doctor Who: the Doctor's next companion would be named, or rather, the performer who will portray the next companion would be named. I don't recall if I found out via Twitter or Facebook or another website (I think Twitter); in the long haul, it won't matter one bit. No matter how I found out, the important thing was that I did find out that Jenna-Louise Coleman would play the Doctor's new companion. I wasn't familiar with her; that would soon change, I knew.

[Details of the rest of the day have been suppressed by a conspiracy of cats]

Top

Thursday March 22

One of the things I usually do when I go to Austin is to visit the Round Rock Premium Outlet, home of a Crocs outlet store. That particular store is where I got my first pair of Crocs as well as a few others, and that was where I was headed this morning. It was fairly easy to reach by going up 620 to the 45 tollway and onto I-35, although I must confess I don't care for those high ramps between I-35 and the tollway, especially when it's windy and you're in a higher-profile vehicle. But I made it to the outlet mall without any mishaps. My first stop: where else but the Crocs store! The first pair that caught my eye had what was called a relaxed fit, which felt narrower on my feet than what I had been wearing, and so I put those aside. The next pair had a roomy fit, and those felt very much like what I had been wearing. Was I going to get them? Yes, I was. After a walk around the mall, I came upon the SAS outlet store. Now I had a pair of shoes back at home that I had liked very much, but they were several years old and had nearly worn out. I'd worn them in the Holy Land on pilgrimage; now, the soles were so thin in places, the shoes were in their own "Hole-y Land". It was time to retire them. I'd had a pair of SAS shoes several years ago and liked those, and so I went inside. There didn't appear to be many loafer designs, which was what I was looking for as a direct replacement. But there were some, and I tried one on. Did it fit? Yes, it did, and so I bought that pair. Coming home with two pairs of shoes -- you could have called me Imelda today.

It was close to lunchtime, but as I exited the outlet mall, I noticed the shopping center across the road had an REI store. But I couldn't go across, as I was in the wrong lane and had to loop around to be in the proper lane to cross. There were some tempting items at REI, but there wasn't anything so tempting or necessary that I had to get it. I left empty-handed but fuller-walleted (so to speak). Now where would I go for lunch? There was a Steak & Shake nearby, but I'd just eaten at one and wasn't in the mood for a repeat. But I was definitely in the mood for Chuy's, and there was one an exit or two down I-35. It was quite busy when I arrived; I had to park in back, and then I had to wait 15 minutes or so for a table. I sat there with my iPad reading the latest news from the Wall Street Journal, and so the wait didn't seem that long. Finally, I was seated, and then I had to decide what to order. The specials today involved carne guisada, but I decided to go with the Comida Deluxe. They should have added "Grande" to it, for when it arrived, it was a big plate -- a big, full plate. I was hungry when I started it, but I was definitely full when I finished. It wasn't a meal you'd want to eat every day, but I hadn't had one for six months.

I'd noticed on the map that the back exit of Chuy's and other businesses in the vicinity went to Chisholm Trail Road. This road was indeed part of the famous Chisholm Trail cattle drive trail. The road was mostly nondescript except when it passed through the Old Town area. Here, the road dipped to cross a rather scenic creek. I wanted to stop and take some pictures, but the place I'd turned into was signed No Parking. Fortunately, there was a parking area nearby. It was a park dedicated to the history of the Chisholm Trail in the area. There were a few statues of pioneers and cattle in this park, and I took pictures of them before walking to Brushy Creek. This crossing was well known by those who took the trail; it passed by a round rock, from which the town took its name. And the rock was still there, and I saw it and took some pictures of it, as well as some pictures downstream and upstream.

The Chisholm Trail road ended at RM 620, so I took the more leisurely route back to Steiner Ranch. I had thoughts of visiting the Best Buy and Barnes & Noble at the intersection with 183 (the Lakeline or Lakeway Mall); those thoughts took on added urgency because nature was calling. Then nature was shouting. She hadn't started blaring from the rooftops as I reached the Best Buy, but I knew I had to silence her, quickly. Fortunately, I could, and I did. I could then wander around the store in comfort and peace. I didn't find anything I wanted or needed, but over at B&N, I found the latest Doctor Who magazine available in the States (one issue behind the UK). Then it was time to head back "home"

[Highlight of the evening: the night sky with little light pollution to spoil it] The skies overhead were quite dark, much darker than back in Westland. That was by design, [Karen] said; notice the lack of streetlights. This was a tremendous opportunity for me to do some photography of the night sky, and so I got my tripod and my good camera and set up outside, first in the front yard, then on their upper deck. Venus was so bright, I thought it might cast a shadow. I got wonderful results with several 10-second exposures, perhaps the best night-sky photographs I'd ever taken. I wouldn't know that for sure until I loaded the pictures into iPhoto, but when I did, wow!

Top

Friday March 23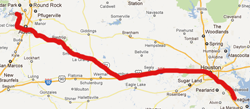 Today was my last day in Austin; I would head to Houston and League City sometime this morning, although exactly when I didn't know. I had been up fairly late last night, but I wanted to be up early this morning so that I could say goodbye to Hannah and Becca before they left for school.

I followed Keith's suggestions to reach Highway 71. I'd taken this route before, so I had no problem following it, not even that long drop down 2222. I wondered how fast I would be going on my bike or trike down that hill; I'm not sure I'd want to know! At 71, though, I didn't go straight through; it was lunchtime, and I believed that Austin's sole Genghis Grill location was in the area. It didn't take me too long to find it near the Central Market. The layout of the restaurant was nearly the same as the Webster location, if I recalled correctly. The food, of course, was the same, very similar to BD's in Michigan. Today, though, I decided to have potstickers as an appetizer before my main meal, which was chicken and shrimp, bean sprouts, green onions, some white onion bits, some pieces of pineapple and some other vegetables I wasn't sure what they were, served over brown rice. With the potsticker appetizer, I wasn't going back for a second round, although I did have some dessert. And then, I was fortified for the road.

Traffic was heavy heading out of Austin but thinned out past the airport. I saw a number of places where the bluebonnets were out in force, but there wasn't any particular location where I felt I had to pull over and take a picture. I stopped for gas and a bathroom break in La Grange at Weikel's Bakery. No, I didn't get any of their bread; it didn't make sense for me to get any, since I would be at a hotel. Onward I went, listening to Radio Classics most of the time. Soon, I was on I-10 heading east. Off in the distance, I could see a balloon or blimp; it turned out to be the Met Life blimp. As I reached Katy, the traffic definitely picked up; by Highway 6, it was quite clear I was in Houston.

I drove I-10 all the way to downtown to pick up I-45 -- and then traffic began to crawl. I had hit the start of the rush hour. Places moved well, but things got very slow at the South Loop, and they seemed to be slow up ahead as far as I could see. When the warning signs told of an accident at Beltway 8 with lane closureS (note the plural), I figured I should find an alternate route, like Old Galveston Road. That proved to be a bit slow at times, as well, since Chavez High School was letting out as I drove by. I popped in disc 6 of I, Claudius and began listening to it. By the time I reached League City, I was more than halfway through the disc. Now how would I reach the hotel? By taking Walker Street from Highway 3, a path I'd followed on my bike many times last year. There was a bit more construction near the hotel; there was also an ambulance at the nursing home, loading up a patient for a trip to the hospital.

I was at the hotel around 5 o'clock, or 5 hours after leaving Austin after lunch. I went to check in; there wasn't any difficulty, although I was asked to show my AAA membership card to prove I was entitled to the AAA room rate. I'm rarely asked to show it for that purpose, although in theory I should be asked every time. I pulled it out and showed it, and everything was squared away. For the next six nights, room 322 would be mine. It was on the opposite side of the hotel from where I stayed last year, meaning I would have a view to the south instead of the north. After unpacking, I set up my computer and did my e-mail and Web checking, as well as charging my iPod touch.

There was one errand I needed to perform this evening: get some mailing tape so that I could mail my old iPad to my niece attending college in Virginia. I could do that easily at the Walmart down the street, and I picked up a bag of popcorn for those any-time munchies in the hotel room. Now it was time for supper; where to go? I tried Cici's Pizza, but when I saw how busy it was, I bailed on that idea. Five Guys Burger and Fries was nearby, though, so I ended up going there. This was the second time for me to visit one of their restaurants, the first time being back in Michigan. That location didn't impress me, but this one seemed to have better burgers. Then I went over to Best Buy to wander around for a bit, to see if there was anything worth getting. As I was going up and down the aisles near the Apple section, I heard someone call my name; it was Jamie (Stephenson) Hester, one of my classmates from school, who was surprised to see me there and even more surprised that I would have come over a thousand miles from the Great Lakes to go to a Best Buy.

Before I'd gone into the Best Buy, I had noticed a very, very thin crescent moon off to the west. I attempted to take a picture of it and Venus with my iPad, the only camera I had with me at the time. I knew it wouldn't be of the greatest quality, and truth be told, it wasn't. But one could still get the idea of the moon in the sky.

When I got back to the hotel, which was less than a mile away, I was in for the night. I uploaded my pictures into iPhoto and identified them, and I started to munch on the popcorn I'd bought at Walmart. The bag said it could have been microwaved, but I didn't have a microwave in my room; I'd have to forgo warm popcorn. But it was good straight out of the bag.

Top


On the drive down, my vehicle's tripminder was reminding me to change the oil soon. I hadn't had an opportunity to do so before I left, but I had an opportunity today. There was a Quick Lane service facility close by, and I wanted to use them because I regularly used the Quick Lane facility in Canton Township back in Michigan. After I had my breakfast down in the lobby, I went over to McRee Ford, thinking the facility was attached to their dealership. Although it was affiliated with them, the facility was not part of the main dealership; it was a bit further down the feeder. There were a few other cars there at opening time, but I was handled quickly. I had my laptop and my iPad with me, and so I was able to read the Wall Street Journal, check e-mail and do a bit of Facebook while I waited for my SUV's oil to be changed and the tires rotated. One of the technicians asked where the key for my wheel's locking hub nuts was; I told him I'd put it on top of the instrument panel by the message center.

An hour and 20 minutes after I arrived, my vehicle was ready. No more reminders to change the oil on this trip! And now it was time for another errand to run. I drove through Dickinson, noting the big sale featuring the band for one of Dickinson's schools (high school, I presume). I passed near the Dickinson post office, but my destination was actually the League City post office. I was going to mail my old iPad to my niece Heather, and I knew she'd be very excited to receive it. There were a couple of bike riders on Highway 3 this morning, even though it was kind of foggy; the road and shoulders were wide, fortunately, so they weren't in any danger. And soon, after spending $17.70 for postage and insurance, my old iPad was on its way to Virginia, and I was on the way back to the hotel.

What was next for me? I was going to do some bike riding of my own, the first time on this trip. I took the bike off of the rack and got it ready to go, and then I set off. I was going to ride to Newport and ride through my old neighborhood, which meant crossing under the freeway. It also meant riding along the feeder road for a mile or so, not terribly bad at this time of the morning. Soon, I was riding along Brittany Bay Boulevard to Hobbs Road, and then I was turning onto Fairfield Court South and then North. The last time I'd ridden a bike through Newport was a long time ago. I'm sure I was still in school then. There were cars in our old driveway, but nobody was outside; there weren't that many people outside, period. I wandered up and down just about all of the streets, and I even pedaled through one of the newer subdivisions south of Newport. I had ridden my bike through that area before when it was undeveloped and the paths were dirt.

Halfway through the trip, I noticed that the fog was lifting and the sun was shining. It was time to put on some sunscreen, and so I pulled over to the curb, took out the bottle that I had in my bike bag and applied the sunscreen to my exposed skin. And then I continued my ride, passing past the houses of old neighbors and friends, even making a return trip past our old house before returning to the hotel. I'd ridden a little over 12 miles this morning, a nice trip. And now, it was getting close to lunchtime, and I was a bit thirsty and quite hungry. Where would I go? No doubt it would be one of my favorite restaurants. I had just had lunch at Chuy's in Round Rock, so I didn't want to go to the one in Webster. But I could easily go to Laredo's in Seabrook, and that's where I went. That Deluxe Dinner really hit the spot! It wasn't terribly busy there, but it certainly was out on 146. That made it slow going when I left for my next destination, which was Fry's in Webster.

I wasn't looking for anything specific at Fry's -- well, actually, I was: a Firewire hub. I thought I needed one in order to make a connection between the Mac mini that serves as a media center for my TV and the cable box. Why did I want the connection? I had heard that cable boxes could be commanded by Firewire to change the channel, and I figured that had to be a more reliable way than using an IR blaster that didn't always send the commands properly, or sent them in a way that the cable box couldn't interpret, with the result being that the channel didn't change and I recorded the wrong program. Fry's had a Firewire 400 hub, but I actually needed a Firewire 800 hub, which they didn't have. I left empty-handed. Later, I figured out that I didn't need a hub at all, that I could daisy-chain a connection from my existing Firewire drive to the cable box. All I needed was a cable with the right connectors at each end (one end Firewire 800, the other Firewire 400).

Back at the hotel, I rested for a while. I tried to work on this travelogue, but it seemed difficult to do so. Perhaps I was too busy living the vacation to record it. That wasn't really true; I could easily write short phrases that told what I did during the day, but as far as making a convincing narrative out of those phrases, that was proving to be difficult. I didn't worry about it too much.

Later on, I took a shower to clean up. I put on the other pair of shoes I'd bought at Round Rock, the nicer shoes from SAS. They were a comfortable fit, and the fit would improve as I broke them in. I was getting ready for tonight's big event, Shawn Merrell's birthday celebration at Jackie's Brickhouse in Kemah. That was at 7:30, and I left a little early for it. I was going to make a stop beforehand. Where was I going? To a field on Highway 96 (I must resist the temptation to call it I-96; that's a freeway in Michigan). At the north or northeast corner of the intersection with Lawrence in Kemah, there was a field with an impressive bloom of bluebonnets. It was quite common to see folks out there wandering around, taking pictures of the bluebonnets, taking pictures of people in the bluebonnets, etc., and now I was going to join in the fun. I turned onto Lawrence and into the field, parking next to the other vehicles that were there. With camera in hand (around neck was more like it), I went into the field and took a lot of pictures. Some were close-ups of particular flowers; others covered parts of the field. Later, I would post two pictures from tonight on Facebook; they would be well received.

Jackie's Brickhouse was a big dive, and it had a big parking area, big enough to have people directing you where to park and to have shuttles to take you to the front door. I didn't use a shuttle; I wasn't parked that far back. Soon, I was at the front door, looking for familiar faces. There were some up front, right in front of the bandstand with tables reserved. Who was there? I recall Kay Kinney (aka Mona Kay Ellis), Jody Jessen Kuchta, Kathleen Ling Amyx, Heather Crosby Jodzio, Laura Cook Velie and her husband, and Robert Balderas. There were others, but I can't remember who they were. Eventually, the guest of honor (Shawn) appeared with some cousins and other friends. Buckets of beer were on the tables, but I stuck with Diet Coke for the evening and with my meal (a popcorn shrimp basket). The TV screens had NCAA tournament games on, both men's and women's games; the game featuring the Ohio State men was definitely on. And later on, so was the band for that evening, the 11th Hour. They were a cover band playing classic rock, and they did a very good job of it. I stayed for the first set, which wrapped up around 10:30, and then I called it a night.



When I woke up this morning, it was foggy outside again. Would this change my plans to go riding in town today? Not at all. I figured the fog would burn off by mid-morning. And so, after my breakfast, I drove into town, taking the Loop all the way around to Memorial Park to fulfill my goal of pedaling along Buffalo Bayou to downtown and back.

When I looked at the trail maps, I figured I'd try to park in the section south of Memorial Drive. However, I couldn't. There was a big art fair taking place there, and I had to park in the main part of the park, north of Memorial. A lot of people had come out here ahead of me, but it wasn't too hard to find a spot to park. I took the bike off of the rack, loaded it up, removed the pants legs from my pants (turning them into shorts), put on sunscreen, put on my helmet and my camera bag, and set off. As I pedaled down the street, I saw a restroom on the jogging/walking track; I figured it would be a good idea to pay a visit to that porta-potty before riding in earnest. And it was indeed a good idea. I continued on past the tennis center and golf course before reaching Memorial Drive. I wasn't sure how to reach the path that was there; was it in fact the sidewalk? I did ride on the sidewalk for a while, although I'm not sure it was truly a bike path. There were some riders who did ride on the street, although at some point Memorial would become a freeway and they'd have to leave it.

It was just west of Shepherd where the trail really started. I was surprised to find it in rather poor shape, broken up in spots. It reminded me of the I-275 trail before the rebuilding effort started. But that didn't prevent the people from walking, jogging or riding the trail that followed the north bank of Buffalo Bayou. It actually looked like a peaceful stream here, a far cry from the huge ship channel it would eventually become. In a number of spots, the trail was under construction; I saw at least two bridges waiting to be put into place. I had my camera with me; naturally, I took many pictures.

Eventually, I reached downtown. I found myself riding under a number of streets and at least one freeway. Here, the trail was in very good shape, although it became covered in mud at one point. I didn't think I should cross that mud in my sandals, and so I turned around and found a way to the southern bank of the bayou. Here was a waterfall, part of Sesquicentennial Park. Here was Baker Common, an open area donated by the Baker family of Baker and Botts fame. In the common was a statue of today's most famous Baker, James Baker, former Secretary of State and aide to Presidents Reagan and Bush 41.

Now there was a path on this side of the bayou, and it continued on west, paralleling Allen Parkway. Today, the parkway was the site of a big dog walking event, where people and their dogs were walking on the closed roadway. I passed a water station, which serviced both people and pets. There were even a few small wading pools for the dogs to cool themselves. Cute! But I didn't stay to admire the dogs; I pedaled westward, eventually crossing the bayou at Waugh Drive to resume the trail along Memorial. Eventually, I left the trail and pedaled along Memorial, which was still a 3-lane road offering plenty of room for bikes and cars to co-exist. Soon, I was back at my SUV, having ridden some 14 miles. That was a nice ride, one I'd do again.

It was a slow trip out of the park, but I eventually drove down to Memorial Drive and got on the Loop. Where would I eat lunch? How about the Souper Salad on Beechnut near Meyerland? I had eaten there before, and I knew what to expect. Now last year, I had eaten at the Souper Salad in Pasadena and received my first-ever senior discount, completely unsolicited. Would I receive number two today? Nope. My ride this morning must have given me a healthy, youthful glow. No matter, for the food was still good, although I prefer the Sweet Tomatoes or Souplantation chain to Souper Salad (both are available in Houston, though I've never visited the Sweet Tomatoes in town). I had a couple glasses of either Diet Coke or Coke Zero.

When I'd finished my meal, I took a look around the Best Buy at Meyerland, but I didn't get anything there. Then I made my way towards the Central Market, going up Rice Avenue, passing Bellaire High School (site of the first debate tournament I ever attended), and stopping at a Walgreens. Why the stop at Walgreens? Well, I had just noticed a sore on my left angle caused by something on my Crocs sandal, and I'd figure I'd get a bandage or a cushion to put over it. I tried a patch for a bunion, but it didn't want to stay in place. That sore bugged me during my trip to the Central Market; I couldn't wait to get back to the hotel and put on some socks and change shoes.

I ran into a traffic jam on the Southwest Freeway; it turned out to have been caused by a stalled car in the middle lane. Once I got past it, it was smooth sailing to the Gulf Freeway, but traffic started backing up again around the Almeda Mall. Fortunately, I could get onto the feeder and pass up the traffic. Back at the hotel, I changed my shoes and identified the pictures I'd taken today. I posted two or three of these to Facebook, as well; they didn't draw quite the attention of the bluebonnet pictures, but one prompted a number of comments.

After my activities of the day, I wasn't in the mood for doing much else, so I took it easy the rest of the afternoon and evening. I didn't have a fancy supper; I just drove over to McDonald's for a salad and brought it back to the room. Later on, I watched the first episode of the new season of Mythbusters on the hotel's flat-screen HDTV; I was recording the season premiere of Mad Men at home (that recording failed because the channel didn't change properly, I would learn once I returned home).


I wasn't feeling the greatest last night, and that persisted into this morning. I suspected an overindulgence of caffeine; I had had quite a bit on Saturday night and Sunday afternoon. And so I was going to take it easy today. My day started with a shower and with breakfast in the lobby. It continued with a trip to Barnes & Noble in Webster.

Now the official address of the Barnes & Noble puts it on Bay Area Boulevard. While that's sort of correct, the store is a lot closer to the feeder road than it is to Bay Area. I walked around for a while, seeing what there was to see. The science section had three or four shelves of books dedicated to space and spaceflight, more than any other store I'd been to (aerospace and science museums excepted), which made sense for a bookstore three or four miles away from the Johnson Space Center. There were some books here I hadn't seen anywhere else, such as a biography of Yuri Gagarin. The local interest section had some new books from Arcadia, including ones on Kemah and on modern Houston architecture of the 50's, 60's and early 70's. I didn't buy the Gagarin biography, but I did get those two Arcadia books.

If Borders were still in business, I probably would have visited their store on the other side of Bay Area. But they weren't in business anymore, so no need to go there. I did go over to Baybrook, parking more or less in the traditional location by Macy's and going inside for a walk-around. Naturally, I visited the Apple Store. It was rather busy with traffic related to the new iPad. Now did they have any accessories I was interested in today? It turned out they didn't, so I left without getting anything. I didn't get anything else at the mall, either. Most of the stores I used to frequent (book, record, Sharper Image) were no longer there.

I would be going to Alvin for lunch today, but it was a bit early for that, and so I drove around for a while, taking Bay Area to Space Center to El Dorado back over the freeway and past Westbrook Intermediate. Would I find a street that would take me down to Bay Area again? I would. And so I rode out to Alvin on FM 528, past Sunmeadow, past the ruins of channel 16, past the TV tower that used to belong to channel 8, past the Ron-Carter dealerships, and down to the Walmart on Highway 6. It was still a bit early for lunch, so I walked around here for a bit. I didn't get anything here, which was OK; I wasn't looking for anything there. Then I noticed it was time to head for my lunch meeting. The Radio Classics channel on SiriusXM had tweaked its format and was now playing "When Radio Was", the old-time-radio show that aired nationwide on regular stations; today, the show featured Phil Harris on his own program and on the Jack Benny show, and I was listening to the Benny show as I drove over to Alvin Community College.

My destination was the arts building, or J Building. Here, I'd meet Linda Coney at her pottery class. I called her phone but got no answer, so I left a message and went inside. I found her out back, and after she cleaned up, we went to lunch. Now we hadn't decided where to go, but as we talked, one option surfaced right away: Joe's Barbecue. I hadn't been there yet on this trip, and here was the opportunity. It was a bit busy there, as you could imagine. It also proved to be loud there, not a good place for chit-chat, but we managed as best we could. I had one of the barbecue-topped baked potatoes (I couldn't resist). Everyone in the family was doing fine, Linda said; likewise for my extended family, I replied.
After lunch, I went back to the hotel to take it easy and to look through what I'd bought today. The book on modern Houston architecture was pretty interesting, for I remembered a lot of the buildings they showed. A lot of them are still standing, actually. When I was finished with the book, I resumed reading books on my iPad. I'd been reading them on the iPad during the whole trip, in fact. The one I was reading at the moment was Don't Know Much About Mythology.

For supper, I tried Cici's again; this time, it wasn't particularly busy, so I did eat here. I had one Diet Coke to drink with my pizza; the rest of the time, I had water. While their regular slices of pizza were OK, I really enjoyed their very thin crust pizza. As I left, I took some more pictures of the Moon, Venus and Jupiter close together in the sky, and then it was back to the hotel for picture uploading and guitar playing. I was feeling better than I had in the morning. I felt even better when I received word that the iPad I'd mailed had reached Fredericksburg, Virginia. My niece would receive it sometime tomorrow.





This morning, I drove down to Galveston. But thanks to the sore on my foot, I wasn't in the mood to ride my bike today. Instead, I drove along Seawall Boulevard today taking in the sights, including the new Pleasure Pier, where construction was well under way. It wasn't ready for business yet, but it would be later in the summer. Off to the east, a lot of ships were in the ship channel, heading out to sea. At one point, I saw a police car approaching slowly. It was leading a funeral procession, a very unusual one: the coffin of the deceased was being borne in a clear-sided horse-drawn carriage. That is definitely not something you see every day, not in this day and age. This was written up in the Galveston Daily News a day or so later. I didn't miss riding the bike today; if I had ridden, I would have missed hearing the marathon of "Yours Truly, Johnny Dollar" that was airing then on the RadioClassics channel on SiriusXM Radio.

Now I had been looking forward to a dinner at Benihana in Austin; that didn't happen, as I mentioned earlier in the travelogue. The craving was still present, and I was going to satisfy it today. I had three choices: downtown, Westheimer, and First Colony (Sugar Land). Downtown was probably closest, but I chose to go to the one in Sugar Land. It took about an hour to drive there on Highway 6, and when I got close, I had difficulty finding the place. I had to pull off and check my iPad for the location; I eventually found it as part of an upscale strip mall. That confused me, for I was accustomed to standalone locations in Detroit. But the outer form of the restaurant didn't matter to me; was the food going to be as good? I entered and was immediately seated. Now I figured I'd be waiting for a while until more people arrived, but no, my order was taken fairly quickly. And I was served more quickly than anticipated, as well; I had the chef to myself! That hadn't ever happened before on any of my previous visits. Still, the chef did a wonderful job, as he should have. Whether cooking for eight or for one, he should still perform to his utmost, and he did. He mentioned it wasn't that uncommon to have one person at the cooking table. I enjoyed my lunch duet of chicken and shrimp with a side of mushrooms and the chicken fried rice; in fact, I probably got more rice than I normally get. Yum!

Once I left the restaurant, I drove over to the First Colony mall for a bit. I'd been there once before, to have dinner at Ninfa's. The Ninfa's was no longer here; even if it had been, I certainly wasn't going to eat there, not right then! What was here was an Apple Store. No, I wasn't going to get another iPad or a MacBook Air, but I did find a device for connecting my guitar to either my iPad or any of my Macs. There was a Barnes & Noble here, but after getting a few things yesterday at the one on Bay Area, I didn't get anything today. Well, I almost got a Bluetooth keyboard at Brookstone, but the store had problems processing my debit card properly, and so I left without it. By this time, I figured I should think about heading home, meaning the hotel, and so I started on my way back. I ended up taking South Main to the South Loop and thence to the hotel, but not before stopping for a few things at HEB.

Back at the hotel, I took a few pictures of the faucet in the bathroom. Why would I do that? The handle looked like a dolphin's head, that's why. At least it did to me; some would think it looked like a duck's bill. I could see that, too, but I preferred the dolphin's head.

Supper was approaching; what did I want to do? Well, given my limited time here, I did something I would not ordinarily do: I went back to Laredo's a few days after having eaten there. This time, it was suppertime rather than lunchtime, but I ended up ordering the same meal I had before. It was a favorite of mine, and this would be my last opportunity to eat there on this trip. And if Highway 146 were ever widened, Laredo's would either have to move or close, meaning its long-term future was uncertain. Eat there now, while the eating was good. And the eating was good. Then it was back to the hotel for the evening.



After taking my bike off of its rack and getting it ready, I set off around 9:15. Today, I would ride through the older part of League City, although I should call it the oldest part, because my old neighborhood would qualify as older League City these days. I took Walker Street past the police station and library and across Highway 3, and then I started pedaling up and down the streets there. Soon, I was north of Main Street and riding through the neighborhood around Houston Street. There was Velvet Street; at one time, there was a house for sale there, and Mom and Dad considered moving there, but we never did. A few of my friends from school grew up in that area: Kenneth Wood and Mark Wilkinson come to mind. I made my way south of Main Street and back to Walker Street, which I took all the way to its end at Texas Avenue. Now at this point, I felt the need to use the restroom. Where could I go? The Kroger store at 270 came to mind, and it was close by, so I made my way there, locked the bike to one of the cart return racks, and went inside. The restroom had just been hosed out (!), so I had to watch my step in there. And then I bought a bottle of water to fill my bike's water bottle.

I continued to ride through old League City, past Deadman's Curve, Heritage Park and the Butler Longhorn Museum, past a dog who wasn't tied up and came up to the bike (that was a little unnerving), past the historic Butler Building and the cemetery at the end of Kansas Street, and then back past old Thrifty's and the Little League fields to rejoin Walker Street and head back to the hotel. A couple of interesting sights I noticed this time included a kittycat in the yard of one of the houses and a house that was nearly all purple. Was Prince living here, I jokingly thought to myself. As for that cat, I took a picture of it using the zoom lens of my camera, so I never got that close to it; still, after I took its picture, it scampered off to do one of the many things that cats do.

The ride back to the hotel was tougher than the ride heading out; I was heading into the wind this time, and the wind had picked up a bit. When I reached the hotel, I thought that housekeeping was still doing its rounds, and so I offloaded my pictures in the lobby and proceeded to identify them there. I also put my pants legs back on, having removed them to avoid their getting caught in the chain; these were attached by zippers, which made it very convenient to switch between pants and shorts -- at least when you could attach the zipper properly. And then it was off to lunch in Seabrook.

My destination was Outrigger's, a restaurant/bar nestled underneath the Kemah-Seabrook bridge. Here, I'd be meeting with one of my former teachers, Candy Sullivan Silcott. We had our meals out on the deck and enjoyed the views of Clear Creek and Galveston Bay. She showed me some pictures from David Horrigan's wedding, which had been on the 17th (my invitation, along with many others, had been lost in the mail, it seems) and told of her days afterwards spent with Kirk Ott and his family. She mentioned seeing David Kilgore at the wedding; he's now going to law school, it seems (good for him!). Meanwhile, I showed, or attempted to show, the pictures I'd taken on my trip; the glare made it difficult for some of my pictures to be seen clearly on the laptop.

I'd had a crabcake dinner, and while it was good, I couldn't finish it all, and so I had it boxed. But I didn't have a refrigerator in my hotel room, and letting it sit unrefrigerated for too long in the early spring warmth was not a good idea. What to do? Candy suggested I follow her home, and there she could prepare a cold pack of 2 Ziploc bags with ice in between. I remembered how to get there from last September's KMSC reunion. When I arrived, I received a greeting of barks from Acie the dog. Daughter Laine and granddaughter Aviana were there, too; Aviana was walking now, even trying to talk a little bit. She was the hit of our reunion last fall. Once the cold pack was completed, I showed Candy some pictures from previous trips of mine, including my pilgrimage to the Holy Land and my trip to Uganda.

Back at the hotel, it was time to pack. I had a lot of stuff to pack, too much to leave to the morning. The leftovers from lunch, as preserved in the cool pack, were my supper. No, I didn't bother to look for a place to heat it up; I didn't see one in the lobby, anyway. But it was edible enough in its chilled state. And what's more, I didn't get sick from it (always a good thing). And so, I packed my bags, leaving only the minimum unpacked for overnight and tomorrow. My vacation was almost over, and it was almost time to start heading home.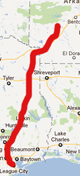 Total miles before leaving: 2090.2
Miles today: 439.8
Total miles, this leg of trip: 439.8

I took my time getting up this morning; if I left too early, I'd be caught in rush hour. After doing my usual morning activities and having breakfast in the lobby, I brought up one of the luggage carts and started loading everything onto it. Everything came into the room with one trip of the cart, and I made sure that everything left the room with one trip of the cart. By 8:15, I was checked out of the hotel and heading to the Walmart gas station to fill the tank. By 8:15, I was on the road.

As I drove up the Gulf Freeway, I was listening to the new News 92. The station was new, but it had some very familiar names and voices from Houston radio and television: Mike Barajas, Craig Roberts, Lana Hughes and J. P. Pritchard, as well as traffic reporter Lanny Hughes (didn't he do Traffic in Bondage on K-101?). There was a major accident on Broadway, meaning I'd want to find an alternate route. But first, I needed cash for the return drive. My Co-Op ATM app said there was a surcharge-free ATM near Almeda-Genoa; turned out the map was wrong, it was closer to Fuqua, and when I got there, it was out of service. No other surcharge-free ATM was close by, so I bit the bullet and got some cash from a Wells Fargo ATM. Now to get to the East Loop: I took Shaver through Pasadena to the Pasadena Freeway, and that got me to the Loop and to the Eastex Freeway.

It seemed like it took me two hours to get out of Houston, but once I did, I made steady progress. By lunchtime, I was in Nacogdoches, and that's where I had lunch, at a Wendy's in town. It wasn't my first choice, but the Hot Biscuit had closed up long ago (it was still open in Porter, though).

When I reached Texarkana, I took the fairly new loop to the south and east of town to reach I-30 and Arkansas. Would I miss the welcome center by doing that? No, it was still ahead of me. After a bathroom stop, I pondered where I would like to spend the night. I felt it would be a bit difficult to get past Little Rock this evening; also, I wanted to watch

The Big Bang Theory

featuring Tiny Spock (Leonard Nimoy in a guest vocal appearance). Checking the rates for various Holiday Inns, it turned out that a Candlewood Suites in Hot Springs had the best rate for the night. I'd never been in Hot Springs before, and so I figured I'd try it out. Hot Springs was accessible by a scenic drive from Arkadelphia; am I glad I took that drive during daylight! The Candlewood Suites turned out to be a fancier version of Extended Stay America or a less-fancy Homewood Suites; perhaps I'd consider the Candlewood in League City on a future trip there.

That episode of

The Big Bang Theory

was a pretty good one (they all are, actually), and so I could go for dinner. Where to go? I ended up choosing the Dixie Cafe, an Arkansas-based chain I'd eaten at before. There was a lot of comfort food on the menu, and I ate comfortably. The portion size was a bit large, though; admittedly, I could have asked for the smaller serving, had I known. When my next opportunity will be to dine there again, I have no idea. The food was all right, but the chicken fried steak had too much breading. The Diet Coke was served in a rather large glass, large enough where I asked for a refill of water instead; I did not want to risk consuming too much caffeine.

I could see a little bit of downtown Hot Springs from my room, so after leaving the restaurant but before returning to the room, I drove for a couple of miles into downtown. The national park was a few miles to the north, so I didn't see that, but I did see a rather large casino; no, I didn't stop. Would Hot Springs be worth a longer stop in the future? Possibly. But there was no time to see much else on this trip, and so I returned to the hotel for the night.





Miles today: 605
Miles to date, this leg of trip: 1049.8

Although the Candlewood Suites was a very nice hotel, it did not provide a breakfast. You could buy some cereal from their pantry, but I didn't feel like doing that. I could eat an Atkins bar in the car on the road (which is what I did, in fact). I was under way by 7:30 AM, after sunrise. This time, I took US 70 over to I-30; it also was a rather picturesque route, although it wasn't officially "scenic." Traffic on I-30 wasn't bad heading into or around Little Rock, and it wasn't bad heading off to the east on I-40.

Now I remembered the problems I had two weeks ago with construction on I-40; the construction was still present, so I exited the freeway at Lonoke and took US 70 eastbound to Brinkley. I'd bypass all of the construction by doing that. I don't believe I'd ever been through the main part of Brinkley before. The old Best Western wasn't a Best Western anymore and looked to have fallen on hard times; I doubted whether I'd ever stay there again.

The drive on I-40 was unremarkable the rest of the way. At one point, I decided to see how well the iPad's GPS capabilities were working, but it would never detect its position. Not even when placed on the top of the instrument panel would it detect its position. It got to the point where I tried powering it completely off and, when that didn't work, resetting it. That only made things worse; now, the iPad would reset itself every 5 minutes or so. I was not happy when it did that at lunchtime; the iPad was now virtually unusable. Lunch at the Pizza Inn in Blytheville was a bit spoiled by the misbehaving iPad. To tell the truth, I liked other pizza buffets better than this one. Then again, I received my second senior discount here; I didn't ask for one. Then again, I did pull out my reading glasses to read the menu at the register...

The drive up I-55 and then I-57 through Missouri and southern Illinois was uneventful, although part of me wanted to stop somewhere to work on the iPad. At a rest area in Illinois, I made my hotel reservation for the night; I'd stay in Terre Haute, Indiana. It wasn't as far ahead as I would have liked, but with the iPad acting up, circumstances were a bit changed. Circumstances changed again with another long backup on a freeway due to construction: I-57 was backing up this time. We weren't stopped for several minutes on end, but we were barely creeping along at times. Then came a break: the exit for I-64 eastbound was approaching. I took that exit, and soon I was moving quite nicely. It did mean going out of my way slightly, but that wasn't going to be much trouble.

But there was trouble up ahead in the form of thunderstorms. I thought I should pull off for a while and get some supper while the bad weather blew past, and so I visited the Applebee's in Vincennes, Indiana. Unfortunately, I had a long wait for a seat, this being Friday night. The meal (a spinach and shrimp salad) was very good, and I probably needed the break from driving. But that put me on the road after dark, in off-and-on rain, in unfamiliar territory, concerned that a deer would leap out of nowhere and into the path of my SUV. Listening to the Underground Garage and then Radio Classics gave me some comfort, but what gave me the most comfort was arriving in Terre Haute at the Holiday Inn around 10:30 after 14 hours on the road (I'd crossed into Eastern time somewhere in Indiana).

The hotel was reasonably nice; my room was on the 5th floor, a floor reserved for Priority Club members (you needed to swipe your room key in the elevator to reach that floor). My view was to the south, yet I could easily hear the roar of traffic from I-70 to the north. I went down the hall to get some ice, and then I thought about a Diet Pepsi. I pushed the button to see how much it cost; imagine my surprise when it dispensed a bottle! I don't know what happened; probably somebody put some money in yet never got their bottle. To that unknown person, thanks for the drink!

The room had a fast Internet connection, which made it possible for me to attempt to restore the software on my iPad. It took 20 minutes to download it from Apple, but the download was in vain. I tried four times to restore the iPad; each time, the restore failed when verifying the load of the firmware. This was something I couldn't fix by myself; I'd have to take it to the Apple Store. So I made an appointment for late Sunday morning at the Apple Store in Novi, MI, the one closest to my house. By this time, it was well after midnight, and so I turned in for the night.
Saturday March 31





Miles today: 368.1
Miles to date, this part of trip: 1417.9

I woke up around 6:30, which was rather early for me after 2 weeks of vacation. I'd been given a coupon for a complimentary breakfast buffet, and I took advantage of it before heading out on the last leg of the trip. I had around 376 miles to go before I was home. After I got gas at a nearby Speedway station, I hit the road around 7:50 in the morning.

The skies were gray throughout the trip, and the temperature was noticeably cooler. I'd had to put a jacket on for the first time on the trip. The drive on I-70, I-465 and I-69 was mostly uneventful, although I was beginning to tire of the driving. I wanted to be home! If Amtrak offered a mid-country Auto Train, say from Chicago to New Orleans or Dallas or somewhere else, I'd seriously consider using it.

It was around noon when I crossed into Michigan. I was bouncing around the stations, two in particular, both running countdown programs. The Big 80's was running a countdown program from March 1984, while 70's on 7 was airing an American Top 40 from 1977. When I heard "They Don't Know" by Tracey Ullman (number 25 on the '84 countdown), I was happy.

I stopped at the Michigan welcome center and rest area for a bathroom break and some tourist literature, but I didn't stop for lunch anywhere. I had enough munchies in the car to make it home, and I was getting antsy to make it home. I took M-60 over to Jackson to shave off a few miles, and then it was I-94 to the west side of Ann Arbor, M-14 to pass Ann Arbor, and I-275 to home. By 2:45, I was home. I unpacked a few items then and there but saved the rest of the unpacking for later.

EPILOGUE: I'd save my laundry for tomorrow. The appointment at the Apple Store resulted in the diagnosis of a malfunctioning iPad that couldn't be fixed there, so I got a new one in exchange.


THE END

Top


©2012 R. W. Reini. All rights reserved.

Written by Roger Reini
Revised May 13, 2014