Travelogue: Texas (mostly),
March 2011

By Roger W. Reini



By date:


Prologue

This is a story of a trip to Texas in the early spring of 2011. The last time I'd been in Texas was in October 2009, although I had passed through lands that used to be part of the Republic of Texas when I took the train out to LA in March 2010. And when I was in Florida in September and October, the terrain, weather and greenery, and even some of the billboards, especially in central Florida, reminded me so much of southeast Texas. But it was time to go there for real, especially after a long, cold and snowy winter in Michigan. There were places I really wanted to visit, for I'd been unable to visit them on my last visit. Also, I was getting antsy to ride my bikes outside, something that is not yet consistently feasible in Michigan. I had ridden my recumbent trike on February 19 on the rebuilt I-275 trail; the next day, it snowed 8 inches.

Top



Friday March 11





Miles today: 294.5
Miles total: 294.5

As I woke up this morning, I was suffering from yet another cold or respiratory infection, with a nasty cough and a plugged nose. I'd had difficulty getting to sleep, but I had gotten some sleep overnight. As I stirred, I pulled over my laptop to check e-mail and the morning news. That was when I saw that a major earthquake had struck Japan and spawned a large tsunami. The snow that had fallen overnight was a minor consideration in the overall scheme of things, compared to this quake and tsunami. It would become more important when I set off for work. I turned on the TV; CNN and BBC News showed the devastation. Tsunami warnings were out for the entire Pacific basin. And while that was happening, I was getting ready for work and getting ready to set out on my vacation. As I checked Facebook this morning, I learned of a personal connection to this event: high school classmate and friend David Zabalaoui was in Hawaii (Maui) with his girlfriend, and Hawaii was under a tsunami warning. Their car had been moved to higher ground, and their room was on the 8th floor, so they were prepared to ride it out.

I finished up my packing and put the last few bags into the SUV. I checked to see if newspapers had not been delivered; I'd halted delivery for my vacation. The Detroit papers had not been delivered, but the Wall Street Journal had been. I'd have to make a complaint about that. Now it was time to load the bike on the bike rack. I had to open up the garage door to do that; I had some problems with the pull cord on the door getting caught on the rack, but I eventually overcame that. And so, at 6:30 in the morning, I pulled out of the garage and set off on snowy and slushy streets for the office. The drive was a bit slower than normal, as expected, but I didn't have major difficulties making it in on time or reasonably close to it. When I got out of my SUV, I noticed that the bottoms of the bike wheels were covered in slush! The gears might have received a coating as well. I hoped that no long-term issues would result from that. I'd be heading towards warmer weather later in the afternoon, and the slush would become a distant memory.

Work went reasonably well today. I had no major crises to fend off, and I had no meetings in the afternoon. I was coughing a lot, though, which irked me to no end. After I finished the last thing I had on my to-do list, I figured I could head out a little bit early, especially since I'd put in extra time the last two days. Also, there was some work I could do while on vacation, such as cleaning up a transcription of old training videos I'd done some 14 years ago. And so it was that I set out on my trip a bit after 2:30.

The snow from the morning had turned to water on the roadways, so the only hindrance to my driving was dirty windows, and washer fluid took care of those. After I left work, I went south on Pelham, which became Allen Road, and took that to its intersection with I-75. Traffic southbound was moderately heavy. I passed by the Auto Alliance plant, the Ford-Mazda joint venture plant that builds the Mustang. The weather was partly cloudy, a good sign for the start of a vacation. Forty-five minutes later, I was in Toledo. It wasn't rush hour yet, so I had no problem getting through there. I did see a backup on I-75 northbound south of Toledo, but that didn't affect me at all. My first gas stop of the trip was a Love's store in North Baltimore, and then it was back on the road.

For my radio listening this afternoon, I stuck with the news channels: BBC, CNN and Fox. The reports coming from Japan and elsewhere about the quake and tsunami were too compelling to ignore. I was especially interested in what was happening on the West Coast, and there were reports of damage in Oregon and south of San Francisco.

Onward I drove, down through Findlay, Lima, Sidney, Troy, and the north part of Dayton. This was the route I would normally drive to get to the annual Hamvention in May. But this evening, I would turn west on I-70 and drive toward Indianapolis. The sun was low on the horizon, and I had to use my sun visor for much of the time. I made a rest area stop just before crossing into Indiana, and then I kept going. As I drove through Richmond, I saw several billboards for Tom Raper RV (an unfortunate name, but it would be worse if it were Tom Rapist). After sunset, I started seeking Jupiter in the sky; it would be straight ahead of me, more or less. When I saw it, I then started to look for Mercury, which I knew would be close by. The clouds made it difficult, but I did find it. I'd seen Mercury before, but not very many times.

Finally, I arrived in Indianapolis and stopped at my destination for the evening, the Holiday Inn Express at I-70 and Shadeland. My room, room 211, was a mini-suite with a king-size bed and a bar area. I didn't stay long, for I was hungry, and I walked to the Bob Evans across the street for dinner. The chicken parmesan was very good tonight; I couldn't finish it all. If I'd been at home, I'd have taken the leftovers with me, but that wasn't feasible, not during vacation. Back in the room, I turned on CNN and continued to follow the tsunami coverage. The latest development: at least one nuclear power plant in Japan was overheating and might be in danger of a meltdown.


Top

Saturday March 12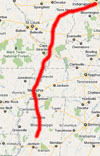 Miles today: 664.3
Miles total: 958.8

I fell asleep to CNN. When I woke up, I turned off the TV and went back to sleep. My sleep wasn't the best, given my cough and stuffy nose, but I might have slept better than last night. I woke up for good around 5:10, checked e-mail and turned CNN back on. There had been an explosion at one of those nuclear plants overnight; that could not have been good. Later in the morning, I made a donation via GlobalGiving to quake and tsunami aid.

Now I wanted to attend a hamfest in Terre Haute this morning; I'd set up my route so that I'd pass through Terre Haute. The hamfest started at 8, and while I didn't need to get there right when the doors opened, I did want to get there fairly early. The hotel's breakfast started at 7, which I felt was a little late for optimal timing for the fest. And so I checked out just before 7 and set off for Terre Haute without partaking of the Holiday Inn Express breakfast. It was quite chilly this morning; the thermometer in the car said it was 45, but it seemed cooler than that. The bag that I'd put on my bike seat had shredded apart, so I removed it before setting off. My route took me through downtown Indianapolis, which gave me a good view of Lucas Oil Stadium, where the Colts play. There was no traffic on Saturday morning, and so I was through Indianapolis in hardly any time at all.

Now I had an idea where the hamfest was, but I needed good directions, and so I stopped at a rest area to hook up my GPS unit and program in the address of the armory where the fest would be held. It guided me there perfectly, and when I arrived, the parking lot was quite full. I saw some Guard members outside the front door; you'd expect to see that at an armory. It turned out there was a Guard activity there today; a number of teenagers were there, participating in a run. Were they potential recruits? Perhaps. The fest was a small one, compared to the ones I usually attended, but I recognized one regional vendor. One of the vendors bore a strong resemblance to a recently-deceased member of the Ford Amateur Radio League. Coincidentally, they both were named Bob. I didn't get a chance to talk to him, though. I bought a few items there: the latest copy of the ARRL Handbook, a bag of antistatic bags, and some tie straps.

When I left the hamfest, I drove through Terre Haute and stopped for gas before getting back onto I-70. Satellite radio was my constant companion as I drove throughout the day. Today, I listened mainly to the news channels in the morning: BBC, CNN, Fox, occasionally CBC. This kept me informed about the aftermath of the Japanese quake and tsunami. I didn't stay with them the whole time, though; close to noon, I'd tuned in the 80's on 8, which was doing a countdown program featuring the songs of March 1981. By the time I'd reached Mount Vernon, IL, I was hungry for lunch. I stopped at a McDonald's and had one of their chicken sandwiches. As I ate, I checked my e-mail on my MacBook Pro.

When I left, it was after noon Eastern. The weekly American Top 40 repeat was airing on 70's on 7; which week was airing this week? March 1971, as it turned out, and so I kept listening to that. 1971 was the year before I started listening to AT40 and buying records, but I was starting to become more aware of popular music. I kept listening for the entire time, for there was some pretty good music playing. Later, at 3 PM Eastern, the 60's on 6 started ITS countdown program, which this week was for March 1965. All of them were pretty good.

Onward I drove through Illinois on I-57, Missouri and Tennessee and Mississippi on I-55. I saw signs for a restaurant in Sikeston, Missouri advertising its "throwed rolls"; I didn't stop. I passed through Blytheville and West Memphis, Arkansas; I didn't stop in either place. Traffic got heavier in Memphis; construction didn't help with that. When I entered Mississippi, I pulled off at the first rest area and welcome center for a restroom stop, a chance to refill my water bottle, and the ability to reserve a room for the night. Now where would I want to stop? Jackson was a little under 200 miles away, a bit far, but there weren't any major cities en route. I decided to stop in Canton, some 15 miles north of Jackson, and made my reservation for the Hampton Inn there.

As I set off down I-55 again, I noticed the road was also signed as I-69, at least for a stretch. If I-69 ever gets built all the way down to Texas, I might be driving that route. But today, it was I-55 all the way. The sun got lower in the west, and then it set. I became a little concerned that deer might decide to cross the road; fortunately, none did. I tried to look for Jupiter and Mercury again; it was a harder task, because they were not directly in front of me but off to the side. Still, there were times when the road curved in the right direction and the trees cleared that I could see the two planets approaching each other.

By 7:30, I had arrived in Canton and done my basic unpacking. I had noticed a Western Sizzlin steakhouse down the street, and so I went there for dinner. My entree was sirloin tips with a baked potato, both of which were good. However, the buffet bar there was overpriced and understocked; I actually was charged the price of the buffet as a standalone meal (there was no option of the buffet with an entree, as there was of the salad bar with an entree). What's more, it took me a long time to be given my drink (and a refill of that drink) and silverware. While the food was all right, the service was not the best, and the pricing was too much for what I got. I wouldn't go back there again. Back at the hotel, the desk clerk greeted me as I headed towards the elevator. She reminded me of Betty Alexander, one of the members of the Detroit Bahá'í community.

Now it was time to rest. I turned on CNN and kept up with the latest on the quake and tsunami aftermath, which included a worsening situation with the nuclear reactors. Were they in danger of experiencing a meltdown? It sure seemed that way. As I watched and/or listened, I typed up a few notes from today for use in this travelogue, and when I got tired, I went to bed.

Top

Sunday March 13





Miles today: 565.0
Miles total: 1524.2

When I woke up, I took a shower, and then I went to the lobby for breakfast. Thanks to the combination of the transition to Daylight Saving Time and my traveling to the Central time zone, I didn't have to adjust my watch, my car's clock, or my internal body clock. How convenient! But later on, after I'd hit the road around 8 o'clock, I knew that things were different. The radio programs were on one hour earlier than I was accustomed to, which would make sense because I was now on Central time. That meant the repeat of American Top 40 was now on, and Breakfast with the Beatles was also on. I listened to both of them, first the start of AT40 (I'd missed that yesterday) and then BWTB.

There was some fog on I-55 south of Jackson, but it eventually passed. There was also a Nissan plant in Canton. I rolled on down the highway until I crossed into Louisiana, and then I stopped at the Welcome Center. Now I was planning to visit Reeves Zabalaoui (father of Keith, David and Jamie) in Hammond, and I tried to call either him or Keith, who was visiting his dad along with his daughters. But I had no coverage on my T-Mobile phone in that location. To be more specific, I was receiving roaming coverage, but I didn't want to pay roaming rates. My MiFi connection through Verizon had a good non-roaming connection, though, and so I sent Keith an e-mail letting him know where I was. I continued down to Hammond, exiting at the first exit for the city. By this time, I had a good non-roaming phone connection, and so I called Reeves. He gave me his address, which I entered into my GPS device. I was around 5 miles away from his house, as it turned out, and the GPS guided me through the back streets of Hammond. Keith's daughter Becca was out playing with Lily the dog, and they welcomed me. Everyone welcomed me, in fact, eventually.

Now I had no specific plans for how long I'd be staying. Turns out that the Zabalaouis had plans for going to a puppy parade. This was actually part of the "Mardi Paws" event in Mandeville, on the north shore of Lake Pontchartrain. They invited me to go, and I said yes, thinking it wouldn't take very long. Well, we drove several miles to meet up with some relatives, and then we drove several miles further. I didn't know where we were going, but when I started to see signs for the Lake Pontchartrain Causeway, I wondered if we were going into New Orleans. No, we didn't go into the city, but we struggled to find a parking spot for the festival and parade. I found one on a city street. We met up and walked to the lakefront park where the festival was being held. And a big festival it was, with dressed-up dogs all over the place. There was a kissing booth for kissing various dogs. There was an obstacle course for dogs to run. There was an area for children to pet goats and ducks. We were there for quite a while, but the parade never seemed to get under way. In fact, we gave up waiting for it and headed back to Hammond. We didn't head back to the house, though; no, we went to Middendorf's restaurant on I-55 south of Hammond in the town of Akers. The restaurant split into two locations right next to each other over the years. We went into the southern restaurant, which I understood to be the original location. Now I'd been advised that the place was known for its thin and crispy catfish, and so that's what I ordered. It was pretty good, although the portions were way too big and I had leftovers. I gave mine to Reeves to take home, for I wouldn't be able to take them with me.

It was after 5 when I resumed my trip toward Houston. I hadn't thought I'd be staying as long as I had today, and I had a long drive ahead of me. It wasn't a particularly eventful drive through Baton Rouge, the Atchafalaya River basin, Lafayette and Lake Charles, just a long one. It was well after dark when I arrived at the Texas Welcome Center. There were two raccoons wandering around, and one of them stood by as I opened the lid on the garbage can to dump my trash. He didn't show much fear of man, I thought to myself as I went to the restroom. Back on the road, I continued westward. The road narrowed to one lane east of Beaumont, which delayed me some more. Soon, I was in familar territory: Winnie -- Mont Belvieu -- Anahuac -- Baytown -- Channelview. Now I turned onto the East Loop and followed that around to where it became the South Loop, and then I headed west until Highway 288, the South Freeway. Even after dark, the sights were reasonably familiar to me. I noticed it was after 11 o'clock; the repeat of Breakfast with the Beatles was starting, and so I turned it on and listened to it. It seemed strange to listen to a breakfast show so close to midnight, but the music was still just as good. A few miles south on 288 took me to FM 518. Four miles to the east, and there it was: the Hampton Inn. It was so late that the desk clerk had to open the front door to let me in so I could check in. I got my key and then pulled around to the back of the building near the back door. I brought up the two bags that would tide me over for the night; the rest could wait until morning. I was tired, and I wanted to go to sleep.

Top

Monday March 14

When I first popped awake, the clock said 5:15. I didn't actually get up until it said 5:35. But the clock was wrong, I learned later. When I was outside unloading my car the rest of the way of bags I didn't feel like unloading last night, I checked my watch. It read 7:15, and I thought, something's wrong here. My watch does not adjust automatically for DST. When I checked my laptop time, I knew that the room clock was wrong and that I'd gotten more sleep last night than I had thought.

The Hampton Inn had its regular and customary breakfast bar with the now-customary waffle iron. My first attempt at a waffle failed, as it came apart during removal. After the room attendant sprayed non-stick coating on it, the second waffle attempt worked beautifully. It tasted great, as did the small yogurt and the English muffin. Well, the muffin had been cut strangely, as one side was much smaller than the other. The Weather Channel was on the TV, but it was the national version, with no local updates. For that, I'd have to check the web or local TV. And there was a front heading this way, with thunderstorms along and in front of it. This morning didn't seem like a good time to go for a bike ride. Fortunately, I'd recovered the seat with a bag -- just the cushion, not the back, which was mesh and didn't need to be covered.

Now that biking was out of the scope of the morning activities, what would I do? I'd already downloaded and identified the pictures I took on the way down and in Louisiana. I thought I would go to Baybrook, visit the Apple Store and check out the iPad 2, then go to Fry's afterwards. So that's what I did. I drove through Pearland on 518, remembering how empty much of the countryside was when my dad and I would return from the dentist. It certainly wasn't that empty now! I found the intersection with Dixie Farm Road, which I knew would take me to the freeway. As I neared Baybrook, I noticed that the old Circuit City building north of the mall had been leveled; there was no sign of it now.

I parked over by Macy's in my "traditional" location and went inside. After making my way through the women's clothing and the makeup areas, I was in the main mall. Soon, I was at the Apple Store, and there I saw the iPad 2 in the flesh. I picked it up; it felt lighter, and it felt different in my hand than my iPad 1. But I wasn't motivated to immediately get one. If I hadn't already owned one, I would have. So I left and walked around for a bit. On the other side of the mall, though, I felt tired and sat down. Perhaps my illness was flaring up again. I didn't feel like going to any other store, and so I went back to my car and went down to Fry's. It still seemed weird to pass through the Nasa Road 1 intersection where the freeway passes over the road, rather than the other way around. Soon, I was at Fry's. I could almost always find something to buy there, but not today. I walked around through most of the departments, but there wasn't anything that I had to get

It was getting close to noon, which meant it was lunchtime. I thought I'd go to Laredo's for lunch, but when I reached Nassau Bay, I decided that I didn't feel like eating anything. I wasn't feeling well, so I turned around and headed back to the hotel. As I drove back, the thunderstorms arrived. Along with the storms came a cold front; temperatures dropped dramatically. I was glad that I had two coats in the car, for I needed to put one on when I visited Walgreens for a bottle of water, a bottle of diet cherry Coke, and a bottle of Pepto-Bismol.

Back at the hotel, I holed up in my room, drank the water, drank some of the Diet Coke, took some Pepto, and lay down on the couch. Thus began my afternoon and evening of misery, where at times I felt hot and sweaty, and other times I felt chilled. I didn't feel like eating anything; I'm not sure I would have been able to keep it down, anyway. Did I have a case of food poisoning? Was the catfish from yesterday causing me grief today? Did I have something else going on? I did not know. I didn't do anything else the rest of the day. I didn't feel like doing anything else.

Top

Tuesday March 15

I did sleep, though not very well. When daylight broke, I went downstairs to the breakfast bar to have something to eat, for I hadn't had anything since yesterday's breakfast. I didn't push myself; I went light, eating some yogurt and a muffin. Back in the room, I continued to rest for a bit. Suddenly, I heard the door open. I sprang out of bed! It was only the maid, grabbing the used towels. Still, I was perturbed. I'd set the deadbolt, and no one should have been able to enter.

Now I didn't feel completely normal, but I was feeling better than I had been. And so I decided to drive into town. Perhaps I'd find a place to park and ride some of the trails that I wanted to ride. I set off on 518 heading west toward 288 and the South Freeway, which is what I would take into town. I turned off onto the South Loop, which eventually became the West Loop. The intersections seem to have been reconfigured since my last visit, and there seemed to be a few more of them. I never remembered an exit for Westpark from the West Loop, yet there was one now. I continued north until the exit for Memorial Drive and Woodway Drive. As I drove down Memorial, I didn't see any place to pull off for the trails. I continued heading eastward, looking for parking spots for the trails along Buffalo Bayou, but I didn't see any.

Now I was in downtown. No, I didn't want to park downtown. So I thought maybe Hermann Park would be a better bet, and so I headed there. That turned out to be a mistake, for traffic in the park was really heavy. It was spring break week, I'd learn later, and zoo traffic was really high. I couldn't find a place to park in the park! So I drove up Main Street back to and through downtown and maneuvered my way over to Memorial Drive again. I turned off on one of the side streets in the park. That's when I saw signs that the main trail in the park was exclusively for pedestrians: no bicycles allowed. I wouldn't be doing any riding here today. Now it was getting close to lunchtime, and I was feeling a bit hungry. That was a good sign after my illness yesterday. Unfortunately, I also had to use the restroom rather badly, perhaps an aftermath of the illness. The Memorial Golf Course had a Beck's Prime restaurant in its clubhouse, and so I decided to pay a visit. I ordered a hickory burger and a bag of jalapeño potato chips, along with a bottle of water. The burger was all right, but I couldn't finish it.

Since my biking attempts were thwarted, I decided to head back to Pearland. My first stop was the Barnes & Noble on Broadway, which was in the shopping mall there. I passed it by the first time because it faced in a direction where I couldn't see it heading west, but I eventually found my way there. I had to visit the restroom a couple of times there (not good), but I also found an Arcadia Publishing history book on Seabrook, which I had heard about. It looked interesting, and so I bought a copy. Soon, I was on my way back to the hotel, but not before stopping at a Walgreen's for generic Imodium. I took two of those pills once I got back to the hotel. As I rested in my room, I heard the door lock turn. It was the maid again, dropping off washcloths and towels. This time, I hung the Do Not Disturb sign on my door.

When evening rolled around, I was hungry for something, but not anything heavy. I drove down to a Kroger and went inside, getting some hummus, flat bread, and a bottle of low-calorie Gatorade. That made for an interesting supper. Later, as sunset approached, I wanted to attempt to see Jupiter and Mercury together in the sky again. If the opportunity arose, I'd want to take a picture of the apparent conjunction. The opportunity did arise, for it was mostly clear as twilight began. I set up the camera on the tripod. First, a couple of pictures of the moon. Then, a search for Jupiter -- there it was, in the west! And soon thereafter, Mercury to the right of Jupiter. I took a few pictures of the planets -- some were in focus, but some were not. The ones in focus turned out pretty well, I thought. And now it was time to start packing, as I'd be checking out in the morning.

Top

Wednesday March 16

Well, today I would leave Pearland. Fortunately, I had gotten a reasonable night's sleep, and when I woke up, I was feeling quite a bit better. I had Cheerios, a banana and a danish for breakfast down in the lobby, and I started to load the car. It was cloudy outside, but rain was not in the forecast. Fog might be down on the coast, though. That was of interest to me, as I planned to go to Galveston for the day.

I had spent too many days being sick and tired. I wanted to ride my bike! And today, I had a chance. I checked out and set out on 518 heading east. Once again, I traveled down to Dixie Farm Road and turned to pick up the freeway. Traffic wasn't bad at all; I wouldn't expect it to be, not for outbound in the morning. It seemed weird passing through the Nasa 1 intersections and the 518 intersection, all of which were dramatically different from how I remembered them and experienced them for so many years. Later, I noticed where the new Hampton Inn in League City was; I'd be staying there the next four nights. It wasn't too long before I was heading over the causeway into Galveston. Destination: Seawall Boulevard!

I turned on 61st Street to head over to the seawall by the quickest route, and soon I found a parking spot around 59th Street. I got out and started to unload the bike and load up the panniers with the necessary bike tools and supplies. I needed to pump up the rear tire a little bit before I set off; once I took care of that, I set off on my trip. I got as far as the 1900 memorial before I realized I'd forgotten something important: my water bottle. It was back in my car. So I pedaled back to the car to retrieve it. Bottle in hand (or in bottle holder mounted to bike), I set off again. The wind was not coming directly from offshore; I had a slight headwind to contend with. I was glad to have been wearing a jacket, for it was a little bit chilly with the clouds and the wind. And if I got too warm, I could always remove it and stuff it into my pannier.

As I reached the 1900 Memorial again, I had a problem with one of my pants legs: it got caught in the chain and gears. Fortunately, I was able to recover and not tip over, but it was close. What's more, I wearing a pair of pants that could convert into shorts by unzipping the bottom part of the pants leg. It was necessary for me to do this, and the unzipped pants legs went into the pannier. Onward I rode. Soon, I could see the hulk of the Flagship Hotel in the distance. But this time, it was different. It was being demolished, piece by piece. Never again would it be a hotel. Plans are to restore the pier to its original function as the Pleasure Pier. It would seem weird to not see the Flagship anymore; for me, it had always been there. I took some pictures, for this would likely be the last time I'd ever see it.

The seawall soon bent away from the coastline; I followed it. I followed the seawall all the way to the end, taking care to avoid the occasional glass debris. Off in the distance, a parade of ships were steadily heading out to sea. Some people came by, off to do some fishing. One of them asked about the bike, if I'd made it myself. No, I said, it was a commercial model, made by a company that no longer exists. I received quite a few comments about the BikeE today, and I even encountered another recumbent rider. He told me about his ride from Galveston to San Diego; it took him eight weeks. That had to have been a rough ride.

When I started to ride back, I rode at the top of the seawall until it came back down to the regular level, and then I made my way into downtown through the UT Medical Branch. I rode past John Sealy Hospital and the Shriners Burn Hospital, places I'd heard about for so many years, places I hope I never have to visit as a patient but am glad are there if I must. I pedaled up and down the Strand and through many of the streets of downtown, seeing some unusual sights as a building covered with ghost signs and pigeons nesting in the decaying marquee of the old Martini Theater. I never saw a movie there, but the name was familiar to me from newspaper ads and from the late Houston sports reporter Anita Martini; her family owned the theater. I'll never forget her anchoring overnight coverage on KPRC radio during hurricane Alicia. And near the theater, I saw a mark on a wall and the name "Ike" written above; that must have been the high-water mark in that part of town during hurricane Ike.

I pedaled back to Seawall Boulevard and got back on the seawall. It was much more crowded than when I started out, so progress was slow at times. I passed by what was left of the Balinese Room, the Flagship, the 1900 Memorial and the nearby historical marker (still not repaired after Ike). When I reached 59th Street (where my car was), I decided to press on to the other end of the seawall. Then I could say I had biked the full length of the seawall in a day. It wasn't all that difficult to do, really, although my rear end was beginning to get a bit sore. At the western end, I took a few pictures and then set back towards 59th Street. That return trip meant a return to the headwind, so it was tougher going heading back, but I made it. Now I knew that I was getting close to reaching 100 miles of riding for the year; I thought I needed 24 miles to be sure of reaching it. But when I reached my car, I stopped, short of 24 miles. With the crowds on the seawall now, it wasn't worth it. So I recorded my mileage and loaded the bike back onto its rack. As I pulled out, another car was ready to pull in.

It was around 1:30 when I left. I'd worked up an appetite, and I was finally ready to visit Laredo's. After heading over the causeway, I went up 146, through Texas City, San Leon, Bacliff and Kemah before reaching Seabrook. When I pulled up, though, the Open sign in the window was not lit. Were they open? I tried the door; yes, they were open! I went back to my car for my laptop, and then I sat down for my meal. First came the chips with three different salsas: the traditional red, a pico de gallo, and a green, creamy sauce. While I nibbled on those, I entered the mileage from today's ride into my log. Success! I had indeed reached 100 miles for the year today -- just. The count: 100.01 miles. The chips were good, and the Laredo meal I had today was good as well, although I couldn't finish it all. There was something different about the enchiladas and the beans, though. They didn't taste like they used to. Now it was getting close to 3, still a little early to check in at the hotel but not too early to start heading there. And so I made my way to the Victory Lakes area (FM 646 and the freeway) and spent some time at the Best Buy. The store had an Apple section, showing the latest models on display, including iPad 2's. But what caught my eye was a small hard drive that promoted an upgradable interface, suggesting it could be upgraded to USB 3.0 in the future. My current laptop didn't have USB 3, but future ones might, either directly or through a Thunderbolt adapter. And I was looking for a drive so I could continue to do Time Machine backups on the road. It seemed like a good deal, and so I got it.

The Hampton Inn was just up the street -- just up two streets, in fact. I drove there via the back way from the Best Buy, and soon I was checking in. The hotel was very new and looked it. Even the rooms looked fancier than other Hampton Inns I'd been in. What's more, my room had a shower, but not a tub. That was different, at least for Hampton Inn. The view out the window was to the north. Ahead was a small retaining pond, and past that the UTMB clinic. To the left was the Gulf Freeway, to the right the Victory Lakes subdivision and empty land. I could see northbound traffic backing up, although I had no idea why.

Later on, I went out for supper. Actually, I went for takeout at the Wingstop, a place specializing in chicken wings. I got a combo of some wings, fries and a Diet Coke to take back to the hotel. The wings were good, if messy; the fries, less so. The Diet Coke was Diet Coke, what else needs to be said? And so I listened to and watched CNN as I ate; the news was all about Japan and the nuclear reactor incidents.

Top

Thursday March 17

I had fallen asleep to CNN on TV. Suddenly, around 1 in the morning, I was jolted awake by something I'd rather not disclose. Was it a return of my illness from Monday? It seemed like it in some ways, but it felt different this time. It kept me awake the rest of the night. Later in the morning, I eventually obtained relief. I was tempted to blame the Diet Coke, which in retrospect may have contributed to what I felt Monday afternoon and Tuesday morning, as well as a previous incident. And so I vowed not to have any caffeinated drinks any more, not for a while, perhaps ever.

When breakfast time rolled around, I still wasn't feeling the best, so all I had was a cup of yogurt and a muffin, which weren't bad. I read my complimentary USA Today and could hear the Today show in the background; I couldn't see it because the TV screen was blocked from view. Later, I decided to drive over to the Super Target, which was on the south side of 646. There, I picked up a few necessities and then ended up going on a little drive. I drove up Calder Drive its whole length -- well, the whole length up to Highway 96, that is. Parts, I'd never been on; other parts, I had, and they still looked familiar. The Safari mobile park was still there, but so were a number of new subdivisions. I maneuvered my way over to Newport and drove past our old house; it was still in good shape. I drove into town on Main Street, went down Highway 3 and made my way back to the hotel. I was feeling a bit better by this time, though I was not 100%. The maids had been by; my room had been made. So I decided to rest up for a bit, and the rest did me good.

While I rested, I was reading one or two e-books from my iPad and had some NCAA tournament games on the TV in the background. A couple of hours later, the problems of overnight were gone, and I thought I had a good idea how to avoid a repeat: no more caffeine. The weather outside was sunny and reasonably warm, so I thought I would ride my recumbent bike through League City. I prepped the bike, not bothering to bring a camera this time; I could do that another time. Then I set out.

I took a shortcut through a car wash that took me to Walker Street. But I had to go south a bit in order to U-turn north. The wind was at my back as I pedaled more or less north through mostly open field. I stopped at the light at Highway 96. When the light changed, I started up again. I passed by new subdivisions and soon reached the civic center, home to the police station, library, pool and city hall. City Hall was torn up and under renovation; the offices had moved elsewhere temporarily. The library was much larger than when I lived here, but I had already known that. Otherwise, things looked quite familiar to me. I crossed Highway 3 and then the railroad tracks. Now I was in the older part of League City. There were the Little League fields. Over there, League City Elementary, both old and new buildings. Here, there was a hair salon in a house; I think I visited that salon a few times when I was a teen and still had a lot of hair.

I crossed Main Street and passed by League Park with its gazebo and playground. I made my way over to Kansas Street, which at one time was part of the recommended road between Galveston and Houston, and pedaled it to its northern end. There was the cemetery. There was the "treehouse" in the lot next to it (really a room on stilts); I went there a few times to play guitar with the guy who lived there. There was the barricade at the end of the road; there would have been an old bridge there many years ago, but it was long gone. Yes, this ride was bringing back memories for me. I'd want to do this again before I left.

I took Walker Street back to the hotel. The part of the road west of the police station didn't exist when I lived here; it's all new. It also was a tiring ride, as I had a strong headwind all the way back to the hotel. But I made it there. Now what would I do for supper? I had a strong craving for Laredo's again, even though I'd just been there yesterday. But after this trip, I would certainly not be going back during my vacation. And so, I made the drive over on Highway 96 (I must resist the temptation to call it I-96) to Kemah, and then up on 146 to Seabrook and Laredo's.

This evening, I had a Special Dinner, which had two cheese enchiladas instead of one enchilada and a pork tamale, and a taco instead of a taco and a chalupa. But I decided to start off with some tortilla soup, minus the chicken. The soup was made from chicken stock, and I thought it was some of the best tortilla soup I'd ever had. The enchiladas and refried beans were not quite as good as I remembered them, just as I had thought yesterday. However, the taco was still good, and the chips and the sauces were still excellent. Now would I return? For the soup and the sauces, yes. Maybe not so much for the traditional dinners, though. It seemed the restaurant had changed on me. Did I still consider it my favorite? I wasn't sure. Then it was back to the hotel for the evening. It was time to watch more of the first round of the NCAA basketball tournament and to see how well I was doing in the bracket game set up by my friend David Horrigan (although I've won it twice, I would end up doing poorly this year).

Top

Friday March 18

I woke up for good around 7:30 this morning; it was already light outside. I'd fallen asleep to the basketball last night and woke up during a repeat of the Conan show, after which I'd turned everything off and properly gone to sleep. And now, after yesterday's illness flareup and my bike ride, I needed and got a good night's sleep. I took my time getting ready for breakfast. There was no need to hurry. And when I went down to the lobby for the meal, the scrambled eggs, sausage patty and muffin were good.

It was cloudy outside, but rain wasn't in the forecast. Now I had not brought along a camera during yesterday's bike ride. Here looked like a good opportunity for another ride and, this time, the chance to catalog it. And so I decided to set out again on my bike. It was windy again from the south or southeast, so I'd likely have a harder time heading back to the hotel again. I brought both of my cameras with me for convenience; the larger one went into the pannier, the smaller one went into one of my pockets. Off I rode. I followed the same route as yesterday, except I didn't cut through the car wash lot. I took a picture of the hotel and some pictures of its surroundings. When I reached City Hall, I took a picture of the renovations underway there. Back across Highway 3 I went. Today, though, I turned on Clear Creek Avenue and rode past the old post office, which was now a banquet hall. After taking some pictures in the area, I rode across the railroad tracks and made my way over to the elementary school for more pictures. I tried to cross Main Street at Kansas, where there was no traffic light; I got caught mid-street. Fortunately, no one ran me over as I walked the bike the rest of the way. I pedaled up to the cemetery, noting the many Japanese names I found there. Rice farmers from the early 20th century, no doubt. Then I made my way through the back streets towards the Butler Longhorn Museum, the old Water Hall mansion (Hall owned League City Bank & Trust and other banks in the area). I'd ridden my bike through these streets as a teen some 30 years ago, and some of the sights were familiar. Still, I was venturing down some of the streets for the very first time.

After a close pass of the creek, I encountered a park I'd never seen before. Heritage Park had been dedicated in 2008 (no wonder I'd never seen it before) and was adjacent to the Butler museum. When I was there, it was probably the Halls' backyard. I stopped for a while to walk around and admire the park, which was nice, even if you could see the sewage treatment facility a short distance away (couldn't smell it, though). Back on the bike, I backtracked my route to Alabama Street, then took it down to East Main. I rode down East Main to Texas Avenue, where I soon passed by St. Mary's Catholic Church, site of the K of C fish fry this evening. Not to be outdone, the Texas Avenue Baptist Church across the street was having a crawfish boil tomorrow. Then I started pedaling back on Walker, but not before passing by League Park again. I took a picture of a statue at Perkins Station; it was a rider on a buckin' bronc. Two cheerleaders were also having their photos taken at Perkins Station, for the yearbook, perhaps. Then I headed back to the hotel. The wind was fairly strong out of the south again, so I had some resistance as I pedaled onward. But soon, I was back at the hotel. 15 miles for the morning ride.

Now what would I do? I wasn't sure my room would have been cleaned yet, and I wasn't quite hungry for lunch. So I decided to head up to the Barnes & Noble on Bay Area for a little bit. I wandered around there for some time but didn't get anything. By then, I was getting hungry, so I went back to 646 and had lunch at Cici's Pizza. The one nearest me back in Detroit had closed down, so I hadn't been to one for a little bit. It hadn't changed, except this location was larger. I made sure not to have a drink with caffeine in it. Then it was back to the hotel to download the pictures from my camera, to work on the travelogue, and to rest up. Let's not forget the NCAA basketball tournament! The remainder of the first round was underway, and I watched several games casually, not paying much attention.

For my evening meal, I wasn't sure where to go. Spring Creek Barbecue? Looked a little busy. Other fast food? No, I wasn't in the mood. I decided to go to Denny's and have the prime rib & chicken skillet, along with a garden salad. It was all very good, although I couldn't quite finish the skillet. Then it was back to the room for more basketball, reading, websurfing and what-not. Later, I turned on NASA TV for a while, but when I started to fall asleep, I figured it was time for bed (good figuring!).

Top


Now what would I do today? Well, first I'd have breakfast. Today, I had Rice Krispies, a danish and a tortilla (interesting combination). After that, what? I might be having lunch with friends. So I decided to go for a ride, up to Seabrook. I wanted to ride along Todville Road, the shoreline road. As I did, I saw all the houses along the shore. Most were on stilts, naturally. A lot of them had to have been rebuilt post-Ike. Not everything had been rebuilt, though: the Pappadeaux restaurant along the channel was still an empty lot.

As I drove, I saw a number of walkers with numbers on their chests, as well as the occasional police car. There must have been some event taking place, though it wasn't obvious what the event was. I continued driving up to the turnoff for Pine Gully Park. Reading that book on Seabrook inspired me to visit. Unfortunately, the road ahead was blocked, with a truck being unloaded for the Maas Nursery. I turned around. It was probably just as well; I later learned that the park had a $20 per vehicle entrance fee for non-residents, too steep for my liking. I continued up to the end of the road, which had changed from what I remember; it now connected to Port Road through side streets. I saw signs for a cruise terminal but saw no evidence of the cruise terminal as I headed west, back towards 146.

Back at the hotel, I took it easy for a while. I had a chat with one of my nieces via Facebook; she didn't know that I was in Texas. I exchanged messages with Rob Wohrer; we wouldn't be meeting for lunch, but we would be meeting for breakfast tomorrow. I eventually decided to set off for lunch on my own.

Stomp's was on 146 in Bay View or Bacliff; its burgers had the reputation of being as good as those of Tookie's. There was certainly a wait to be seated; I had to wait some 15-20 minutes for a table. I studied the takeout menu while I waited, and then I studied it some more after I got my table. So many options to choose from, but I just went with a cheeseburger. For a drink, I just had tap water. The burger had a nice grilled flavor, and it wasn't bad. It wasn't the Tookie's recipe, though, so anyone looking for that would be disappointed. Then it was back to the hotel for more March Madness.

As suppertime rolled around, I wasn't sure what I wanted for the evening meal. I still didn't feel like barbecue, nor did I want another burger. The obvious choice was to try the Panda Express, where I had fried rice, lo mein, orange chicken, an egg roll, and Mug Root Beer. My one-word review: meh. But does "meh" qualify as a word? Then it was back to the hotel to the accompaniment of the Underground Garage and the Ko Melina program. Then it was time to start packing up for tomorrow's departure.




Today, I would leave League City and Houston and head up to Austin. First, though, I would meet friend and classmate Rob Wohrer for breakfast over at Skipper's in Clear Lake Shores. Before then, I finished packing, had a small strawberry-banana yogurt from the breakfast bar to tide me over, and then checked out. I took 96 over to what today is the Columbia Memorial Parkway but which I knew as part of FM 1266, took that to FM 518, the Deke Slayton Highway (and home to a bike trail), took that to Lawrence Avenue and took that up to FM 2094, where I could see Skipper's in the distance. Rob and I arrived at the same time (convenient).

As I left Skipper's, my radio was tuned to Breakfast with the Beatles. Today, the show featured songs by groups strongly influenced by the Beatles, interspersed with the regular Beatle and solo songs. It was good listening on a Sunday morning. It would have been good listening at any time! Now today was my last chance, as a practical matter, to visit the special exhibition on Texas history at the Museum of Natural Science. I'd have to return from Austin otherwise. So when I drove into town, I did not immediately set out toward Austin. No, I made my way to Hermann Park, which was much less crowded this Sunday morning than last Tuesday morning. The zoo parking lot was pretty full, but the lot over by the Garden Club was still wide open, and so I parked there. The museum wouldn't be too far away. I left my cameras in the car, as I had a hunch photography would not be permitted inside the exhibition. I bought my ticket as well as the chance to use an audio guide, made a restroom visit, and then went upstairs to see the exhibition.

The entrance to the exhibition was not well marked at all; I had to find my way through the start of another exhibit to find the entrance. When I found it, I found my hunch was right: cameras were not permitted. I obtained my audio guide, slipped it over my neck, put on the headphones, and then started with the exhibition. The first part covered the Indians who lived in the areas of Texas pre-colonization. Next came sections on the Spanish and French, including a first printing of Cabeza de Vaca's journals of his time exploring Texas. Spanish spurs, pikes, helmets were on display, even the remains of a crucifix from a mission (the cross was present, but the representation of Jesus was not). There were a number of French artifacts retrieved from the shipwreck of one of La Salle's vessels in Matagorda Bay.

The exhibition moved on to the revolutionary period. There were documents from Stephen F. Austin, most successful empresario of Texas. There was the "Come and Take It" cannon from Gonzales, which the Texans would not return to the Mexican army. There was an original printing of Col. Travis's message to the world asking for help in defending the Alamo. There was Jim Bowie's knife that he had at the Alamo -- Davy Crockett's pistol and violin. Farther down, there was the report that Sam Houston wrote summarizing the Battle of San Jacinto. There were artifacts that belonged to Santa Anna, as well as the weapon used to capture him. There was an original printing of the military orders from June 19, 1865, the date that the Texas slaves first learned they were free. There were items from a Texas Ranger (lawman, not ballplayer) and items from Spindletop. There was a Mardi Gras gown worn by the daughter of Jesse Jones during Mardi Gras in Galveston in the '40s. And there, the exhibition came to an end. Next came the gift shop, where I bought a couple of refrigerator magnets and a video. Then it was time to leave.

I took a few pictures outside of the park, and then I set out. I made my way over to Montrose, thinking to take that up to I-10. It did go up there, but construction made it impossible to get on the freeway there. Driving over to Heights Boulevard then down didn't help; the construction continued. So I gave up and went down to Washington Boulevard, which I knew would lead me to the freeway eventually. The area had been cleaned up since I'd last been there; it was looking like a nice part of town. Soon, I encountered an entrance ramp to I-10 and entered the freeway. Now I was on my way to Austin. I tried calling Keith to let him know I was on my way. His cell phone number didn't work, so I tried the home landline. That worked. I later learned that he'd given up his cell phone, which explained why it didn't work.

I stopped for lunch in Columbus at a McDonald's, then continued northwest on Highway 71. I turned on the Astros preseason game against the Pirates; things weren't going well for them, as the Pirates were beating them soundly. Next stop: La Grange. No, not at the Chicken Ranch, but at Weikel's Bakery, where Keith had asked me to pick up a loaf or two of bread - very good bread, I would learn later. The store was also supposed to be a gas station, but that part of it was torn down, possibly being reconstructed. I wouldn't stop for gas until later on, not until I reached the Travis County line. Soon, I could see the airport in the distance. Then came the intersection with US 183, which would wrap around to the northwest and position me for the drive to Steiner Ranch. I had the GPS unit running, but I didn't need it to reach my destination. I'd flipped back to the Underground Garage on the radio, and I was hearing some interesting music, including the Bee Gee's "Every Christian Lion Hearted Man Will Show You", a song I'd NEVER heard on the radio before (I knew it from my collection, though).

[Details have been removed after receiving a threat from Ping the cat to barf in my shoes on a future visit]







Miles today: 537.1
Miles total (this segment of trip): 537.1

I left the house around 8:30, but I got stuck in heavy traffic on 620. I stopped at the HEB at 620 and 2222 to pick up a few things for the road, such as some more peanuts, some cookies, some muffins, as well as an Austin newspaper. So when you consider the traffic and the HEB stop, I really got under way around 9:30. As soon as I could, I picked up the 45 toll road and made for I-35. I made the turn onto northbound I-35 and headed northeastward, through Round Rock and Georgetown, through Temple and Killeen and Waco. The last time I'd driven through here, in November 2009, was the day of the shootings at Fort Hood.

Around lunchtime, I had made it to the Dallas area, and now I was going around town on I-20 and I-635, heading over to I-30. Before long, I was thinking about lunch, where I would like to eat. I figured I'd be eating in Rockwall, where I'd eaten a number of times before. There was a Carino's here, I remembered, as well as a Steak & Shake. Both were good, but today, I felt more like a Carino's visit. I had the Spicy Shrimp and Chicken, one of the dishes I regularly get when I visit. Yes, it was good. And so, with a full stomach, I headed back onto I-30 for the drive to Arkansas.

As I traveled, I bounced around the radio dial, as I usually tend to do. For old-time radio, I recalled hearing Dr. Kildare and a Studio One presentation of "The Return of the Native." I also listened to 60's on 6, Fox News, BBC World Service and the World Radio Network during the day. Soon I was in Texarkana, and then I was in Arkansas. I still had a ways to go before reaching Little Rock, though, but once I got past there, I didn't have too far to go for this evening's destination, the Holiday Inn Express in Lonoke.

I made it to Lonoke at 7 and checked into the hotel, having driven some 515 miles for the day. Not too bad, given the late start. I checked in and received room 314, or as it could have been called, the Pi room. But there was no pie in the Pi room. There weren't too many places to eat close by; fortunately, the McDonald's was within easy walking distance, so that's where I went. Back in the room, I turned on the Weather Channel to check on the forecast for tomorrow. The local insert graphics were really archaic, seemingly never upgraded from the 1980's; it was still all text.




Miles today: 537.9
Miles total: 1115.0

I woke up at or before 5:30 in the morning. In doing my e-mail checks, I also checked out the national weather for the day. What would I be facing on the road? Well, if I went up I-55 and I-57 the way I had been considering, I might be running into freezing rain. I didn't care for that possibility. Now I had another alternative path, and that was to drive into Tennessee on I-40 to Nashville, then go up I-65 towards Louisville and then I-71 towards Cincinnati. That route looked better on the weather maps. There was the possiblity of rain, but the likelihood of anything frozen or freezing coming down was very small. And so, I changed my plans.

When the breakfast bar opened up in the lobby, I went downstairs. I didn't have much, just some cereal and a muffin. I went back upstairs to brush my teeth and do my final packing, and then I came down to check out. It was 6:50 in the morning when I started up the car and pulled back onto the highway. Memphis was over 100 miles away, so I still had a lot of Arkansas to travel through. I drove through Brinkley and Forrest City, places I might have stayed at last night but didn't. Soon came West Memphis and I-55, a road I wouldn't be taking this time. My first gas stop of the day came at a station just east of where I-40 and I-55 split. It was with a full gas tank that I drove across the Mississippi River into Memphis. Traffic wasn't much of a problem at all; it appeared I'd avoided the Memphis rush hour.

It was a long drive between Memphis and Nashville; to be honest, at this point, everything was a long drive. There wasn't much on regular radio, so thank goodness I had the satellites to keep me company. I listened to a lot of the RadioClassics station today; sooner or later, they'll always have a program of interest on. As noontime (OK, 11 AM in the Central time zone) approached and passed, I searched for the Rush Limbaugh show, but I wasn't able to find it until I tuned in WLAC Nashville, and there's where the dial stayed for the next few hours, as I headed into Nashville on I-40 and then out of it on I-65. Within an hour or so, I was in Kentucky, and I flipped over to WHAS Louisville to keep on listening to the show.

Now I'd thought I would stop in Bowling Green for lunch. But there was a problem with Internet access: my MiFi's power button turned blue, indicating the device was roaming on a different network. That meant extra charges on my bill (or so I thought; I later learned that Verizon doesn't charge for data roaming). I didn't eat lunch in Bowling Green; perhaps a few miles down the road, I'd get a regular network connection. But I never did, for every time I turned the MiFi on, it went into roaming mode. Fortunately, when I did stop for lunch at a McDonald's at a Pilot truck stop, the restaurant had free Wi-Fi of its own, and I used that to retrieve e-mail. I also used it to locate Louisville's Apple Store, and when I saw that it was on my general path, I made plans to visit there. Soon, I was back on the road. South of Elizabethtown, I saw a sign marking the Eastern time zone. Here, I changed the car's clock one hour ahead. My watch would have to wait until later. I, too, would have to wait, for I had encountered a major construction backup on I-65 just south of Elizabethtown.

After I passed the construction, I continued northward. Soon came the signs of Louisville, including signs for their two loop freeways. I was looking for the inner loop, I-264, for the Apple Store could be found there in the Foxmoor Mall. Now I was getting sore and stiff, and I was also getting tired; I had to make a sudden stop on the freeway when I wasn't as alert as I should have been. It was time for a break, and I took the break at the mall as I walked around. No, I didn't make a beeline for the Apple Store as soon as I got inside; I encountered it during the course of my travel. Did I see anything I wanted to get there? Yes. Did I get anything? No.

Now over the last few days, Keith and I had talked about e-readers and tablet e-readers, with the Nook Color coming up frequently. After seeing a recent article about how a rumored future update would turn the Nook Color into a basic Android tablet, I thought it would be worthwhile to get one as a potential experiment. I looked around the area for Barnes and Noble or Best Buy stores, but none were nearby. Thanks to the Mi-Fi (now no longer roaming) and the iPad, I located both a B&N and a BB that were close by; the Best Buy was closer, and so I drove to the other side of the freeway intersection. The Best Buy was still hard to find; it was actually on a side of the strip mall that didn't face the main highway directly. Once I found it, I parked and went inside. The store had a few Nook Colors; it also had some Amazon Kindle e-readers and some other brands. Now I had been thinking about the Kindle for a while; even though I had the Kindle software on my iPad, I thought that the experience of e-ink would be worth it to consider the standalone reader. Which should I get? Then I remembered my bonus. I could get both! And that's what I did.

Back in the car, I broke out my laptop to make a hotel reservation. Given the time of day, I thought it best to stop in northern Kentucky and not go into Cincinnati, and so I made a reservation for a Holiday Inn Express just north of where I-71 intersects I-75. I got back onto Louisville's Loop (the inner one, I-264), observing a Chuy's ahead of me as I circled up the on-ramp. This would be the closest Chuy's to Detroit, possibly motivating future trips to Louisville. Soon came the intersection with I-71, and I headed northeast. I continued listening to As It Happens on CBC, which I had turned on before I went to Best Buy (the Canadian government had fallen today, meaning elections would soon be called).

The drive up I-71 was uneventful. As I drove along, I passed the Kentucky Speedway. I passed a sign marking where a bus had crashed in 1988, killing several people (I remembered hearing about it at the time). I passed interchanges that made little if any impression on me. At last came the intersection with I-75. Soon, I'd be at the hotel; it was located at the next exit. But I was also getting hungry. Should I check in at the hotel first and then get supper, or should I get supper first? I decided I'd get supper first. Supper, this evening, was a plate of 3-way chili at Skyline Chili, 3-way signifying chili, spaghetti, and shredded cheese. It was pretty good. In the background, TV's were showing either the NCAA Sweet 16 or an ESPN show on the Fab Five of Michigan. The TV showing ESPN eventually got changed to the NCAA tournament. Everyone was waiting for the Kentucky game to start, it seemed. When I was finished, I drove over to the Holiday Inn Express, which was up on a bit of a hill or a rise, and the entrance wasn't that easy to find. But find it I did, and soon I was in my room (room 136, no stairs or elevators) for the evening.

Now I wanted to open up one of the e-readers I'd bought earlier that evening. Which one would it be? I ended up opening the Kindle. I charged it, connected it to my MiFi and downloaded the book I was reading. I also used the Kindle to buy a new book, an alternate political history called Then Everything Changed from Jeff Greenfield. It speculated on how history might have been different in three instances: if JFK had been killed in 1960 before assuming office, and LBJ was president beginning in '61; if RFK had not been assassinated in 1968; and if Gerald Ford hadn't made the gaffe about Poland not being under Soviet domination. I noticed that the Kindle was much lighter than the iPad and could easily be held in one hand. The Nook Color would wait until I got home.
Saturday March 26





Miles today: 276.3
Miles total: 1391.3

I woke up once in the middle of the night to use the restroom; I woke up for good around 5:30. That was too early for the breakfast bar, which opened around 7. I used the time to check my e-mail, the web, the weather, etc. When 7 rolled around, the alarm went off. I hadn't set it; evidently the previous occupant of the room had. I attempted to download the current Wall Street Journal on my iPad; once again, the download went very slowly.

The breakfast bar here was in a separate room that was closed off when not in use. Otherwise, it was the standard Holiday Inn Express breakfast bar. This morning, I had a cinnamon bun, some cereal and yogurt. I didn't get a drink, for there was enough milk in the cereal to cover that. When I was finished, I went back to the room to pack up and check out. By 7:50, I was on the road.

Traffic wasn't too bad in Cincinnati, although there was construction north of town and in Dayton. It wasn't bad in those construction areas, either, for this was Saturday morning. I passed the drive time listening to various stations: Soul Town, MLB Network Radio, and the 70's on 7, to name but three. At one point, I turned on WJR in Detroit, which was now in range. It warned of lane closures on I-275 north of Ford Road, which I thought might hinder my way home. I made a note to myself to exit at Michigan Avenue and avoid the potential mess. Northward I went, past Dayton and Tipp City, through Troy and Sidney and Lima (the fictional home of Glee). I stopped for gas at a Speedway in Beaverdam, right on the Lincoln Highway; this would be the last gas stop I'd need to make before making it home.

I continued northward on I-75, through Findlay and Bowling Green, past the large mosque south of Toledo and on into Toledo. This was around 11:30. Just before noon, I had made it all the way across Toledo and into Michigan. I didn't have much farther to go now, around 45 miles or so. Would I make it home by 12:30? No, but I did make it to I-275 and I-94, so I was very close. I remembered to exit at Michigan Avenue, and I made my way to my house, arriving at 12:43. I was home. Now came the unpacking. First, the bike came off of the rack. Then I removed the rack from the car. It didn't want to come off at first; I had to hit it with a hammer a few times to loosen it up, but it finally broke free. Now the garage door could be closed, and I could unpack at leisure. Had I left the heat turned up to 70 while I was away? No, I hadn't; it was down between 60 and 65. The cable box was still not responding to the remote control; I'd have to call for a service appointment. Now I could make out a bill that was due right away; now I could start the Nook Color charging in preparation for its first use; and now I could rest up from my vacation.


THE END

Top


©2011 R. W. Reini. All rights reserved.

Written by Roger Reini
Revised May 13, 2014