PHOTOS
Great Britain
1996
Great Britain
and Finland
1998
Travelogue: Texas and More
September/October 2007
By Roger W. Reini
By date:
September: 26 | 27 | 28 | 29 | 30
October: 1 | 2 | 3 | 4 | 5 | 6 | 7 | 8 | 9 | 10
Wednesday September 26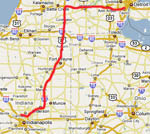 I left work a bit early today, as I had no more meetings, and I'd done all I could do on what I had to do. Still, I left my cell phone on in case anyone was trying to contact me. I put my laptop bag in the trunk and then tried to tighten one of the bolts on my HF (high frequency, a.k.a. shortwave) antenna. Unfortunately, it wouldn't tighten. I needed a second wrench or pair of pliers, but I didn't have either.

I headed down Pelham Road towards I-94, stopping for gas at one of the stations at Outer Drive. I was below a quarter of a tank, so I put in over 13 gallons. The fill-up was over $40, a possible first for me. Then it was down to I-94 and onto the freeway heading west. Traffic was heavy, but it wasn't jam-packed. I turned on my XM Radio and bounced around various stations. Initially, I listened to XM Home Plate and Charlie Steiner's Baseball Beat program. Later on, I gave a listen to the new POTUS 08 channel, dedicated to covering the 2008 presidential election. Eventually, I found myself listening to Soul Street, which covers the 60's and early 70's heyday of soul music. This afternoon's program featured number 1 songs from the 60's -- #1 on the R&B charts, that is. The thing is, most of the songs also did quite well on the regular charts. There were some that hit #1 on both – perfectly understandable.

The weather was cloudy, warm and humid in advance of a cold front. I didn't hit any rain until I was traveling down I-69 in Indiana, and even then the rain was light. I stopped at the Indiana Welcome Center for a restroom break and a Diet Mountain Dew. Since I was driving after a day of work, I was rather tired (all the more so because I woke up early to begin with – 4 AM or so), and I did not want to nod off behind the wheel. The Mountain Dew did its job. And so I found myself nearing Indianapolis just after 7 PM. I knew that I would be passing by Fry's Electronics, perhaps their closest location to Detroit (their Chicago location is in the western suburbs, making it a bit farther away), so I decided to pay them a visit. The location of some of the items was different, but all in all, it wasn't very different from their other locations. I didn't get anything tonight, although I could have. I knew I'd have plenty of opportunities to visit other locations, whether in Austin or Houston.

My destination tonight was the Microtel Inn in northwest Indianapolis, near their "North Loop". I missed the street for it and had to loop back through a shopping center parking lot, but I eventually got there. The room was small but functional, which was all I needed for the night. Download e-mail, read magazines, go to sleep.

Top

Thursday September 27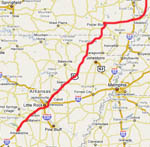 I woke up a little after 4 again; I must have still been in work mode. That allowed me to take my sweet time getting ready this morning. I also wanted to take advantage of the breakfast in the lobby, which didn't start until 6 AM. The breakfast consisted of chocolate muffins, bagels, juice and coffee. I had a muffin and some orange juice before checking out and hitting the road around 6:20.

Traffic wasn't too heavy on I-465, the loop around town. An hour later, that might not have been the case, but I was far to the west by then. I got on I-70 and headed westward towards Illinois. I turned on my amateur radio transceiver and listened; the band for which I was configured (20 meters) was not open, so I listened to one of the broadcasters on 49 meters, China Radio International. Before long, I put on the iPod and my audiobook on language and thought called

The Stuff of Thought

by Steven Pinker. Now I was getting hungry, but I wasn't sure where I wanted to stop. By the time I reached Marshall, Illinois, I knew I wanted to stop. At the local McDonald's, I had a steak & egg bagel sandwich, a hash brown patty, and an orange juice. I was reading the

Chicago Tribune

, mainly the comics and sports sections. I'd brought in my iPod touch to use with their Wi-Fi system, but their Wi-Fi was not free. So I didn't use it. I could use my cell phone to retrieve e-mail later (Powerbook connected through the cell phone, that is).

The drive through Illinois was uneventful. For a while, I got tired of the audiobook and listened to some of the songs on the iPod, notably the Bangles and most of their

Different Light

CD. I liked them back in the day and I like them now, and they've aged very well – very well indeed. When I tried to play the audiobook again, though, I lost my place and ended up at the beginning. I was in a gas station convenience store parking lot, fast-forwarding to pick up where I thought I left off. I think I got it right. So onward down I-57 I went.

Around noon, I was in Sikeston, Missouri, where I-57 ends at I-55. I had lunch at Applebee's (a shrimp and leaf spinach salad – yummy! A Popeye special, you could say). I'd also brought my Powerbook and cell phone in with me so that I could retrieve my e-mail. The connection may have been slower than I would have liked, but I got my messages and even sent a couple out.

Getting back on the road, I decided to depart from my original plan to take I-55 down to where it intersects I-40 near Memphis, then take I-40 to Little Rock. The restaurant was a few miles west of I-55 already, so that helped my decision to travel west and go through Poplar Bluff. Many years ago, when we would drive from Texas to the Copper Country of Michigan, we would go through Poplar Bluff and eat at a restaurant called the Hickory House. I wanted to see if the restaurant were still in operation or if any sign of it still existed. I drove through the town on Business 67, but there was no sign of it. It had been over 30 years since I'd been there, so I couldn't be too surprised. I drove down US 67 into Arkansas. At one point, I stopped at a Wal-Mart to buy a tool set, for I really wanted to repair that HF radio antenna. I did get the connections tight, but now something else was wrong, for there was a completely open connection – no reception, no way to transmit, no nothing. Some more repairs were needed, but I didn't have time for that now.

I arrived in the Little Rock area around 5 o'clock, taking the loop around the city to avoid downtown rush hour traffic. By this time, I was getting hungry, and I was also getting tired, and I needed to find a hotel for the night. Eating at the Dixie Café satisfied my hunger, and bringing in the laptop let me make a reservation in Arkadelphia (the connection was terribly slow, but I did complete the reservation). And so that was how I found myself at the Hampton Inn in Arkadelphia around 7:30 at night. It was fancier than the Microtel Inn, thus more expensive. But I would be acquiring more Hilton HHonors points that I could use for free stays at the hotels of my choice. In the past, I'd used points to stay at the Hampton Inn in Windsor, Ontario on the way to and from Ottawa, and I was contemplating doing so again.

Top

Friday September 28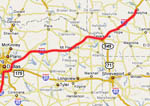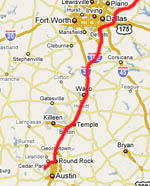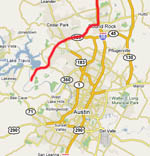 I woke up around 5 o'clock Central time, took a shower and checked my e-mail. Then it was time for breakfast, and I partook of Hampton Inn's very good breakfast bar. It didn't have those muffins that I really like, but I still liked what they had (different muffins, cereal, sausage). By 6:45, I was ready to hit the road. My first stop was 30 seconds later at the gas station next door, where I filled up and washed off the windows. While doing so, though, I noticed a spot that wouldn't wash off the windshield. Upon closer examination, it wasn't a spot; it was a small hole, not visible from the driver's seat because of the rearview mirror. I would have to see about getting it repaired. I would also have to monitor it closely in case it started growing. I did recall hearing a loud tap at some point yesterday

The drive through Arkansas on I-30 was unremarkable, and within an hour or so I found myself at the Texas Welcome Center in Texarkana. After a bathroom break, I went inside and picked up some literature for places I might be visiting. These were places around Austin and Houston, mainly. Then I continued westward, passing by the turnoff for US 59, the route to Houston. I'd normally take that exit, but not today, for my destination was Austin. I continued westward for a few hours, listening to the iPod, stopping for lunch at the Steak & Shake restaurant in the town of Rockwall. I had stopped here in the past, meaning the town, for I recognized the nearby Waffle House and the lake. Once again, I brought in my laptop and cell phone to check e-mail. While doing so, I saw an article that caught my attention: second-generation astronaut to head to space station, to paraphrase the headline. Reading further, I saw that the second-generation astronaut was someone I knew way back when: Richard Garriott, who had graduated from Creek two years ahead of me, had developed the Ultima series of computer games and had become quite wealthy. We'd also taken drama/acting classes together back in the mid-70's (friend Rob Wohrer had done so as well). He was going to be a "space tourist", buying a ride to the International Space Station. His father had flown on Skylab and the shuttle and had been the first amateur radio operator to operate from space.

After lunch, I got back on the road and headed towards Dallas. I wasn't going to stop there, but I was going to turn towards Austin there. There was no need to head all the way into town; I could take I-635, Dallas's Loop, to connect to I-35E, and that's what I did. Once I got onto I-35E, there was construction south of town, so that slowed me up for a while. Eventually, the construction ended, and the road opened up. It was heavy with traffic the whole way down through Waco, Temple and Round Rock. I was listening to audiobooks on my iPod again. At one point, Keith called to see where I was and when I might arrive. I had to pause the iPod in order to take the call.

[Details removed of my stay in order to avoid embarrasing Ping the cat. He doesn't want to remember how scared of me he was on this visit; he's become much friendlier to me over the years.]

Top

Saturday September 29


[Details of today have been removed, but the highlight was having breakfast at the Magnolia Cafe in Austin]


Top

Sunday September 30

[Details of today have been removed, but they did involve a delicious meal at the Monument Cafe in Georgetown and my introduction to Crocs footware. No one can question the importance of the first thing, but there are those who have questioned the benefit of the second. So what? I like Crocs.]


Top


Monday October 1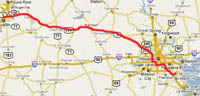 I was supposed to be on vacation, yet I found myself awake at 5 AM internally, which was 4 AM in real life. But I found the time useful, for I checked e-mail and websites I usually check in the morning. Later, I took a shower and had the leftovers from the Magnolia Café. I finished the home fries and most of the eggs, but I didn't really care for the leftover black beans. I also finished packing up, for I would be leaving today for Nassau Bay. It was 9:30 when I left.

My first destination of the day was the local amateur radio store in Austin, for I was looking for an inexpensive temporary mount for my HF antenna. After a few loops around the block, I found the store in an older shopping center. When I parked, though, the store was not open. Nor was there a posting of hours on the door, so I had no way to know when it would open, or even if it would be open. They could have been closed on Mondays, for all I knew (an electronics store back home in Westland was closed on Wednesdays and Sundays). Disappointed, I left and headed east on US 290. I would now have to try Houston's amateur radio store.

Based on Keith and Karen's recommendation, I stopped for an early lunch at the Southside BBQ in Elgin. The interior was low-key and non-descript, but to me, that conveyed authenticity. I could see the meat market section, but I wanted the prepared food section. I had a large chopped beef sandwich (no to pickle, yes to onion), some chips, and Diet Dr Pepper. It was OK, but I thought Joe's was better. To be honest, I might not have been hungry enough for it, for it was indeed early (I got there before 11).

The drive along 290 was uneventful, and I made good time toward Houston. After stopping for gas in Waller, I headed into town. My destination wasn't my hotel, not yet. I was in search of a book on Houston street names, and I knew that one of the stores that carried it was on Bissonnet (it was locally written and published, and it wasn't available at the chain superstores). So I followed 290 to its end at the Loop, then took the West Loop to the Southwest Freeway to the Kirby exit. I passed by River Oaks Chrysler-Jeep, where my dad had bought two vehicles, the second of which turned out to be a lemon and the last Chrysler he ever bought. Then I turned left on Bissonnet, and the Brazos Bookstore wasn't far away. It was a nice small store, but they didn't seem to have it, so I left. There were some other stores that had it, and I'd try those later. Now, though, I would head to Nassau Bay and my home for the next week. So I took Greenbrier down to Fannin, keeping clear of the Metrorail trains along the way, then took the South Loop over to the Gulf Freeway. The biggest changes I noticed were at Almeda: the Foley's was now Macy's, which I expected, but the Penney's store was closed, which I didn't. I hadn't been to Almeda in many years, and I expected that to continue.

Knowing there would be construction on Nasa Road 1, I exited at Bay Area and stopped for a restroom break at the Barnes & Noble. They didn't have the street name book, either, but I did get some magazines. Then it was over to the Extended Stay America in Nassau Bay. I normally stay at this hotel whenever I'm in town, but I didn't last November. The lobby and rooms had been remodeled somewhat – new carpeting, new chairs in the rooms, etc. I had room 107 on the first floor, with good southern exposure for my XM antenna. One of the first things I did was to set up the SkyFi radio near the bed, with the antenna placed above the screens in the window (it had to be above, otherwise the signal wouldn't get through).

After settling in and unpacking, it was time for supper. Now where would I want to eat? Barbecue was out of the question, since I'd had it for lunch. The obvious answer for me was Laredo's in Seabrook, so that's where I went. Southbound traffic on 146 was very heavy as I turned in to the parking lot. But it wasn't very busy inside, and I was able to order my regular Deluxe Dinner and be served very quickly. As always, it was very good. It was also lighter than some of the other Mexican meals I've had. Afterwards, I went to the Super Target in Kemah to get some food for myself (cereal, soy milk, nibbles) and some Halloween candy to send to my sister in Uganda. It was an expensive visit to Target. Unfortunately, when the time came to pay, my debit card wouldn't work. I had to have it processed as a credit, which meant I couldn't get any cash back. On the way back to the hotel, I listened to the tiebreaker game between San Diego and Colorado on XM. The winner would move on to the post-season, while the loser's season would end. I was able to see some of the construction on Nasa Road 1 before I reached the hotel and called it an evening.

Top


There were bills that had to be paid; I wrote out 2 checks and paid a third via the Web. There was a package to Uganda that had to be mailed; I prepared the box and filled it with candy, magazines and collected mail that was coming to my house. But there was still a lot of room left, so I put in newspaper to fill up the space. I had cereal and Pop Tarts for breakfast, and at 9 I left for the Nassau Bay post office. It cost $27 to mail that package to Uganda (actually, to mail it to a mail collection point near Dulles Airport in Virginia)!

Now what would I do? I had thought about going to Galveston, but I decided that could wait a day. After not being able to visit the amateur radio store in Austin yesterday, I did want to go to the one up in Spring. So I headed westward on Nasa Road 1, which took me through the construction related to the bypass. Perhaps it would be complete by the next visit. Once I got through the construction zone, it was smooth sailing through Webster, and I got onto I-45 northbound.

My first stop was the Quarter-Price Book Store on S. Shepherd in Houston, which was just north of the Southwest Freeway. I didn't stop there for long, though, because the store was closed. No hours were posted on the door, though I recalled seeing a web listing that said it opened at noon. That was several hours away, and I wasn't going to wait. My next destination was the River Oaks Bookstore on Westheimer, Unfortunately, I could not turn left on Westheimer, so I had to make right turns and go around the block to end up in the correct direction. I didn't know precisely where the store was, but I had an address for it. I passed by some familiar sights, including Lamar High School. But when I reached the Central Market at Weslayan without having seen the store, I was sure I'd passed it by and made a big loop. I went up to San Felipe and over, getting back to Westheimer by wandering through the River Oaks streets. When I went down Westheimer more slowly, I found that the bookstore was in the shopping center across from Lamar High School. It was a small store but a well-stocked one. Yes, they had it, and I walked out of there with a copy. I wouldn't need to order it from the Web after all.

Next stop: Houston Amateur Radio Supply in Spring. The best way to get there was to take the West Loop to the North Loop to the North Freeway and up one exit past FM 1960. Traffic wasn't too bad as I made the trip, and I eventually found myself at the Cypresswood exit. Spring High School was on the corner. Across the freeway was the shopping center that contained the radio store, a Super Target and a Best Buy. I went to the Target first for two reasons: one, I needed to go to the bathroom, and two, I wanted to get some sunblock as well as get some cash back. Unfortunately, I was thwarted again in my attempt to get cash back: out of network, it said. That wasn't true last year. Ticked off, I cancelled the sale. I'd try Wal-Mart next. Next came the radio store. I ended up getting an inexpensive mount for the Hamstick antennas I've been using. It didn't fold up like my regular one did, but it was inexpensive. For emergency use, it would do.

My next destination was one of two theaters that were showing the movie

Across the Universe

. One was near the Willowbrook Mall, while the other was in town near the Katy Freeway and the West Loop. I decided on the one near the Loop, for that would be on the way home, more or less. I used the GPS to guide me there, which it did with plenty of time to spare for the first showing of the day. That was another reason why I chose this theater: the first showing was at 1, while the other theater's first showing was after 2. There were several restaurants in the area, but there wasn't enough time to go to any of them before the movie started. I ended up getting some popcorn, a hot dog and a drink.

Across the Universe

was a movie that was written around the songs of the Beatles, as one might gather from the title. Many characters were named for characters in those songs – the two leads Lucy and Jude, her brother Max, soul songstress Sadie and her guitarist Jo-Jo (evoking Joplin and Hendrix, respectively). No original Beatle recordings are heard; instead, the actors all sang their own songs, and they did a good job of it, too.

The movie was a little over two hours long. When it ended, I headed homeward to avoid getting caught in rush hour. Remembering my problems at Target earlier in the day, I stopped at the Wal-Mart at El Dorado to get the sunscreen and attempt to get some cash back. Once again, I couldn't get cash back due to network errors. As I did indeed need the sunscreen for my bike ride in Galveston, I bought the sunscreen with cash, then attempted to pull cash from the ATM. That didn't work either, and then I began to get concerned. Would I be able to get cash ANYWHERE? Or would I have to ask a friend to cash a check for me? I stopped at the Washington Mutual at Bay Area and El Camino to try their money machine. Fortunately, I was able to withdraw cash; I wouldn't have to ask a friend to cash a check. But I was not able to avoid the double ATM fee that I could have avoided were I able to get cash back when buying other things.

The weather report had news of a tropical disturbance of a gulf that could head this way for the coming weekend. The forecasters were uncertain if it would become a tropical storm or hurricane. If it turned into a hurricane, I would have to be prepared to leave quickly, more quickly than most residents because I wasn't a resident. I would either head back to Austin or head back homeward. For now, though, I would assume business as usual. I got into contact with the Coneys, friends of the family from way back, and arranged to meet them for dinner Thursday night. It would be a late dinner because Linda Coney taught students until 8:30 or 8:45.

Then I took a drive over to Fry's in Webster. I took a little bit of a "scenic" route, going through League City, for I wanted to see what had changed along Main Street. Not much had changed there. But there was now an overpass crossing Highway 3 (the Nasa 1 bypass), and there was now an overpass on the freeway just north of Fry's, where the bypass feeder roads will cross under the freeway. Different, indeed! At Fry's, I picked up 2 DVD's and the latest issue of Wired magazine, and then I thought about what to do for supper. Cheddar's was right there, but it was too busy, so I went up to Baybrook. My first stop was their new Apple store. I wasn't immediately in the market for anything, but that will be changing in the future (my Powerbook is 3 ½ years old and is showing its age). As for supper, I stopped at Luby's, but nothing on the menu appealed to me. Nothing at the food court struck my fancy, either, so I ended up going over to Denny's. I hadn't been to a Denny's in a while, not since the one close to me at home closed up. After a good burger and salad, I went back to the hotel and called it an evening.


I got on the freeway and headed towards Galveston. It was quite messy south of Webster with the bypass construction, but after that, there was no more construction until I reached Galveston. South of FM 518, I saw Alex Rodriguez Mercedes-Benz and wondered if that had anything to do with the baseball player (it sure did, I learned later; A-Rod did in fact own that dealership). Further south on the freeway, near FM 646, I saw even more signs of construction and growth. There was a Best Buy near the Wal-Mart; a sign on the side said "Opening Soon." I saw a Home Depot that was open and a Super Target that was under construction. Hard to believe that all of these new businesses were opening up in my hometown. What would my late parents think of all this?

At the Causeway, construction resumed. All traffic was using the northbound bridge, while the southbound bridge was being rebuilt. Traffic wasn't backed up because three lanes in each direction were available, the same as usual. I stopped at the Target on 61st Street to use the restroom, then headed towards 18th and Seawall and the Island Bicycle Company. I had found them on the Web when searching for dealers that rented bikes. I found a parking spot along the seawall right across from the store and went inside. They had several models available, but I ended up renting a basic beach cruiser – one-speed, coaster brake, balloon tires. I hadn't ridden a bike like that in a very long time. In some ways, it was difficult to get used to it. I couldn't spin the pedals to put them in the best place for my feet when taking off from a stop, and I frequently found myself grabbing for the hand brake levers that weren't there. But it worked. I rented it for two hours.

My first destination: my car, where I retrieved my bike helmet. Then I set off towards the northeast along the seawall, in the direction of Stewart Beach. There was a decent headwind the whole time, so I was getting a good workout. Once I got to Stewart Beach, I kept going. I had to watch for glass on the sidewalk, and of course I had to keep clear of the edge. I didn't stop until I reached the end of the seawall at the site of Fort San Jacinto. Here, you could see all of the traffic heading up and down the ship channel, out to sea or into the bay. The Bolivar Peninsula was clearly visible. I spent some time here taking pictures, and then I hopped back onto the bike. Heading back, though, I rode on the north side of the road, up another seawall of sorts. No glass up here! And the wind was at my back, so I found it a very enjoyable ride. I then turned down the road for the Bolivar Ferry, but I didn't take the ferry. No, I turned onto Harborside Drive and road through UTMB, the University of Texas Medical Branch, and John Sealy Hospital. I then rode along the Strand in downtown, stopping to take some pictures here and there. I passed by the Rosenberg Library, which was undergoing renovation in preparation for its centennial. I can remember their bookmobiles that would visit our subdivision before the League City library was built. Only the original building had scaffolding around it; the newer building was untouched.

As I pedaled around, a couple drove up to me and asked if I knew where St. Mary's Cathedral was. I didn't know, unfortunately. Guess I must have looked like a local – well, I almost had been at one time. Then I took 23rd Street down to the seawall, passing by O'Connell High School (Catholic) and the site of an old Buick dealership that was now hosting a T-shirt company. I would later learn that this was originally Pennington Buick, built in 1950, and later Bill Brown Chevrolet. Once I reached the seawall, I headed southwest. I passed the Flagship Hotel and rode up onto its parking deck, planning to ride all the way to the end – until I saw the sign for no bicycles or skateboards. I did ride on a rock groin that stuck out into the Gulf, though, and took some pictures. The riding was difficult, and in some places, I had to get off and walk the bike due to the rough surface. I even rode on the beach briefly before I attempted to pedal back up to the top of the seawall. I say "attempted" because I couldn't make it with the one-speed. I eventually pedaled all the way down to the San Luis Resort and the site of Fort Crockett before turning around. At one point, I thought I would want to ride the entire length of the seawall. Perhaps I will at some point, but not today. I made it back to the rental place and returned the bike.

The bike did not have a speedometer or odometer, so I had no way to know how far I rode today (I keep track of that). Fortunately, the route was such that I could drive it with my car and get a good approximation of my distance. After stopping at McDonald's for a milkshake, I drove the route as best as I could. It came out to 14 ¼ miles, not a bad ride at all. Heading back towards the hotel, I saw that the new Best Buy in League City had a sign "Now Open". I made a note to come back here later in the day. But first, I wanted a more substantial lunch than that milkshake, so I stopped at Cheddar's in Webster. It wasn't busy now, unlike last night. It was a casual dining restaurant not unlike Ruby Tuesday, O'Charley's, Max and Erma's, etc. I didn't want anything too heavy, so I went for a grilled chicken and pasta Caesar salad. It was quite good, but I didn't finish it because it was quite large. Then I looped back to the new Best Buy, going through League City on Highway 3 and FM 646. I thought I could get to it by going through Wal-Mart, but I couldn't, so back on the feeder I went. Inside, it was just like any other new Best Buy, well-stocked with the latest consumer electronics and media. They even had a special area set aside for Apple products – Macs and iPods. The clerks seemed to be a little too helpful, in my opinion, continually asking me if I needed any help. Frankly, I got annoyed by it; this wasn't the norm at other Best Buys. In retrospect, though, it may have been first-day jitters, for this may have been the store's very first day open to the public.

I didn't get anything at Best Buy, so I went back to the hotel, but not before stopping for a pop and a paper at the nearby CVS. Back in the room, I drank the pop and read the paper (better than reading the pop and drinking the paper), and I also started to charge my cell phone. I even did a bit of work on this travelogue. For supper, I walked over to the Luby's next door and had a chopped steak dinner. It was OK. One thing that was different, though, was how you paid for your meal. Before, you'd pay as you exited. Now, you paid as you left the serving line, before you sat down to eat.

Before going to Luby's, I tried listening in my car for transmissions from one of the amateur radio satellites that was retransmitting signals from the original Sputnik 1 in honor of its launch, the anniversary of which was tomorrow. Unfortunately, I was not successful in hearing it. I did hear the time signal station WWVH from Hawaii on 15 MHz, though; normally, I would expect to hear WWV from Colorado on that frequency.


My first stop was the area known as the Willows, a stand of willow trees that is an important rest area for all sorts of migratory birds. I got out to walk around on the boardwalk. This may have been a mistake. Even though I had applied –liberally applied – Off to my body, the bugs still flew around me. It was incredibly annoying. At one time, I knocked the hat off my head trying to chase them away. They chased me back into the car. I wasn't bit or anything, fortunately. I then drove around Shoveler Pond, an area known as an alligator hangout. After the incident with the bugs, though, I felt content to stay in the car and take some pictures of the birds I saw through the windshield. I then drove down to the East Bay shore, encountering a big flock of cranes in the middle of the road. They flew off when I approached, only to set down again a few feet down the road. Eventually, they flew off the road, and I could pass in peace.

The bugs weren't too bad along the shore. I could see Bolivar in the distance, possibly see High Island and Smith Point as well, and I saw a cloud on the horizon that I think came from the industry around Baytown. By this time, I'd seen enough and decided to head homeward. So while Rush Limbaugh played on the radio, I drove back the way I came, after driving briefly through the town of Anahuac. I briefly considered stopping for lunch at the local Dairy Queen, but I kept on going. I ended up having lunch at Laredo's in what would be my final stop on this trip. I wouldn't feel like eating there again until after I left for home. I got a paper in La Porte, so I was able to read that during lunch. The weekly local section was for La Porte, though, while I would have preferred the Clear Lake local section.

Later on, I drove over to the Borders on Bay Area and happened to find a book on the Natchez Trace Parkway. At one point, I had planned to drive down the parkway coming to Texas, but my plans changed. I could still drive it on my return trip, though, so I bought the book and went back to the hotel. I then took a shower and hung around until it was time for dinner. Tonight I would be visting the Coneys. I drove over to Newport, still a familiar drive for me (how could it not be, having lived there for 20 years and visited frequently thereafter?), passing behind our old house along the way (I didn't stop or drive past, though). Dinner tonight was ribs and baked beans, along with cole slaw. Unfortunately, I thought the cole slaw was mashed potatoes, so I took a large scoop. One taste told me otherwise, and the scoop remained untouched thereafter (I am not a fan of cole slaw). The ribs, though, were great, even though I wasn't normally a rib person (unlike my dad or my grandma). We talked for a while after dinner and got caught up on events. They'd just taken a vacation in China and traveled all over the country (didn't get to see pictures, unfortunately). Daughter Diana is still in West Hollywood; I could have seen her while I was out there last spring, but I wasn't aware she was there. Son David is buying or building a house in eastern League City near the new schools out there; this will allow his children to attend Clear Creek High when they're old enough, rather than being forced to attend Clear Lake due to where they live now.


After breakfast, I walked over to the nearby drug store and got some allergy medicine along with some decongestant tablets, some throat lozenges, and a nasal inhaler, along with today's paper. I was going to attack whatever this was hard, for I didn't want to miss the football game and Tookie's tonight. I had nothing planned for the morning, so I stayed in my room and took it easy. For lunch, I remembered my chiropractor's recommendations for Chinese hot and sour soup to combat colds, so I drove over to the Pei Wei restaurant on Bay Area. This was run by the same folks who operate P. F. Chang's, so I felt confident that it would be good. The spring rolls and the soup were indeed good; the main meal, though, wasn't as good as I thought it would be. Or maybe I was too full from the spring rolls and the bowl of soup, which felt good going down my throat. Afterwards, I went across the street to the Barnes & Noble store, where I happened to notice the next edition of "The Complete Peanuts", covering the years 1965 and 1966. I also saw another collection of cartoons from Charles Schulz; these were originally done for church publications of the Church of God (Anderson). Naturally, I picked up both of them and planned to read them back at the hotel.

I alternated between those two cartoon books while I continued to take care of whatever I had; I didn't really feel like doing anything else, frankly. And so I passed the time up until 5:30 or 6, which is when everyone was meeting at Tookie's for a pre-game meal. I got there first; Skip Hartley arrived several minutes later with his sons, followed by Rob and Amy and her son. We got the first table inside the door and proceeded to order our drinks and our meals. I ordered a large Diet Coke, a #99 burger and a plate of fries. Rob took a picture of my burger as well as his before we started eating; he was going to post these online to our Yahoo group to make the non-attendees jealous (he succeeded). As we ate, though, the rains came. This was from a weak tropical system that was coming ashore. There were no strong winds; it didn't even qualify as a tropical depression. That was good, for if it had intensified into a named storm, I might have had to evacuate. There was no lightning, which meant that the football game would continue to be played. However, we in the bleachers would have been drenched. I had my umbrella, but no one else did. Amy's son was just getting over an illness, and I was starting on mine. We decided that we would forego the game. It was disappointing, but it was for the best. Perhaps we could get together someplace else this weekend, Skip suggested. And so we all headed for home. I got into the car and turned on KACC Alvin, figuring they would be carrying a game. They were indeed, but it was the Alvin-Clear Brook game. There was no rain in Alvin yet, but our rain would be heading their way soon enough.

Back at the hotel, I tried to monitor the results of the Creek-Lake game. I found that in the third quarter, it was 21-7 in favor of Creek (good!). Then I got tired and prepared for bed. By the way, we won, 21-14.


Feeling like this, the best thing for me to do was to stay in and get some rest. XM helped keep me company. I listened to a repeat of an American Top 40 broadcast from October 1971, just before I started listening for the first time. I found it very enjoyable. Then I turned on the Michigan State and Northwestern football game, which was a close game that went to overtime. Unfortunately, Northwestern won, which I did not find very enjoyable. Then I turned on the TV and watched the Texas-Oklahoma game. Longhorn fans did not enjoy the result, for the Horns lost to the Sooners by a touchdown.

By this time, I was hungry. I hadn't had lunch, so I went over to the McDonald's across the street to pick up some Chicken McNuggets. It seemed chilly to me in the hotel hallway as I went to my car; if I weren't sick, I would not have been chilly. I probably had a bit of a fever. I went through the drive-through lane and brought the McNuggets back to my room. I didn't go anywhere else that evening; no, I stayed in to recuperate and listen to the great Saturday night programming on 60's on 6: Here and There, CQ USA and a little bit of Wax Your Woody. By this time, I was falling asleep off and on, so I took my Nyquil and went to bed.



Now there were two things I wanted to do before I left. I wanted to see the movie

In The Shadow Of The Moon

, and I wanted to go to Joe's Barbecue in Alvin. Now I could most likely see the movie when I went back to Detroit (and I did), but there was no realistic way I could have Joe's back in Michigan. Well, I could have some shipped up, but that wasn't realistic. So I decided I would go out to Alvin for lunch. Now normally when I went to Joe's, I would get a big baked potato topped with barbecue (and a lot of other things, too!), but I didn't feel like that today. No, I contented myself with a chopped beef sandwich, a bag of jalapeno-flavored chips and some Diet Dr Pepper. It was all right, though I might have enjoyed it more were I not ill.

As I left Alvin, I noticed some new restaurants (Kelley's Country Cooking, Chili's), and as I drove through Friendswood and League City, I couldn't help but marvel at the ongoing development – the new subdivisions, the new high school, etc. I stopped at the Amegy bank to get some money for the return trip, and then I went up to Baybrook for a while. I didn't buy anything, but I did try out the MacBook and MacBook Pros at the Apple Store. Soon, one of those will replace my Powerbook, still going strong after 3 ½ years but showing its age. As I left and drove back to the hotel, I listened to the broadcast of the Lions game on Sirius. It didn't sound very promising for the Lions as they were playing and losing to Washington. After stopping at CVS for a pop and a box of Kleenex, I went back to the hotel to continue to pack and to catch some football. The Lions game was not on (mercifully), but the Texans game was, and they were doing all right. In fact, they came from behind to beat Miami with a last-second field goal! After the game was over, I continued to pack, and I also did some work on this travelogue. I even found some time to start watching one of the DVD's I got from Fry's last week, the one on the Byrds.

Now what did I want to do for supper? I wasn't sure, not until I had the idea to go to Fuddrucker's. I could always go to the ones back in Michigan, but the one down Nasa 1 was the very first one I ever went to. It was the one that got me hooked. So I went there for a burger. It was rather busy, I thought. But the food was good, as usual. After I placed my order, I filled up a small serving cup with some pico de gallo and nibbled on that for a while until my burger was ready. On the way back to the hotel, I saw a kittycat on the road near St. John's Hospital.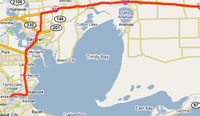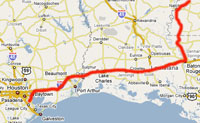 I got up around 5 in the morning for the trip home. I still had most of a box of cereal left, but I had dumped the milk, so no cereal today. Instead, I had a Pop Tart for breakfast (actually, 2 Pop Tarts – one packet), then finished packing and loading the car. I couldn't check out until after the front desk opened at 7, so I watched the channel 26 news until I was ready to leave.

It was a little after 7 when I checked out and headed east on Nasa 1. Since today was Columbus Day, the space center would be closed, so traffic was probably lighter than normal. But there were contractors who were still working, and I talked to someone (WA5ARI) who was heading into work. I mentioned that I worked for Ford, which prompted praise from him for his 1993 Explorer, which has over 260,000 miles on it with few problems. I had to end the QSO when traffic got heavier and I needed to concentrate on driving. By this time, I was on 146 heading towards Baytown and I-10. I went up Garth Road to get onto the freeway, remembering my driving experience from last Thursday. This took me by San Jacinto Mall, home in the 1980's to a restaurant in its food court that sold baked potatoes. It was all quiet now at this time of the morning, naturally.

When I left, it had been mostly cloudy. Now, as I drove through Chambers County, it became foggy. The fog had lifted by Beaumont, but clouds remained. And so I drove into Louisiana, listening to a mini-marathon of episodes of "Yours Truly, Johnny Dollar" on XM's Old Time Radio channel (mini-marathon meaning a strip of a week's worth of 15-minutes episodes). Now as I drove along, I had a decision to make. Did I want to attempt to drive the Natchez Trace Parkway, or should I drive straight on through and try to make it home as quickly as possible? There would be no decision necessary were I healthy; I'd drive the parkway. Did I feel up to it now, though? I thought about it as I continued to listen to the OTR channel – "Tales of the Texas Rangers" and a "Cavalcade of America" program about Bob Hope's first WWII trip to the troops. By Baton Rouge, I'd made up my mind: I would try the parkway. I drove through Baton Rouge on I-110 and out of it on US 61. In St. Francisville, I stopped for lunch at McDonald's hoping to check e-mail. However, I couldn't, for I was out of T-Mobile range.

I soon found myself in Natchez. I didn't visit the historic areas in town along the Mississippi (no time), choosing instead to immediately pick up the parkway. I had the guidebook I bought last week to tell me what sights I would be seeing as I drove along the highway. With the speed limit of 50 and my stopping at many of these sites and sights, I didn't make a lot of time on this segment. But that wasn't the point. I got to see and walk sections of the original Natchez Trace, the old trail blazed by animals, then used by Indians, boatmen walking home after selling their non-powered boats in the days before the steamship, and by soldiers heading to the Battle of New Orleans. I walked up an ancient Indian mound used for ceremonies. I saw old springs and the remnants of a waterfall.

My XM tuner got a workout today. For a while, I listened to Sonic Theater for the tail end of a reading of "The Twelve Caesars", the start of a reading of "Carry On, Jeeves", and episodes of Sherlock Holmes and Harry Nile. Then I put it on MLB Home Plate for a while, then flipped over to Fine Tuning and Escape. Escape played beautiful music, what one would have heard on KODA in its prime. I wouldn't have been caught dead listening to this music in my school days, but it was soothing. It was until I got tired of it and changed the channel, that is.

As I neared Jackson, I decided to exit the parkway and stop for gas. I exited onto I-20 and found the first gas station. After filling up, I checked for hotels in the area, mainly Microtels and Hampton Inns. The closest Microtel was on the other side of town, but there was a Hampton within 2 miles of where I was. I might have been able to go a little farther, but the next town along the parkway was farther way than I would have liked. So I called it a day and made a reservation at the Hampton Inn in Clinton, MS. When the time came for supper, I drove towards an Applebee's that I had seen driving in, but when I arrived there, I saw a local restaurant next door, the Froghead Grill, and decided to go there instead. I could go to Applebee's any time (I live a half-mile from one), but this might be my only chance to go to the Froghead Grill. I wasn't disappointed. I had what I thought was a French dip sandwich but which I later learned was that evening's special that I'd been given accidentally. It was still good. The homemade chips that came along with it were substantial and filling. I couldn't eat them all. Then it was back to the hotel to watch the baseball playoffs for a while before I called it a day.


Tuesday October 9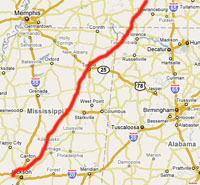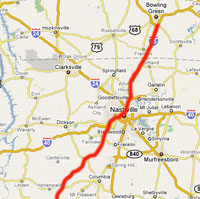 Top
Wednesday October 10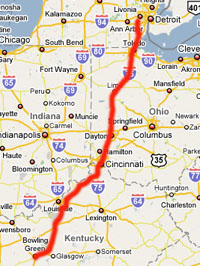 On this last day of travel, I woke up around 5 or 5:30 and got ready to travel – take medicine, check e-mail, etc. I loaded up the car, then had breakfast in the lobby (cereal and a muffin) before checking out and hitting the highway. It was 6:42 when I left, and the sky was rapidly brightening in the east. It was clear, so eventually I put on the sunglasses. I turned on XM 2, which today featured the latest episode of Bob Dylan's Theme Time Radio Hour (today's theme: California). Somewhere south of Elizabethtown, I crossed the boundary for the Eastern Time Zone and reset the clock in the car (I wouldn't reset my watch until later in the afternoon). I stopped for restroom and refreshment at the Love's Truck Stop south of Louisville, then took I-265 around Louisville. I had last been here in May on a business trip to Ford's Kentucky Truck Plant. Today, though, I drove right on by and got onto I-71. I stopped for gas in the little town of Glencoe off the freeway. As I continued driving homeward, I listened to CNN and occasionally tried to tune in WJR for news about Chrysler. Would the union go on strike? Around 11:30, the answer become clear: they would, and they did.

As I went farther north, the air got chillier. Goodbye, shorts and Hawaiian shirts; hello, pants and jacket. Near Cincinnati, the skies were still clear; near Dayton, though, they'd clouded up and would remain cloudy for the rest of the way. At one point, I turned on Sonic Theater and listened to a reading of

The Twelve Caesars

(a major source for the novel and miniseries

I, Claudius

). Eventually, I stopped for lunch at a McDonald's in Findlay. The remainder of the drive was uneventful, and after successfully navigating through Toledo and Monroe, I arrived home at 4:20 PM.

The unpacking started. But not all at once, though; I brought a few bags in and dumped some garbage. I then retrieved my mail, where I had a big pile waiting for me. I looked through it for three bills that had not arrived before I left but which I knew were coming due shortly. I found them and set them aside for later action. Then came more unpacking and the emptying of suitcases and the filling of laundry baskets.

Unlike previous trips, I would be going to work tomorrow. Ordinarily, I would arrive home on a Saturday or late Friday, giving me Sunday to rest up. This time, though, I couldn't take advantage of that third weekend of the trip. However, tomorrow would be an unusual day, because I would be at SAE offices in Troy all day, either chairing a committee meeting or summarizing what happened at the meeting. Friday would be the first "real" work day, and then I'd have a whole weekend to recover (ha ha).

Top



THE END

Top


©2007 R. W. Reini. All rights reserved.

Map images based on Google Maps.

Written by Roger Reini
Revised May 12, 2014