PHOTOS
Great Britain
1996
Great Britain
and Finland
1998
Travelogue: New England
April/May 2007
By Roger W. Reini
By date:
April: 27 | 28 | 29 | 30
May: 1 | 2 | 3 | 4 | 5
Friday April 27



This vacation of mine, like a few others, was wrapped around a day of work. When I left today, though, the day of work was a week away. I woke up around 5 AM, the usual time for me to get up on a work day. I did my normal morning routine, with the difference being that I did not have to leave home at a specific time. I was making sure I was taking everything I had to take (medicines) and wanted to take (radio equipment).

By 6:40 AM, I had hit the road. One aspect of this morning's drive took place as usual: a conversation on the FARL Tin Lizzy repeater with one or more of the club members – in today's case, Bill, WA8HEA. Unlike most mornings, instead of heading east on Ford Road (i.e., towards work), I was heading west, towards I-275 and out of town. I needed to get some gas, not immediately but before long. After seeing $2.95 gas on Ford Road, I thought I would wait until south of town to gas up. I'd also stop for breakfast at the same time. I ended up stopping at the Pilot truck stop on I-75 and Nadeau Road north of Monroe, where the gas was 12 cents a gallon less expensive. Then I went inside the Arby's restaurant attached to the truck stop, a copy of USA Today in hand, to have some breakfast.

The drive through Toledo was not terribly busy, even though I was passing through during the rush hour. Then again, Toledo's rush hour should be less hectic than Detroit's. Knowing that I-280 was still under construction, I took I-75 through town and picked up the Ohio Turnpike there. The weather was cool and damp; the skies were gray, and it rained off and on for the drive through Ohio. I made good time on the turnpike, stopping once for a restroom break. Around 10 o'clock I was passing through Cleveland on I-90, no longer on the turnpike. Owing to the fog, I could hardly see downtown until I was very close to it. My drive took me close to AES Cleveland, an amateur radio dealer I'd visited before. I stopped there for a few minutes, but I didn't see anything I really wanted or needed, so I left without getting anything.

The drive through northeastern Ohio on I-90 was a good one, but things slowed down at the Pennsylvania border. There was a construction zone there, with a 45 mph speed limit and a state trooper car with lights flashing. That meant business: slow down or else! Of course, it's a very good idea to slow down when workers are near, but workers weren't always in the zone. Still, with police known to be in the area, I thought it best to observe the 45 mph limit until the construction zone was past. Traffic behind me may have thought otherwise, but I didn't want to risk a ticket. The drive through that short portion of Pennsylvania was otherwise uneventful, and during the noon hour, I crossed the border into New York and started on the New York State Thruway.

At 1:20, I stopped for gas, and then I backtracked to the restaurant area. Gas prices were definitely on the way up; here, it was $2.989 a gallon for regular. The restaurant area was in the middle of the thruway, accessible from both directions. One could eat at McDonald's or Denny's; I chose to go with Denny's today, for I wanted to sit for a while and read the paper (the Buffalo News). I decided to have their mini-burgers, which were of the same size as White Castles. It ended up being a nice stop, a chance to relax for a while. Soon, I was back on the road heading towards Buffalo. Eventually, the tollway portion came to an end for the pass through Buffalo. I paid my toll then continued northeastward. There was a sign for I-190, for Buffalo and Niagara Falls. I took the ramp for I-190, although when I came here once before on the American side, I did not take that route. Traffic slowed as everyone passed through toll plazas that were no longer in use, and then it was on to Buffalo. With the dense fog, there was no way to tell other than by the road signs. I didn't notice any of the skyscrapers in downtown; I couldn't see them. I drove under the Peace Bridge leading to Canada, but I didn't see any of it other than the portion I drove under.

North of town, the fog subsided. Fortunately for me, the only area of Niagara Falls that was misty was the area right around the Horseshoe Falls, and that was normal. I drove along the Robert Moses Parkway into town, noticing that there was still quite a bit of ice in the river. I parked in one of the large parking lots of Niagara Falls State Park ($10) and made my way to the Visitor Center. My first stop after that was the observation tower affiliated with the Maid of the Mist boat rides. The boats were not yet running this season; I could see several of them beached on the Ontario side of the river. I had never been to Niagara Falls during this time of year, when there was still ice, and the ice made for a different look to the scene. If I wanted to get the full ice experience, I could make the trip during the height of winter.

While walking along the bank, a couple asked me if that was Canada across the river. I said that it was indeed Ontario, and they sounded disappointed, so I clarified that was indeed Ontario, Canada. Looking over into Ontario, it was much the same as I remembered it, though I noticed a few new hotels, a second casino, and a large Ferris wheel that reminded me of the London Eye. The view of the falls is much better from the Ontario side, but as I did not bring my passport, I would not be able to cross. I did cross the bridge leading to Goat Island, where I was able to experience more of the falls, including seeing some small falls, no more than a foot in height, several yards upstream. I wondered if they would become the real falls in the next few hundred or thousand years. They reminded me of a scene I saw in an episode of The Flintstones where Fred and Barney cross a small stream on foot, only a couple of inches deep – marked "Grand Canyon". There were occasional thumps caused by large chunks of ice going over and hitting the rocks below. It was not possible to get very close to the Horseshoe Falls, as the main observation area was still very icy. That wasn't bothering the seagulls that were hanging out there.

One attraction I had not visited before was Cave of the Winds. There is no longer an actual cave, but one is able to go down on a wooden deck and get very close to the edge of the falls, close enough so that raingear is essential. The deck was still under construction, but visits to the upper part were possible, and I took one visit. With the rest of the group, I rode down the equivalent of 18 stories to the lower level, walked through a tunnel that reminded me of the tunnels at work, then came out upon Niagara Gorge. Here, we got a close up view of the deck being built, the seagulls nesting in the area, and the natural sculpted ice that was in the process of melting. I also noticed an ordinary lawn sprinkler near one of the deck platforms, squirting away in the air, and I thought that strange. Why would you need a sprinkler here when there's a torrent a few feet away? Before long, we had to go back to the surface, and I walked back to my car. I'd spent two hours here, but now it was time to head onward to my first overnight stop in Syracuse.

Traffic on I-290 was rather heavy as I approached the turnoff for eastbound I-90. However, the traffic was for westbound 90; eastbound had hardly any traffic at all. This was Buffalo's rush hour. I could see the backups at the westbound toll plaza and considered myself fortunate I wasn't in them. The eastbound drive was uneventful. I was listening to XM '60s on 6 saluting WLS Chicago, although I flipped over occasionally to Sirius Disorder's Mansion of Fun. Suppertime neared, and I stopped at a service plaza for some Sbarro pizza. I also brought in my Powerbook, for the signs on the freeway said that Wi-Fi access was available. It was indeed available, so I retrieved my mail and read what I could. During the 8 o'clock hour, I left the Thruway at I-81 in Syracuse and followed the TomTom directions to the Hampton Inn. Unfortunately, there was no Hampton Inn at that location, so I reversed course, pulled into a truck stop parking lot, and got out the laptop to verify the directions. Turns out the TomTom was mistaken; I should have turned right after exiting the freeway, not left. The hotel was very close to the exit, and I checked in for the night. It was rather busy; there were a lot of kids there, possibly for some event.

Top

Saturday April 28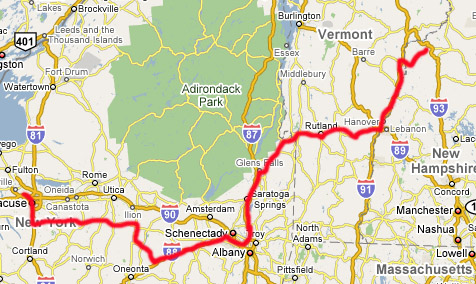 I got up around 6 and had breakfast at the famous Hampton Inn breakfast bar – a dish of Cinnamon Toast Crunch cereal, a blueberry muffin, and another muffin that had some chocolate in it, a muffin I see regularly at Hampton Inns. By 8 o'clock, I was on the road. My first destination today was Cooperstown, home of the Baseball Hall of Fame. To get there, I drove through Syracuse on I-81, passing close to the Carrier Dome. South of town, I turned off onto US 20 for the drive over to Cooperstown. I filled up the tank, and then I was on my way. The road was hilly at times, so my brakes got a good workout. During the early part of the drive, I listened to XM '50s on 5. At 9 o'clock came Moments To Remember, the weekly program featuring the pop music of the early part of the decade, before rock & roll hit. My mom would have enjoyed this program. As for me, it was a change of pace. I wouldn't listen to it all of the time, but it was OK in small doses. Perhaps I should have been listening to MLB Home Plate, given that I was traveling towards Cooperstown.

The drive into Cooperstown along Highway 28 was rather scenic, heading along the western side of Lake Onondaga. After hearing my fill of Moments To Remember, I turned on Sirius Disorder and heard part of "Chimes of Freedom" by the Kennedys, who host the Dharma Café every Saturday morning. And right around 10 o'clock, I was in Cooperstown, looking for a place to park. I found a spot near Doubleday Field, and I remembered parking in this location before. It was a bit busier today than on my previous visit in 2001 (on a Friday).

The Hall of Fame opened at 9, so I went inside, bought my ticket using a AAA discount, and started my tour. It seemed rather different this time than last; I didn't remember a short theater experience at the beginning. I would learn later that the museum exhibits had been substantially revamped in 2005, so I was definitely seeing a presentation I had not seen before. And what a presentation it was, from the initial amateur games to the first pro teams to the glory years to today. There were sections devoted to Babe Ruth, the Negro Leagues and Jackie Robinson, women's baseball, recent artifacts from each team, the record holders and current active leaders, and of course, the actual Hall of Fame. I noted with special interest the current artifacts for the Astros and Tigers because of their recent pennant-winning seasons. I saw artifacts belonging to this year's inductees, Tony Gwynn and Cal Ripken Jr. I had heard about but did not see Curt Schilling's bloody sock, the integrity of which had been questioned by ESPN's Gary Thorne (he later retracted his questions). I saw Gene Elston honored with the Ford Frick award for broadcasting, and I heard a vintage call of an Astros-Cards game, where Jack Buck called Joe Sambito giving up a game-winning home run to a Cardinal (Willie McGee?). I visited the Museum Bookstore and then the gift shop (separate facilities). Outside, I took some pictures of statues on the grounds – a pitcher throwing to a catcher, Satchel Paige in mid-windup, and a statue of a woman batter. Nearby was a statue of the author James Fenimore Cooper, whose father founded Cooperstown. By this time, I was hungry, so I stopped in a nearby pizza place for a slice of sausage pizza and a diet drink. Here, in baseball city, the TV was tuned to ESPN and its coverage of the NFL draft.

By this time, I wanted to hit the road for tonight's overnight stop in Littleton, New Hampshire. I programmed the destination into the TomTom, and it guided me on my way. The first few miles took me through some back roads; if the GPS had quit on me, I would have been terribly lost. But it eventually guided me to I-88, and I knew where I was. I was listening to the Tiger game, and it wasn't going well. Both pitcher Ledezma and manager Leyland were ejected in short order. I didn't listen for much longer, preferring instead to listen to game 2 of the Red Wings and Sharks series. I had that on for most of the drive through New York and into Vermont as the Wings pulled it out and tied the series at 1. Meanwhile, I drove through Albany and headed north on I-87. I thought I might be routed through Massachusetts, but no, I wasn't. I stayed on I-87 until Glens Falls, and then I took US 4 into and through Vermont.

The Wings game ended successfully, as they pulled out a victory to even the series at 1-1. Now, as I drove up I-91, I could listen to the Astros on XM. It was dark as I pulled into the Hampton Inn parking lot in Littleton. I was also hungry for supper but wasn't sure what I wanted. But I didn't have far to go to decide, for there was an Applebee's in the same parking lot. I walked there and had a late supper, a Santa Fe chicken salad. It was pretty good.

Top

Sunday April 29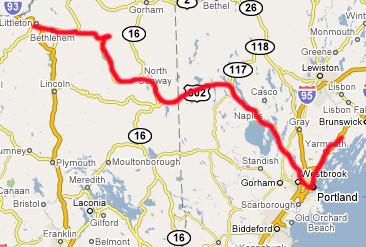 I woke up around 6, checked e-mail and took a shower. The TV was carrying local news from WMUR as I ate my breakfast. There were an awful lot of presidential campaign ads on TV, I thought. And then it hit me: this is New Hampshire, home of the first presidential primary. Of COURSE there are going to be lots of campaign ads here! But ten months away from the primary? Hoo boy!

It was foggy and drizzly outside as I went to get my heavier coat. I would need it for the trip up Mount Washington, but I was wondering if there would be much to see. I wouldn't know for sure until I got there. At 9:17, I left the hotel and drove to the Wal-Mart across the street. I'd heard about protests to keep Wal-Mart out of New England, but they hadn't succeeded. Now a Wal-Mart is a Wal-Mart, no matter where it's located, and this one was no exception. I didn't need anything here, so I didn't get anything. I left and set off for Mount Washington on US 302, driving through Littleton and a few other small towns. I wasn't sure how far I had to go, so I began to get concerned that I might not arrive in time for the ticket deadline. That remained a concern as I drove the 6 miles from the main road up to the home base for the railroad. However, I arrived in plenty of time. I also arrived to plenty of fog. The train would go, rain or shine. But it would not go all the way up due to the summit still being snowbound. But I couldn't complain too much, for the ticket was substantially discounted as a result: half-price.

The cog train consisted of one coach and an engine that pushed the coach up the hill. The boiler (it was a steam engine) was tilted forward so that it would be level on the steep slopes. I saw how steep the climb was as the train tracks left the base, and I got a little apprehensive. Once I got on board and the train took that slope, though, it didn't seem that bad. The steepest grade we saw was around 23 degrees, said the brakeman. The steepest portion of the track, which we did not encounter today, was 37 ½ degrees. There were 11 other passengers on the train, including one family from Germany (or a German-speaking country, at least). The train went clickety-clack the whole way up, due to the cogs. That meant a very pronounced vibration whenever the train went very slowly. We passed a water tank at the 3800 foot altitude, and not too far beyond that, we stopped. That was the end of the line for today. The brakeman pulled over the platform, and we stepped out. Only then did we fully appreciate the angle that we were now having to counter. My footing was not always secure, especially with ice in the area. Nobody slipped, but it would have been easy to. My walking stick would have proven handy today, but it was down in the car. I'd brought an HT (portable FM amateur radio transceiver) with me, thinking receiving and transmitting would be affected by the great height, but I didn't hear anything. Things might have been different had I reached the summit. I would transmit later on 40 meters (to the MidCARS net). Then we got back on board for the ride down, where the engine wasn't pushing us up anymore. We would be more likely to push them down! This part of the ride took only half as long.

My destination tonight: Freeport, Maine, in the third new state for me. The GPS said to take US 302 through New Hampshire and into Portland, which I did. The XM signal would frequently drop out due to blockages from either the trees or mountains. Sirius's signals, coming from more overhead, were much less susceptible to these blockages, but I still kept XM on because of the baseball coverage. I was listening to the Tigers as I headed onward through New Hampshire. As I reached North Conway, I started looking for a place for lunch. Having recently pondered the genericization of America, and having recently contributed to it by staying at Hampton Inns and eating at an Applebee's, I chose to eat at a local establishment, Muddy Moose. The Red Sox and Yankees were on the TV's in the bar area, and I could hear occasional cheers from my table in the main dining area.

Back on the road, I soon crossed the border into Maine. The northeasternmost state, home to the fictional Hawkeye Pierce. US 302 was still a rural drive, but it began to become suburban and then urban as I headed towards Portland. The Tiger game was still on, and it was a close one. As I neared downtown, Brandon Inge was at bat, and with one swing of the bat, he brought the game to a close with a game-winning home run. Tigers win! I-295 was busy heading out of Portland, but the traffic eased. South of Freeport, there was a rest area with visitor information, and I stopped there. I also saw the headquarters for Delorme Mapping, many of whose products I'd used in the past. There was a store in the building, and after leaving the rest area, I visited that store. I didn't get anything there, though. The Hampton Inn was a few miles up US 1, and after stopping there, I unpacked slightly, just long enough to check e-mail and put a few things away. My next stop would be the L.L. Bean stores downtown. Now I'd been to a Bean store before (Tysons Corner, Virginia), but the flagship was much larger. In fact, it consisted of three stores, as well as an outlet a mile away. I had no interest in the hunting and fishing store, but I did visit the biking and rowing store. It had a good selection of bikes, equipment and apparel, but I didn't get anything here. In the main store, though, I found a few items.

Now what would I do for supper? I walked over to a place called Lobster Cooker, but it was not open. I drove through town and saw a McDonald's that had been built in a house, but I wasn't in the mood for McDonald's. I ended up eating at Pedro O'Hara's near the hotel. From the name, you might guess that it served Mexican food and Irish beer, and you would be right. I had enchiladas there, and they weren't bad. I had a seat in front of an HDTV carrying Baseball Tonight in glorious HDTV. It would have carried that night's game between St. Louis and Chicago, but the game had been cancelled due to the death that morning of Cardinals pitcher Josh Hancock.

Top

Monday April 30




I woke up during the night with a bit of a sore throat. I immediately dissolved an Airborne vitamin tablet into a glass of water and drank it, took an aspirin, and went for some peppermints to suck on, all in an attempt to keep it from turning into anything worse. Was it the start of a cold, or was it merely a reaction from the heater? Its behavior seemed to suggest the latter, and it had subsided after breakfast. If it had been due to the onset of a cold, I would have continued to have difficulty swallowing. Still, I vowed to get some zinc lozenges the first chance I got.

That chance came when I checked out of the hotel and drove to the grocery and drug store next door. Shaw's Osco was a very big chain in New England. I knew the Osco name from the Jewel Osco stores in Chicago. They had what I wanted, and it wasn't long before I was driving down I-295 and the Maine Turnpike sucking on a Cold-Eeze lozenge. The weather was dreadful – moderate to heavy rain fell while I drove through Maine and New Hampshire. It got harder when I stopped at the welcome center off of I-95 on the Massachusetts state line. It made it difficult for me to take a picture of the big roadside sign "Massachusetts Welcomes You" without getting me or the camera wet. I got the picture I wanted, eventually (not before replacing the batteries), and then I went inside to see what literature I could pick up. Much of it was for attractions north of Boston, such as Salem or Gloucester.

Not long after leaving the welcome center, the rain started to let up. Before long, it had stopped altogether. When I left this morning, I had considered visiting the Minute Man National Historic Park in Lexington and Concord, and now that the rain had ended, I could do just that. I stayed on I-95 as it merged with the Highway 128 loop around town, and that took me over to the park and its visitor center. The park itself was spread out through the two towns and along the Battle Road, the road between the two towns that eventually led to Boston Harbor. Part of the Battle Road had been restored to its appearance during Revolutionary days, and it served as a walking path between many of the attractions. I first visited the Visitor's Center, where I saw a multimedia presentation of the story of the battle and the events leading up to it. There were a number of facts I had never known or had forgotten about the battle, such as how the British regulars were harassed and attacked all along the road while retreating from Concord, how Paul Revere was captured before reaching Concord with the news, and so on. Then I walked over to the Battle Road trail and walked a small portion of it. Every quarter-mile, there was a milestone marking the distance from that point to Meriam's Corner (near Concord) and Boston Harbor. The first stone I encountered said that Meriam's Corner was 3 ¼ miles away, Boston Harbor 12 ¾ miles. Nearby was the site of Parker's Revenge, where Patriots under the command of John Parker ambushed the British regulars on the run from Concord (the revenge was for the attack of the regulars as they first entered Lexington).

Not far from there was a grave marker for British soldiers, along with a recently laid wreath and a small Union Jack. Attached to the flagstaff was a tag with these words: "In Memory of the British Soldiers who gave their lives in service of their King and Country. April 19, 1775. Unnamed and seldom remembered, they have lain here 232 years. Rest In Peace." The reverse listed four URL's for the Crown forces in North America. It was a little unusual seeing that gravemarker in that location under those circumstances, for back then, they were the enemy. No longer, though. I said a prayer for their souls and moved onward.

Soon I encountered the site where Paul Revere was captured. The two others with him were able to get away, but he was not. But his main mission was to reach Lexington, which he did. The trail extended for 3 more miles to the west, and if I had had time, I might have walked more of it. However, I did not have the time, and I was also wearing shoes that had been rubbing the back of my foot, so I went back to my car and drove over to Meriam's Corner, where I walked some more and used the restroom at the farmhouse. Then I drove into Concord, noting the historic buildings associated with the Alcotts and Emersons. Concord would be worth a longer visit sometime. Today, though, my destination was the North Bridge, where the Patriots first fired upon the British regulars and sent them running from the town. The bridge was not the original one, but it was in the original place. There were two monuments erected for the centennial in 1875, and there was another grave marker for British soldiers. The Concord River was in flood, so I thought it inadvisable to walk from there to the visitor's center. Instead, I got back into my car and drove there. The center had a gift shop with several interesting books, and I bought three:

The Battle Road

by Charles H. Bradford,

The Complete Guide to Boston's Freedom Trail

by Charles Bahne, and a travel book on Revolutionary sites in Boston and environs. They would make for interesting reading, either while I was on the trip or after I returned home. And speaking of home, or temporary home, I needed to think about heading for my hotel before rush hour started in earnest. I programmed what I thought was the hotel location into the TomTom, and it took me out of town and back to I-95.

I-95 became I-93 south of town as I proceeded toward the hotel. Was the TomTom guiding me to the right hotel? As I took the exit for Highway 37, I wasn't sure. I then caught a glimpse of a large shopping mall, and then I knew I was headed in the right direction. A short time later, I was at the Hampton Inn, located off the main highway in a light industrial area. The view from my hotel room was of the Candlewood suites next door. This would be my home for the next three days, so I unloaded the car and unpacked the suitcase.

Now what would I do for supper tonight? The area by South Shore Plaza, the large shopping mall I saw on arrival, had several candidate restaurants. There was an Uno Chicago Grill there, and I almost went to it. But then I realized that I could go there anytime – not to that specific one, but to another one in the chain located a mile or so from my house. So I decided to find a more local establishment. There was a Rock Bottom, and there was a 99, but I noticed the Legal Seafood. Thinking I was in the mood for seafood, I decided to go there. And I was indeed in the mood for seafood, as I enjoyed the clam chowder (served at every presidential inauguration since 1981) and a shrimp pasta dish. I needed to walk that meal off, so I went back to my car, dropped off the planner I'd attempted to write in during the meal, then went inside the shopping center. I'd parked near a vacant anchor store with no clear indication of what it used to be, although I thought I saw the faint outline of a "Macy's". There was a Macy's elsewhere in the mall, a newer building, which may explain why this older building was vacant. There was a large Apple Store here; I stopped inside for a bit but saw nothing I wanted to get. Nor did I find anything anyplace else here, so I went back to the hotel for the night.


Top


Tuesday May 1

Wonder of wonders, there was no rain this morning! And with that favorable outlook, I decided that I would indeed go into Boston and walk the Freedom Trail. I knew that there were several subway stops within close driving distance. The closest one, Quincy Adams, was the next exit on I-93 past the one I'd been taking for the hotel. That made it very convenient to drive to the garage and park there. I then walked over to the elevators and took one down to the station entrance. There, I bought a ticket worth $10 and entered the subway system. At $2 a ride, the ticket was good for 5 rides. The car was full all the way into town; I had to stand the whole time.

I left the train at Park Street station, then had a long walk towards the exit for Boston Common and the start of the Freedom Trail. There was a Green Line train that was stopped in the station for some reason; I never learned why. Before long, I had left the station and got my first look at downtown Boston and the common close up. I was next to the visitor center, where I used the restroom and bought a map. I'd forgotten to bring the guidebook I bought yesterday with me, but I didn't really have a place to put it anyway. At least I could fold up the map and put it into a jacket pocket. I then strolled around the common for a little bit before setting off down the trail. The sky was generally free of clouds, and there was a bit of a breeze. My light jacket would suit me quite nicely today.

The trail went uphill slightly as it ventured to the Massachusetts State House, the state capitol building. Even though it was around 200 years old, it was still known as the New State House. Tours of the building were available, as was true for most of the buildings I would encounter today. However, I chose not to enter most buildings in order to save time and money (mainly time). There were events later in the day that I did not want to miss, and touring many buildings might make me miss them. Throughout my walk, I would encounter a number of school groups making their own tours. One area with a high concentration of school groups was the Granary Burial Ground, the final resting place of illustrious individuals as Paul Revere, John Hancock and Samuel Adams, the parents and other relatives of Benjamin Franklin, and a woman rumored to be Mother Goose (but almost certainly was not). Farther down was the site of the first public school in Boston, the Boston Latin School (still in existence today though in another location), the Old Corner Bookstore, notable gathering place for early American writers (interestingly enough, there is a Borders book store across the street from it), the Old South Meeting House and Old State House, not to mention Faneuil Hall, all with ties to key events and gatherings in colonial and Revolutionary times. I walked onward, passing today's City Hall and a memorial to the Holocaust.

The trail passed through the former location of I-93, now buried underground, but here, the trail disappeared. The construction obliterated its markings. I was no longer sure which way to go. I saw a sign and followed it, but I still didn't see any markings, so I backtracked. It turned out that I had been going in the correct direction all along, so I got to walk along certain streets twice. This was the North End, long home to the Italian community. Many storefronts still had tributes to Italy's 2006 World Cup championship team. As for the trail, it led past Paul Revere's house, which had been restored to its 17th-century appearance and thus would have been hard for him to recognize. Due to time constraints, I did not enter the house, which was furnished as it would have been in Revere's day. The Old North Church was nearby, which makes sense given Revere's role in Lexington and Concord. Now here, I did enter. I saw the cubes of pews, and I saw embroidered pillows commemorating visits by President Ford and by Queen Elizabeth II. Next came a visit to Copp's Hill Burying Ground. Then it was time to cross over the River Charles and pay a visit to the Charlestown Navy Yard, home to the USS Constitution, Old Ironsides. It was open for boarding, but there was a line. The views of Boston across the river were outstanding, so I took some photos and then headed up Breed's Hill to see the Bunker Hill Memorial. It reminded me of the Washington Monument but was not nearly as tall. The memorial was open for climbs to the top. There was no elevator, so the only way to reach the top was to climb a flight of nearly 300 stairs. I passed on that opportunity.

Now how did I want to get back to town? I could retrace my steps, but I wanted to take a ferry ride from the Navy Yard to Long Wharf. I did retrace my steps down Breed's Hill to the Navy Yard, where I walked to the berth for the ferry. I had a 15-minute wait for the ferry to arrive; the time off my feet was welcomed. And so was the journey across the harbor. It was rather cool on the upper deck, and that persuaded me to not attempt to take a whale watching voyage during this trip. I figured it would be too cool offshore to fully enjoy it. Now it was time for me to enter the subway for the return trip to the hotel. I had to change trains twice to reach the one that would take me back to Quincy Adams station. During the journey, I stopped for a hot dog. The train arrived just as I received the hot dog, so I had to let the train go on without me while I ate. It was gone within a minute of the train leaving, so I had to wait for a while. Eventually, the trains came, and I was back in Quincy/Braintree.

I had an opportunity to see some baseball. Now I could have seen the Red Sox play at Fenway Park, but after I priced the tickets, they were higher than what I felt like paying. So I decided instead to visit their AAA ball club in Pawtucket, Rhode Island. This would be the perfect opportunity to pick up state number 40. I got an early start to the game because around 4:15, I would have to pull over and engage in a conference call with my boss and with the team from Smith College who were working on a project with us. I ended up parking in a supermarket parking lot and placing the call. Everything was on target for Friday's big presentation, the students said. I then learned that my boss would not be coming for the presentation after all due to serious health problems in her family. I would be the sole representative from Ford there.

McCoy Stadium in Pawtucket was a nice stadium for a minor league game. I bought a box set ticket behind home plate, just on the edge of the netting protecting against foul balls. I bought a PawSox home cap and wore it during the game. I had a camera with me but took few pictures due to my location. Most pictures would have had the netting in the way. Now the PawSox were playing the Indianapolis Indians (who, despite their name, were the top farm team of the Pittsburgh Pirates), so I could truthfully say that I saw the Red Sox play the Indians. Never mind that it was Pawtucket versus Indianapolis, not Boston versus Cleveland. Indianapolis led throughout the game, though Pawtucket made it interesting at the end, only to fall two runs short. By this time, it was dark, and I had a 40-mile drive back to the hotel. I found myself yawning frequently on the way home. A backup due to construction on I-93 didn't help matters much. But I made it to the hotel without incident, Back at the hotel, the Wi-Fi connection wasn't working, so I had to make a connection through my cell phone to check e-mail. Then the pop machine didn't want to take my dollar bill, so I found one that did take it. I could now drink a Diet Pepsi and stay awake for a little while longer until I retrieved the e-mail.

Top


About an hour later, I found myself near downtown Plymouth filling up the car. Then I drove along the waterfront, seeing a few Pilgrim-themed businesses along the way, until I encountered Plymouth Harbor State Park, home to Plymouth Rock and the Mayflower II. Frankly, Plymouth Rock was not an impressive sight. The rock had been split in two at one point but had been rejoined. It could only be viewed from above, for that's the way the structure housing it was constructed. Still, I took a picture of it as well as its surroundings. Across the street was Cole's Hill, site of a mass grave of those Pilgrims who died in the first year, a statue of sachem (leader) Massasoit, and a plaque commemorating the National Day of Mourning, because from the Native American perspective, the arrival of the Pilgrims meant the loss of their way of life, the loss of their lands, and the near-genocide of their people. The view from the hill was underwhelming, but that may have had a lot to do with the gray skies and the threatened rain. Nearby was a small garden park with a walking path, and I took a stroll through there.

Slightly north of Plymouth Rock was the berthing place of Mayflower II, a 20th-century recreation of the Mayflower that was built in 1957. It was open to the public for tours as part of the Plimoth Plantation experience (more on that later). I bought a ticket to go on board as well as visit the rest of the Plantation southeast of town. The exhibits prior to boarding showed what life at sea would have been like during that era. Then I boarded the ship. It seemed rather small considering how many were on board for the voyage. There were guides on board as well as actors portraying members of the crew or passengers. I spent several minutes conversing with the "captain" of the Mayflower in his cabin. I don't recall how I explained where I came from – Michigan didn't exist back then, nor did the Northwest Territory. He noted my size and pointed out that the Indians (he pronounced it almost like "engines") were also tall and large.

For lunch, I visited a Friendly's restaurant in town and had a turkey burger. It was good, but it was quite messy, and I went through my share of napkins, or perhaps more than my share. Then it was off to the southeast and the bulk of Plimoth Plantation. The grounds consisted of two main exhibit areas, a recreation of a typical Wampanoag Indian settlement of the period and a recreation of the Pilgrim settlement. The Indian settlement featured Native American guides (not necessarily Wampanoag) dressed in typical period clothing, but unlike their counterparts at the Mayflower or at the Pilgrim settlement, they were not role-playing. There were several structures that were made of tree branch frames and softened bark formed to fit as walls and a roof. While I was there, two men were hollowing out a log to make a canoe by slowly burning out the inside. Then I walked over to the Pilgrim settlement, and here the guides were role-playing. I didn't interact with any of them, for there were several school groups here today; I let them have the fun. I saw a rooster strutting around his yard just like Mick Jagger. By this time, the skies had cleared, and I saw that the sea was now visible from this hill where the settlement was located. It made for taking some nice pictures.

Back at the main visitor center, I saw an interesting exhibit on how Thanksgiving has been depicted over the years in the media and how that first Thanksgiving has been portrayed at Plimoth Plantation. Today's portrayals are intended to be as realistic as possible. Then it was on to the gift shop, where I picked up a carving of an eagle to give to my aunt as a birthday present and a flute and book for myself. On the road back to Braintree, I tuned in the Tiger game and listened to it. Now on the way down, I had passed by a Borders and a Best Buy and wanted to stop there when I came back. Unfortunately, by the time I saw the stores, I had already passed the exit for them. I ended up stopping at a Barnes & Noble that was close to the hotel, and I picked up "Mayflower" by Nathaniel Philbrick. I started to read it as I went to dinner at the local 99 Restaurant (a New England casual dining chain).

Back at the hotel, I worked for a little while on this travelogue and started packing for tomorrow's departure. I got the directions for W1AW and continued to read "Mayflower".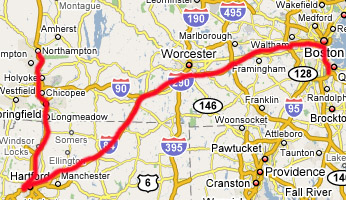 It was time to pack up and leave Boston this morning. My final destination for the day was the Hampton Inn in Northampton, but I wasn't going there right away. At 9:15 AM, I wasn't going much of anywhere. I was on I-93 heading into town, planning to pick up I-90 and the Massachusetts Turnpike and drive past Fenway Park. The rush hour had not ended, so I was stuck in traffic. Things eventually improved as I got onto the Mass Pike and headed westward. I could see a little bit of Fenway from the road, but I couldn't see the Citgo sign that's visible in the outfield. The turnpike and its surroundings reminded me of the Eisenhower Expressway in Chicago, albeit one without a train running down the median. At the toll plaza for picking up tickets for continued travel on the turnpike, I was confused by the signage, which seemed to suggest that the lanes I should use were the ones for exiting onto I-95, which I didn't want to do. I found a lane and hoped for the best. It wasn't an EZ-Pass-only lane, which meant I was legal and could continue onward.

I stopped at a travel plaza for a restroom break and to pick up some munchies. I continued westward on the turnpike, listening to the repeat of Baseball This Morning on XM 175. Soon, I reached the exit for I-84, which would take me to Connecticut. Once I crossed the state line, I could say that I had visited every state in New England. It was the 41st state for me; all of the ones that I have not yet visited are in the north central or northwest part of the country, along with Alaska and Hawaii. This wasn't the only reason I was visiting Connecticut, though; my ultimate destination in the state was the headquarters of the American Radio Relay League (ARRL) and its amateur radio station W1AW.

While traveling through the northeast part of the Hartford area, I saw a shopping mall in the distance (The Shoppes at Buckland Hills). It was lunchtime, and I figured there would be some place to have lunch there or nearby, so I exited the freeway and backtracked slightly to the mall. There was an Italian restaurant named Vinny T's of Boston next to a Barnes and Noble, so I went there. It was early for lunch; I was one of the first diners there. I decided on lasagna for my meal, along with a Caesar salad. The salad was good, while the lasagna was just OK. It was also too much for me to eat. Had I been staying in town, or had it been colder outside, I might have boxed up the leftovers, but I had to leave them behind. I walked over to the Barnes and Noble, where I picked up a few magazines and newspapers, including a copy of today's Times of London (it had been printed in New York). Then it was off to Newington and the ARRL.

For a while, I was wondering if I'd taken the wrong street, but then I saw a large and impressive antenna farm rise up ahead. This was ARRL headquarters. The building housing station W1AW was right on Main Street, while the actual headquarters building was behind it. I parked the car and took some pictures of the grounds – the buildings, the antennas, and a memorial to amateur radio operators who lost their lives in the performance of their duties. Then I went inside and asked for a tour of the station and HQ. First came a tour of the station – the transmitters it uses to send out information bulletins and Morse code practices to amateurs in the US and around the world, the operating stations where visiting amateurs can operate, etc. I and another ham from Florida were able to operate for an hour or so after our tour, although conditions weren't the greatest; I only made one contact, a ham in Nebraska (did hear a ham from the UK, though). Then came the tour of headquarters. The four of us who were on the tour got to see the entire facility – the test labs, the QSL bureau, the library of back issues, the room where the next edition of QST Magazine was being laid out – the works. I was given copies of the forthcoming issues of the two other magazines the ARRL publishes, the QEX technical journal and the National Contest Journal. In the lobby, there was a bookstore with the latest ARRL publications, so I decided to avail myself of the opportunity to pick up one of the newly published books.

When I left Newington, I had the TomTom guide me out of town. It wasn't very far to Northampton, but it took much longer than expected due to Hartford's rush hour. It was bumper to bumper on I-84 into downtown and I-91 out of downtown. Not being familiar with the area, I was unaware of any alternate routes, so I just endured it, listening to some old-time radio on XM – Sgt. Preston of the Yukon and Gunsmoke, mainly. By 6 PM, I was in Northampton, where I checked into the Hampton Inn. The hotel was northeast of town, actually, with few if any restaurants nearby. There were several restaurants in town, but I ended up going to Montana's Steakhouse, which was attached to the Quality Inn south of town.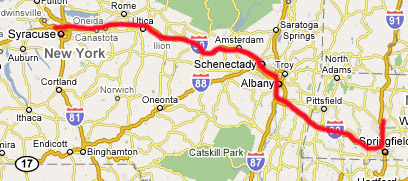 This was an official workday for me, although given that I was on the road, it would not be a regular one. I had awakened a few times during the night; at one point, I decided to read the Mayflower book for a while. I was up for good around 6, and I took advantage of the Hampton Inn breakfast bar again. They have enough a variation where I could feel comfortable eating there every day. For the last week, that's what I'd been doing, in fact. I didn't want to head for the campus until closer to the presentation time, so I read the paper and worked on a design requirement proposal.

By 9 o'clock, it was time to head over to the campus. The main parking deck was south of campus; the barriers were up. There were plenty of visitor spaces on the second level, so I took one of them. As I walked out of the structure, a young woman for whom English was not her native language stopped me and asked me what a dashboard was. It was in the context of placing a parking pass on top of the dash so that it could easily be seen. I told her, and she went away happy. I had no pass, nor did I see any way to get a pass. But I was in a visitor's spot. Would I encounter any difficulties in a few hours? I hoped not.

According to the map I had retrieved from the Web, the Campus Center was located along the edge of campus, so I started walking along the perimeter. College towns do look very similar. From what I'd seen of Smith so far, it reminded me of the older portions of Michigan State. The Campus Center, though, was a much more modern facility than MSU's Student Union. It seemed to be smaller, as well, which was reasonable because Smith was a much smaller institution. There was a café here, and the campus bookstore was in the basement. I went there for a short time, looking for items I could get for my nieces and nephew as souvenirs. I didn't get anything right then, for I planned to come back after the presentations.

The room for the presentations was on the second floor. There were eight groups presenting today, with topics ranging from an improved means of selling or disposing of used textbooks to a PC that's been ruggedized to function well in tropical climates to the design of culverts that allow the restoration of tidal flow to salt marshes without causing flooding to neighboring houses. The presentation I was most interested in, relating to power point usage, was first on the agenda. I met the students again (I'd met them in February when they visited Ford for 2 days) and got to meet their parents and professor. I can't give any details of the presentation, but suffice it to say it went well. The students were well prepared with answers to the questions put to them, although I took one question that was out of the scope of the project.

My original travel plans had me staying the night in Bennington, Vermont. However, I had cancelled that plan after having passed through Vermont last Saturday. I didn't need to go there just to say I had been in Vermont; I'd already been there. Also, I would be leaving first thing Monday morning on a business trip and wanted to get home as soon as I could. That meant getting a good start westward on today's trip. So I left after lunch, unable to stay for all of the presentations. I went back to the bookstore, bought some caps for my nieces and a monkey hanging thing for my nephew, then set out for home. I gassed up near the freeway, then took I-91 down to I-90, the Mass Pike, which I took west towards New York. After crossing into New York, I found that I had to use the restroom. Unfortunately, there wasn't a service plaza for some distance. I had to wait until I was past Albany before I could stop and take care of business. I also took out my laptop to check e-mail (free Wi-Fi here, you may recall) and make a hotel reservation for the night. I decided to reserve the Hampton Inn in Syracuse/Liverpool again, the same hotel where I'd stayed last Friday. I knew the area and knew the hotel, so I knew what to expect. I ended up driving for some 5 hours, arriving at the hotel at 5:30. Perhaps I could have gone longer, but the next large city was Rochester, nearly 100 miles away.

For supper, I drove down to the Carousel Center, which was a short distance down I-81. I could see downtown Syracuse off in the distance, and a minor league baseball park wasn't far away, either. I parked near a Borders, then went inside. For supper, I had pizza slices from Sbarro, a prime example of food court cuisine. This mall had a Best Buy AND a Circuit City (unusual), and it had an Apple Store. But it was the smallest Apple Store I'd seen, about half the size of the ones in the Detroit area.




I woke up around 6, made my e-mail and web checks, and went to breakfast in the lobby. I did not see the chocolate-y muffins this morning, the first time that had been true at any Hampton Inn I'd visited. So I had a croissant this morning along with cereal and a small yogurt. That put me in good stead for today's trip. Around 7:15, I left the hotel and got gas at a Pilot truck stop across the freeway. Then it was onto I-81 briefly and then onto I-90 for the trip westward. Unlike last week, the weather today was fantastic. There were few if any clouds in the sky as I drove onward. When I stopped at a service plaza, I brought my laptop with me in order to make an e-mail check. I knew today would be a long day of driving, but as I passed Rochester and arrived in Buffalo, I knew it would have been difficult for me to reach either of those last night. There was no backup at the Buffalo toll plaza, unlike last Friday; it wasn't rush hour, either. I did not go to Niagara Falls today; little would have changed in a week.

Near the noon hour, I crossed into Pennsylvania and stopped at the rest area and welcome center. The Lake Erie shoreline was close by, and you could see the lake extending to the horizon. However, there was a strong breeze, and it was rather chilly. I picked up some literature for potential future trips to the Keystone State, then continued onward. I flipped from XM's '50s channel (more Moments to Remember) to the '70s channel for this week's rebroadcast of American Top 40, which came from May 1975. Most of the songs, I recognized and remembered, but there were a few that I didn't remember or didn't associate with that period. And there was one novelty song, "Shaving Cream", that originally came from the '40s. The point of the song was that "shaving cream" was used to substitute for a certain four-letter word beginning with the letter S.

I stopped for fuel and lunch halfway between Erie and Cleveland, then proceeded onward. The AT40 broadcast was garbled during the last hour, with segments being broadcast out of order, but I still listened to it and enjoyed it as best I could. By this time, I was driving through Cleveland, and after AT40 ended, I found the Wings-Sharks game on XM (I was too far from Detroit yet to hear the direct broadcast). San Jose had scored first, but Detroit scored all of the other goals in the game. The game ended shortly before I crossed the Ohio-Michigan border, and with that victory, the Wings needed to win one more to advance to face Anaheim in the conference finals.

The rest of the drive went uneventfully, although I was surprised to see that gas prices had risen a quarter in my absence. By 5:15, I was pulling into my driveway. After removing the HF antenna from my trunk, I pulled into the garage. I was home, and it was time to unpack.

THE END

Top


©2007 R. W. Reini. All rights reserved.

Map images based on Google Maps.

Written by Roger Reini
RevisedApril 20, 2008