Travelogue: Colorado
June and July 2008
By Roger W. Reini
By date:

September 26 | 27 | 28 | 29 | 30
October 1 | 2 | 3 | 4 | 5 | 6 | 7 | 8 | 9


Prologue



I had been thinking about a trip to Colorado Springs and Pikes Peak for some time. Indeed, I had originally planned to go this past July. However, when I learned that my sister and her family would be coming to DC from overseas during that same time, I changed my plans so that I could see them. That worked out very well; not only did I get to visit them, I brought my bike and rode many of the bike trails in the DC area. I knew that I could go to Colorado just about any time, but my opportunities to see my sister's family were limited and would become even more limited as my nieces and nephew grew up. It was an easy decision to change my plans, and I have no regrets in doing so.

When I originally set aside the time in September and October for vacation, I had in mind a train trip to the Pacific Northwest -- Seattle or Portland. But I decided to put that off. Then I was entertaining thoughts of another trip to Texas to see friends and visit old haunts. Hurricane Ike put the kabosh on those plans, and with gas prices increasing substantially just after Ike, along with fears of gas shortages, I feared that a cross-country driving trip would not be a good idea. But within 10 days, gas prices in Detroit had returned to their pre-Ike levels, and shortages were confined to the Southeast, so the trip was back on. I had narrowed down my choices to visiting Windsor, Ontario for a few days or taking that deferred Colorado Springs trip. Given that Windsor is only 25 miles away and that Colorado Springs is not, the choice was simple: I would be going for a Rocky Mountain High.

This would not be my first visit to Colorado; that took place in March 2000 as I took the train to Los Angeles. All my previous visits had been via train (March 2000, September 2004, March 2006), and they had all been pass-throughs; although I got off the train at a few Colorado stops, I left when the train did. This time, though, it would be a full-fledged visit, staying a little more than a week.
Friday September 26

It has frequently been the case that I have started my vacation trips right after work, or shortly after finishing packing at home. But I did not do that this time; I didn't feel like it, nor did I feel like spending this first evening in a hotel -- more accurately, I didn't feel like spending any money for a hotel this evening. Instead, I planned to go to bed early and set the alarm for the middle of the night. I'd get some sleep, and I'd cover the distance I would have covered on Friday night. So after packing the Mariner, as well as mounting the bike on the rack and making sure the garage door would still close (it did), I went to bed around 9:30.

Top

Saturday September 27





I woke up a few times during the night, but then I woke up for good at 2:30 when the alarm went off, the "alarm" being the radio tuned to WJR. During the span of 45 minutes, I checked e-mail and checked the websites I normally check in the mornings (my laptop is right next to my bed), closed the windows upstairs, took my medicine, completed packing, got dressed, and got ready to hit the road. At 3:20 in the morning, I was under way. Traffic was light at that time of the evening, as you could imagine. I did notice a Canton Township police car parked under the I-275 overpasses at Ford Road; it was dark, but I presume an officer was there watching for drunk drivers. I had no problems navigating Ford Road, M-14 or I-94. After an hour and a half, I stopped at a rest area for a bathroom break. It would have been a good night for stargazing if I had been dressed for the occasion; the temperatures were in the 40's, but I was not wearing a jacket (jackets were in the car if I decided I wanted to wear one, and I was sure I'd need jackets in Colorado). As I drove on, I listened to various channels on Sirius and XM: World Radio Network with Radio Australia, BBC News, the Midnight Trucking radio program, 60's on 6.

Around 6 AM, I had to pull off at another rest area, for I was feeling sleepy. I rested there for a half-hour, not very comfortably because I couldn't put the seat back down; it was blocked. Near the end of my rest, I went inside to get a bottle of pop and a snack. Unfortunately, the snack machine seemed to eat my money; I never heard it go down. Looking in the slot, I thought I could see it hung up in there. I tried to fish my money out with a small knife blade; it was too small. I tried a piece of paper; it was too wide. I folded the paper and tried again; this made it act like a scoop, and I got my money back. I also got some extra money back; well, I've had money eaten by other machines in the past, so maybe this made up for it. I got the snack I wanted -- from a different machine. Heading back to the car, I could see the crescent moon rising as well as the first hints of sunrise. This led me to think that Ramadan would soon be ending.

By the time I was in northwest Indiana, the sun was up. I was looking at gas prices and my gas gauge, trying to figure out the best time to fuel up. I was also thinking about breakfast. I thought about the Lincoln Oasis over the Tri-State Tollway in the southern Chicago suburbs; a look at the gas prices there told me to head onward, for they were still over the $4 a gallon mark. As I had filled up on Friday in Detroit at $3.59 and had seen comparable rates along the way this morning, I wasn't interested in $4 gas. I had enough to get past Chicago. Breakfast was another matter; I stopped at a Denny's at I-80 and US 45 and read about last night's presidential debates in the Chicago Sun-Times.

The drive westward along I-80 was uneventful. At various times, I listened to Sirius Disorder, Moments to Remember on XM's 50's channel, an American Top 40 from September 1970 on XM's 70's channel, and several football games, not to mention the occasional song from my iPod. I had my amateur radio transceiver with me, of course, but as I had not yet figured out how to mount a high-frequency antenna on my new Mariner, I could not listen to the chatter on the bands. I stopped at the Iowa Welcome Center just across the river from Illinois on I-80 and picked up some literature; perhaps I'd have time to see some sights in Council Bluffs, my destination for the evening. Continuing westward on I-80, I passed the big Iowa 80 truck stop as well as the campground near Tipton where I had attended the Equinox campouts (not for several years, though, due to regular conflicts).

AT40 had ended around 2:30 Eastern, so I felt free to stop for lunch. And I did need to stop, to take an extended break. I also needed to fill up the gas tank again. Gas prices in Iowa were lower than in Illinois or Michigan, but I noticed something odd: in Iowa, the midrange fuel is the least expensive. Everywhere else, the regular is the least expensive. This was true 3 years ago when I'd last been in Iowa. I wonder why that is? After I filled up, I went to a nearby sports bar and grill (Daytona's in Des Moines), where I was fortunate to see Michigan State wrap up its victory over Indiana. I also saw the starts of the Wisconsin-Michigan and Arkansas-Texas games, and I was able to continue to follow them via XM radio. I didn't follow them to their conclusion, though, which is why I was surprised to learn that Michigan, which had been losing rather handily to Wisconsin, had come back in the 4th quarter to win.

By the time I reached my destination for the night, the Hampton Inn in Council Bluffs, I'd been on the road for 15 hours including stops and had racked up 715 miles. That qualified as a long haul, though it wasn't my longest; in 2000, I had driven 770 miles in a day. I was in no mood to go anyplace else this evening, for dinner or sightseeing or anything. It turned out that the closest restaurants were in the nearby casino. I didn't have to enter the gaming floor to get to the restaurants, which suited me just fine, as I'm not a gambler. In fact, the gaming floor was actually a riverboat. But I digress.... there were four restaurants in the hotel, and I ate at the Prairie Mill Cafe. The chicken alfredo was good -- the chicken was fantastic, the alfredo a little less so. Every so often I could hear loud cheers coming from across the hotel; they were coming from the sports bar, which was carrying the Nebraska game (Nebraska was losing at the time and would eventually lose the game). After my meal, I walked past the casino entrance but did not enter, and I went back to my room. The walkway went through the Holiday Inn, where I passed a wedding reception in full swing. The band could be heard quite clearly for some distance from the ballroom. Back in my room, I worked on this travelogue for a bit and watched some football before calling it an evening.

Top



Sunday September 28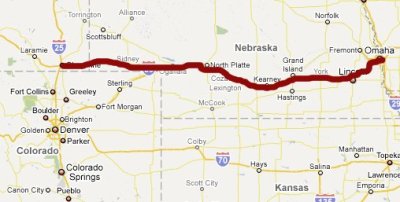 I got up around 5:15 this morning, though you wouldn't have known it from the time on the clock. It was an hour slow for some reason; I didn't bother resetting it. When 6 rolled around, I went down to the lobby for the regular Hampton Inn breakfast bar. This morning, I had a dish of Total, a bagel, some peach yogurt and an egg dish of some kind; I guess it would qualify as an omelette. By 6:57, I had checked out of the hotel, packed the car, attempted to take pictures of the hotel in the twilight without a tripod (some were good, some weren't), and hit the road. It wasn't long before I had crossed the Missouri River and entered Nebraska. I saw signs for US 75; if I'd gone south on it, I would have ended up back home in League City.

As I drove down I-80, the satellite radio was a constant companion. Early in the day, I listened to '60s on 6 (a show on songs associated with NASA missions, in honor of NASA's 50th anniversary) and Fine Tuning (where I learned of Moody Bluegrass, Moody Blues songs done in bluegrass style). Later, I turned on Sirius NFL Radio as today's NFL action got underway. The Detroit Lions had a bye, so I saw no need to listen to a single game; I'd keep it on the main NFL channel, which kept listeners informed about every game. When I stopped for gas at a truck stop, I saw an ad for a 3-way power outlet splitter that can be placed inside a cup holder. That helps keep the splitter off the floor, where it can easily be stepped on. I thought it was a good idea, so I picked one of those up. Later on, I passed under a huge structure near the town of Kearney: the Great Platte River Road Archway. This was worthy of a visit, I thought. After I got there and learned what it was (a private exhibit of pioneer days), I didn't feel like spending much time or money there. I did take some pictures of the outside and a movie of my feeding some fish in a pond; the fish were congregating in the area underneath a bridge with a fish food dispenser, for they knew to expect a snack there). I saw a row of five vintage cars, four Fords and a Chevy (oddball!). Afterwards, I had lunch at the McDonald's in town; service was rather slow, but it was good. I had a bacon ranch salad topped with Newman's Own dressing, particularly appropriate in light of Paul Newman's death on Friday, news of which was announced Saturday.

There was something about the main drag of Kearney which suggested "The West" to me. I couldn't pin it down, though. The terrain was definitely changing, and it really changed by the time I passed the turnoff for I-76 and the direct route to Denver. West of there, I-80 started to climb, and the trees became very scarce. I listened to the end of the Texans-Jaguars game, which had gone into overtime. Jacksonville won the toss and was able to kick a field goal and win the game. At the town of Sidney, I pulled off to gas up and to visit Cabela's. I didn't get anything there, although I could have. Only later did I learn that Cabela's headquarters was there, that that was probably the flagship store. It didn't seem much different from the one in Dundee, frankly.

An hour or so later, I was in Wyoming for the first time, my 42nd state. I turned off at the rest area for a bathroom break and a chance to pick up some literature about Cheyenne. The song "Goodbye, ol' Paint/ I'm a-leavin' Cheyenne" rolled through my mind, although the words weren't yet apt; I was heading TO Cheyenne. And at 4:46 in the afternoon (Mountain time), I was in the parking lot of the Hampton Inn, right next door to a Home Depot, an Outback Steakhouse and two other hotels.

What did I want to do? After discovering there was a Barnes and Noble in town, I wanted to go there, and I also wanted to find a place for supper. The bookstore was on a street near the shopping mall in town (not too far from the airport, either). It was similar to other Barnes and Nobles in other cities and towns. I ended up buying the latest issue of Scientific American and leaving in search of supper. My search ended at the Perkins restaurant down the street, where I had a chicken and mushroom dinner which was rather good. Then it was back to the hotel, where I felt very tired at 8:30 (10:30 Eastern). I started to retrieve the copy of

Saturday Night Live

that I'd recorded at home, converted to a smaller format, and uploaded to my iDisk. That download would not complete for several hours.


Monday September 29






My sleep schedule was a little screwed up; I found myself awake around 1 AM, checked to see if the SNL download had completed, found that it had, and started to watch it. I watched the first sketch, the one with Tina Fey as Sarah Palin and Amy Poehler as Katie Couric (I enjoyed the reference to "phone a friend") and part of Duffy's first number "Mercy". Then I got tired and went back to bed, although a sinus clog kept me from going back to sleep. I was awake again around 4, which was close to the time I would normally wake up (5 Central, 6 Eastern). I tried to watch the rest of SNL and got to the end of Weekend Update, but there was a recording glitch that caused a major out of sync condition between picture and sound (FYI, the sync problems were in the conversion to the smaller format; the original recording back home had the glitch but no sync problem). I could get it back into sync with surgery on the file, but not this morning. I started to download

Brothers & Sisters

from home as well, but it was very slow going, so I cancelled it and started to upload it to my iDisk, from which I could retrieve it later.

I took a shower and then went down for breakfast. This morning, I had corn flakes, muffins, and yogurt. Then I decided to go for a short bike ride. It was chilly outside, cold enough for frost to form on my bike seat. I put on a jacket, got the bike down, and prepared to ride. The rear derailleur seemed a bit sluggish this morning, probably due to the cold. I decided to go for a short ride, down the Lincoln Highway to I-80 and back. This was my first ride at higher altitudes, and I could tell from the get-go, as I was breathing more heavily than usual even though I had just started out. I'm not in the greatest of shape, but I'm in better shape than that! It turned out that I had been going somewhat uphill as well -- not visible to the naked eye, but quite apparent to someone pedaling it! I went under I-25 and then I-80, turning around at I-80 to return to the hotel. This ride was faster, which didn't help my thumb tips any; they were feeling the cold. After 3.38 miles, I was back at the hotel, and the bike was back on the car. I needed more time to acclimate to the altitude.

By 9:26, I had checked out of the hotel and set out on the road. I first went into town to look for photo opportunities downtown. The main opportunity was the Wyoming State Capitol, and I took a few pictures there. Then it was goodbye to Ol' Paint, for I was a-leavin' Cheyenne. After a restroom stop at a truck stop just south of town (and a good photo opportunity for an overlook of Cheyenne), I put on "X Minus One" on Sirius's old-time-radio channel and drove south on I-25. There were one or two mountains in the distance; soon, there were more. There were also several construction areas on I-25 between Cheyenne and Denver, most of which didn't slow me down much at all. As I drove through Fort Collins, I turned on my amateur radio transceiver and tuned it to the frequencies of time station WWV, which was located in Fort Collins. I did not have an antenna connected to that input of the transceiver, yet I could hear WWV on 5, 10 and especially on 15 MHz. It would have been booming in had I had an antenna connected.

Also located in Fort Collins was one of Colorado's welcome centers. It was in a separate building from the rest area, although one could easily walk from one to the other. I stopped here to pick up some literature for Colorado Springs, Denver and whatever else I felt like. The staff there were helpful, although I wasn't in much need of help. I took a few pictures of the mountains in the distance, including the big A on the side of one mountain. What it stood for, I had no idea. There was a trail that I walked for a short distance before returning to the car and resuming my southbound trip.

The traffic got heavier as I neared Denver, as one would expect, although it was not jammed by any means. I passed through downtown, noticing Coors Field in the distance and remembering how the Amtrak trains passed next to the ballpark on their way to the station. Up ahead, Invesco Field (the new Mile High Stadium) was looming. I was in need of a break and a rest, so I was heading to the Cherry Creek Mall in the middle of town. It was located in a nice area, even if there was major construction in the area.

It was lunchtime, so I needed to eat. The Macaroni Grill sounded good to me, so I went there and had a lunch special: a cup of soup, a small salad, and half a meatball sandwich. I checked the news via my cell phone as I waited for my meal, and I saw that the financial bailout or rescue plan had been defeated in the House. What that meant for the future of the country, I had no idea. I'm not sure Congress did, either. Enough about politics: after my excellent meal, I walked around the mall to walk off my meal. I stopped at the Apple Store but didn't get anything there. Having bought an iMac and a MacBook there already this year, I wasn't in the market for another one. Then it was time to head on down to Colorado Springs. The 2 meter antenna was off the car, for it was banging on the parking deck supports.

The drive to Colorado Springs was uneventful, though it was more tiring than usual. I was getting tired of long distance driving; I wanted to arrive at my destination. And within one and a half hours, I had. Colorado Springs! There was a scenic turnoff north of town; I pulled off there for a while. It overlooked the Air Force Academy and its airport, and I was able to see several training flights taking place in small aircraft (no jets). From there, it was a few short miles to my home for the next week or so, the Extended Stay America.

Extended Stay America hotels differ little from one another, although this one had a more colorful decor than the ones I'd been accustomed to. I unpacked, established my Internet connection, checked e-mail, then went in search of a grocery store or a Target, for I needed to stock up on some food items. I found the Target first and got most of what I needed, then stopped at a Safeway when I suddenly realized I'd forgot to get dishes and cups. I ended up eating supper from what I'd bought tonight, as I didn't feel like driving any more today. There was a bicycle store just up the street (Criterium Bicycles), and I stopped in there for a time, buying a map of Colorado Springs trails. I put on

Monday Night Football

but didn't stay up for the whole game, as I was getting tired.
Tuesday September 30

I woke up at 4:15 in the morning, which was 6:15 Eastern, so I was not able to get back to sleep. I put on the Weather Channel for a while; oddly enough, that did put me back to sleep for a short time, and I was up for good around 6:45. It was clear out, so I went outside to take some pictures of Pikes Peak and the mountains. It was chilly outside this morning! But it warmed up quickly.

My big plan for the day was to visit the Garden of the Gods. I delayed my departure until 9 o'clock, which was when the official visitor center opened; the park itself opened at 5 AM. The visitor center had an observation deck on its upper level that allowed one to take a picture of all of the main central rock formations, and it was very popular with the attendees, most of whom were part of a tour group from Florida. I took advantage of it as well, naturally, as well as the 12-minute introductory video about the park. The visitor center had a nice gift shop, which gave me some ideas for possible Christmas gifts.

With detailed map in hand, I left the visitor center and drove into the park proper. I parked at the north parking lot and set off on a walk around the Central Garden Trail. This took me near the North and South Gateway Rocks, the White Rock, the Sentinel Spires, the Three Graces and the Cathedral Spires. On top of the North Gateway Rock was a formation called the Kissing Camels (aptly named, in my opinion). Other rocks reminded me of buffalo or of a bear crawling up a rockface (that, or a giant claw reaching out). Several formations reminded me of faces. I saw a few rock climbers ascending the Gateway Rocks. In the distance, I could see Pikes Peak and several other mountains; the peak was free of snow.

After I finished this hike, I got back into my car and set off on the loop around the park. There was a bike lane on the loop, and there were a couple of bikers. The loop seemed too hilly for my liking, especially in this high altitude. I completed the loop, then set off on it again until I found the road for Balanced Rock and the Garden of the Gods Trading Post. Balanced Rock really did look precariously balanced, but it had existed in that form for thousands, perhaps millions of years. It had been an oft-photographed landmark for 100+ years and remained so today. Then it was off to the Trading Post, in existence since 1900. By the time I arrived, it was lunchtime, so I decided to eat at the Balanced Rock Cafe. I'd brought my camera inside to review the pictures I'd taken. But when I opened up the camera bag, I had a scare: my extra memory cards were not there! I had not used them on the trip, so I hadn't lost anything irreplaceable. But I would want to have an extra card, for I planned to take a lot of video and pictures on the cog railway trip. I wasn't in the greatest of moods as I ate my buffalo burger and chicken tortilla soup, both of which were good. As soon as I was done, I went out to my car; perhaps the cards had fallen out there. And indeed, they had; they were in the front seat. Was I relieved! No need to go looking for extra memory cards. I put them in a different compartment of the bag, one that wouldn't be regularly opened.

I found a Christmas present and a book on walking tours of Colorado Springs, so I bought those and headed onward. I had not yet seen the Siamese Twins formations, so I drove to the trailhead for the trail that would take me to them. This trail had a significant increase in elevation, so I was getting winded. There was a point on the trail where I could see the rocks; that was where I decided to take my pictures and stop my ascent. It was back to the car and out of the park, passing by Balanced Rock again. When I left, I found myself in Manitou Springs, so I drove through the town, wanting to see what it was like and to see where the Cog Railway station was. I found it; I even visited the station for a while, though I didn't buy my ticket for Thursday. I drove back into town on US 24; I still thought of it as Telegraph Road, its name in Detroit. I passed by the Citadel mall and a Barnes & Noble bookstore, where I stopped and picked up a couple of magazines, though not the CQ Magazine I wanted. Then it was back to the hotel via surface streets.

I had been carrying my bike on the back of my SUV. Tonight, I would take it off the rack and ride it along the Pikes Peak Greenway, which passed right by my hotel. I picked up the trail at the access point, then headed north. After a mile or so, the pavement ended. The route had several places of soft dirt and significant upgrades -- well, significant to someone who's not in the best of shape and was not accustomed to high altitudes. I pushed my bike up several of these upgrades but made it to just inside the Air Force Academy grounds, which is where I turned around. Going south was also going downhill, for the most part. Once I returned to my starting point, I kept going south on the paved portion of the trail, passing a construction site, a city reservoir, a skateboard park and some other parks before turning around north of Fillmore Avenue. I put a little over 14 miles on the bike this afternoon.

An observation: while driving south on I-25, the scene reminded me of driving along 101 south of San Francisco in the South San Francisco area. It must have been the similar geography: mountains to the west and dead ahead, flatlands to the east. The trees would have been quite different, though.

I still wanted to look for CQ Magazine (for amateur radio operators), so I drove to the Borders on the north side of town, near the Air Force Academy. While looking for the store, I noticed a Souper Salad. This was the same chain of salad buffet restaurants that was in Texas. If I were in Texas this year, I'd have gone to Souper Salad. The one here (one of three in town, I'd learn later) was just like the ones in Texas, so I enjoyed my salad experience. Then it was over to the Borders, but they didn't have the magazine either. They had the magazine, but not the new edition. So back to the hotel I went, and it wasn't much longer before I called it a night. Parts of my biological clock were still operating on Eastern time; also, I had done a lot today. Also, I kept my laptop on Eastern time so as not to mess up any file time stamps, especially for downloaded photos, and seeing that time might have been sending a little signal about what time I should be keeping.
Wednesday October 1

As a result of my biological clock not being fully on Mountain time, I found myself popping awake several times during the night, including the time where I might normally awaken at home. But I could also go back to sleep fairly easily, letting me awaken for good at a better time. Now after my breakfast, I was debating what to do today. The weather was nice, and I was sorely tempted to make the drive up Pikes Peak. Yes, I'd be taking the Cog Railway tomorrow, but the drive would be a different experience. But I decided against it in favor of the Cheyenne Mountain Zoo and Seven Falls.

It was a fantastic day for visiting the zoo. I'd worn a jacket when I left the hotel but left it in the car when I went into the zoo. It wasn't very crowded today; I only noticed one school group. The first area I visited was the African Rift Valley area, home to a large giraffe population. Giraffe crackers were available, 3 for $1; these were for feeding to the giraffes. I didn't feed any, but I got some closeup pictures of the giraffes. I wandered through the whole zoo, seeing the elephants and the emus, noticing a Pallas cat curled up like a regular housecat, watching a tiger take his bath, then climb out and prepare his natural litterbox for use (he used it, too). The Rocky Mountain Wild exhibit was a real treat, with a grizzly bear taking a bath and interacting with the kids on the other side of the glass, mountain lions resting or slinking about, wolves on the prowl (thank goodness for a long zoom lens; those wolves stayed well away from the glass), a porcupine climbing a tree, wild turkeys not drinking Wild Turkey, and a moose hanging around without a squirrel (I did see a squirrel elsewhere in the zoo). I saw the monkey exhibit, which featured one monkey exhibiting his monkeyhood, as well as the great ape exhibit, with gorillas sitting around and one orangutan swinging around.

Admission to the zoo also allowed one to drive up to the Shrine of the Sun, a memorial to humorist Will Rogers. The shrine was at the end of a 1.4 mile drive up Cheyenne Mountain, a true mountain drive with twists and turns and guardrails that seemed wholly insufficient in function. I was a little uneasy going up and down that road; I wanted to drive in the lane farthest from the edge, whichever lane that was. But the shrine was a magnificent sight on a magnificent site, 8000 above sea level overlooking Colorado Springs and the zoo. I could see to the plains beyond the city; I could see the Garden of the Gods from afar; I could even notice Pikes Peak in the distance. As I was taking a movie of the shrine and surroundings, the chines sounded for the three-quarter hour. They were below me, and they were startlingly loud! I don't know how far one could ascend inside the shrine; I only went up to the second level, which was up four flights of stairs.

It was time to leave, and I drove back the way I came. After leaving the zoo, I programmed the GPS to direct me to Seven Falls. This proved to be a mistake, as it took me along the Old Stage Road, which turned into an unpaved mountain road. I passed where the GPS said my destination was, but there were no seven falls in sight. I stopped a tour wagon and asked if I was going in the right direction; he said I was not, to turn back around and get to the main road, then try again. I did do that, frequently keeping the SUV in low gear as I descended. These two mountain roads convinced me that driving up the Pikes Peak Highway wasn't a good idea for me. I eventually found my way back to roads I had driven in the morning and found the signs leading me to Seven Falls. The GPS directions were accurate, if I were willing to drive off the edge of that road! At the Seven Falls, there was an observation platform known as the Eagle's Nest, accessible by steep stairs or by elevator. I chose the elevator, which was at the end of a long tunnel. It reminded me of the opening of Get Smart, only without the doors between each section. The Eagle's Nest provided a good view of all seven falls as well as the rocks of Cheyenne Canyon. I could also see another set of stairs paralleling the falls. I didn't think I could climb those easily, so I chose not to. I met a couple from Clinton, Michigan there (Clinton is southwest of Ann Arbor), and I overheard another couple say that they were on their honeymoon. For a late lunch, I had a bowl of chili and a bottle of water at the snack bar, then continued my sightseeing.

Back at the hotel, I downloaded my pictures, then went for supper at Outback Steakhouse. It wasn't busy at all when I went, though it got busier as the night went on. I could see a huge storm cloud over Pike's Peak and the mountains; I was wondering if there was snow up there. Then it was back to the hotel for baseball and a phone call with a friend until I turned in for the night.


I partially woke up around 5, then woke up for good around 6. I had recorded Pushing Daisies last night on my MacBook using an Eyetv tuner, so I watched that in chunks. Reception wasn't the best, so I had to contend with occasional dropouts, but I managed. Today was the big day for the Pikes Peak trip, and I didn't feel like doing much beforehand, so I decided to take it easy and stay in this morning. After having done a lot the last few days, I'm sure I could have done with the rest.

Unfortunately, I was contending with some sinus irritation and congestion. At times, it felt like a mild cold, but I didn't feel like I had a cold. Usually, when I have a cold, I know it, and I feel really miserable. That was not the case here. In some ways, it felt like the week after a cold, where I was feeling better yet still blowing my nose a lot. Might the high altitude be contributing to it? I don't know, but I thought I should get a bottle of saline solution for the nose (brand name Ocean spray, also available generically). I left around 11 to look for a drugstore; I found a Walgreens at Garden of the Gods and Centennial. I found the stuff for my nose there, along with some rubbing alcohol (not for the nose!) and a power strip. Pikes Peak was quite visible in the distance, but also visible were some threatening clouds.

I got back on I-25 and headed to Manitou Springs and the Cog Railway, listening to Moments to Remember on XM 5 -- earlier than usual, thanks to the time difference. I made it to the railway in plenty of time for the trip. I took some pictures of the surroundings, then paid for my ticket. The upstairs gift shop had many items on sale; I picked up some that I thought would be good Christmas presents, put them back in the car (no need to carry them to the summit), then went downstairs to the loading platform. While there, it started to rain, and there were even two cracks of thunder. I hoped it didn't bode ill for the trip. There was a cafe there; I ordered a box lunch (turkey sub, Lay's chips, a 2-pack of cookies, and a bottle of water) and a pack of crackers. I could take it on the train, but I was hungry now, so I ate the sandwich and chips at the station and saved the cookies, crackers and water for later. Not long after I finished lunch, the train was ready for boarding.

It was a full house on the train today; it probably is most of the time. It was a two-car train; I was at the back of the forward car, facing forward for the uphill climb; it was also known as the 2-seat side, as the other side of the car had rows of 3 seats, and my side had only 2. There were several people who'd come up from Austin for the Texas-Colorado game on Saturday, all decked out in their Longhorn gear; my rowmate was one of those fans who made the trip. Across from us was a couple from Denver. The windows of the train could be opened, and they started the trip open. The scenery was spectacular as we began our climb up the tracks through Engelman Canyon. At times, a creek and waterfalls were visible. Unusual rock formations lined the tracks, both close and at a distance; one of them looked just like an Ace of Diamonds. On my left was the townsite of Ruxton Park, now home to only one family, the caretaker of the hydroelectric plant that still supplies Colorado Springs with some of its power today. The aspen were turning yellow. Our conductor and tour guide mentioned that aspen bark has medicinal qualities akin to aspirin, telling us the story of an Indian warrior who returned home after battle with a terrible headache, so he consulted the medicine man, who told him to take two aspen and call him in the morning (groan).

We went up Son Of A Gun hill, a section of 25% grade, so named because of what the steam engine firemen would say after keeping the boiler going up that grade. They probably said a more profane version of that phrase, though. There were other sections of 25% grade; one was along the Big Hill. The terrain dropped off sharply on the 3-seat side of the car, providing for spectacular views but also some unsettled nerves. The trees began to thin out; we were reaching timberline. Then it was mostly rocks with lichen for the rest of the way to the summit, though there were some grass-covered areas. We passed Windy Point, where it wasn't terribly windy, although we wouldn't have known it; the train's windows were closed by this point, and I had already put on my winter hat. As we neared the summit, we could see parts of the Pikes Peak Highway, a wide dirt road leading to and from the summit; I even saw a car on its way down.

At last, we reached the summit! We had 50 minutes up there before the train left, and woe to anyone who was left behind. It was chilly and windy up there, leading me to eventually do up my jacket and put on some gloves. There was one man in a Hawaiian shirt and shorts; he had to have been miserable while outside. The visibility was not as good as it could have been, for ceilings were low and bad weather was approaching. Actually, it was okay to the east and northeast, but terrible to the west. I went around the summit, staying far from the edge (it's quite flat up there, actually), avoiding a snowy and icy area on the north side. There was a little bit of snow, but most of the ground was not yet covered. I saw a memorial to "America the Beautiful", which was inspired by a visit to Pikes Peak in the summer. I'm sure Katharine Lee Bates did not have to contend with snow on that July day she visited, but I did. It started to snow while I was up there, and the wind picked up. I'd later learn the temperature was 31 degrees with a wind chill of 24. I took a self-portrait by one of the summit markers; I think it turned out better than the picture someone took of me by the other summit marker.

I needed to warm up and use the restroom, so I went inside the Summit House. After I took care of the restroom duty, I checked out the gift shop. There were many hats, though they seemed small on me. I thought they'd seem small on my brother-in-law's head, too, so I didn't get him one. Nothing else at the shop interested me that much except for one thing: the chance to enjoy the famous Pikes Peak donuts, cooked on the summit. They seemed lighter than a normal donut, and the outer surface was slightly crunchy. They can't be cooked this way at lower elevation, I'm told. The donuts were fresh from the fryer and so felt nice and warm in my hands. Then it was back outside for a few more pictures. I overheard a few people talking about damage from hurricane Ike; turned out they were from the Clear Lake and La Porte areas. Then at 3:10 in the afternoon, the train whistles blew three times. That was the signal to return to the train. We sat in our same seats. I didn't take many pictures on the downhill trip, for they would have been the same as the ones going up. I did see a doe on the way down but couldn't get my camera ready in time. There was also a buck on the other side of the train, but I couldn't see him. As we descended, the conductor came by selling books an DVD's about the trip, products only available on the train; I bought one of each. By 4:30, we were back at the depot. I spent some time at the gift shop getting presents. It was raining as I walked back to my car, and I noticed a rainbow in the sky. I took a few pictures of it, noticing that it seemed to span the sky.

I stopped in Manitou Springs for a short time and walked around. It wasn't very busy, and most of the shops had closed for the day, it seemed. I did drink from the Shoshone Spring; the mineral water tasted fine to me. I tried to drink from the Cheyenne Spring but couldn't figure out how to turn on its faucet. Then it was back towards the hotel, where I wanted to look for a Mexican restaurant. One place I stopped at was more of a fast food place, so I left there. I ended up eating at Las Palmitas just north of the hotel. Before I went inside, a couple asked me if I could jump start their car. I agreed and maneuvered my vehicle next to theirs. Once the cables were connected, I started and revved my engine. Their car clicked but never turned over; jump starting would not work. They got other help, and I went for my meal. To be honest, it was OK, but I've had better. The food at the places I visit in Westland is much better. Then it was back to the hotel to watch the vice-presidential debate.



I had contemplated visiting Buckskin Joe's at the same time as Royal Gorge, but as I drove past it, I saw that it was closed for the season. Scratch that off my list. The short drive from the highway to Royal Gorge was uneventful, even for the climb up to the altitude of the gorge. Finally, there I was. I paid my admission, taking advantage of a $2 discount coupon, and went inside. The first thing that caught my attention was a water clock that showed the correct time and date. Powered completely by water! Then I decided to ride the inclined railway to the bottom of the gorge. A five-minute ride down a 45 degree slope led me to the bottom of the gorge and the Arkansas River, giving a closeup view of the rapids (no rafters today) and the Royal Gorge Railroad tracks (no train at the time), along with some spectacular scenery. I could see a tram car heading across the gorge, and of course I saw the underside of the bridge. Those of us who rode down didn't stay that long, and we went back up on the return ride. We had to stand in the cars.

After taking some pictures from Inspiration Point, I decided to cross the bridge. It was possible to drive across it, but I walked across. It was quite high: 1053 feet above the river below. When vehicles were on it, I could feel the bridge vibrate. I never felt the Golden Gate Bridge vibrate! My aunt said she and her parents and her aunt had driven across the bridge back in 1965, and the experience was very scary. I could understand why she felt that way. The decking consisted of wooden planks, all in good condition, though the gaps between planks differed in width. Some were wider than others. There were signs along the way highlighting the locations where records were set or special bungee jumps attempted; one sign pointed out a mountain that looked like John F. Kennedy laying down. Once I finished crossing the bridge, I found myself on land that at one time had been claimed by the Republic of Texas, so one could say that I had indeed visited Texas this year. There was a good slope up to the other attractions that interested me, such as the wildlife exhibit. Here, I could see Rocky Mountain bighorn sheep, buffalo and elk in their native habitats. The animals were eating, and they were laid back. There were even some rare white buffalo in the exhibit. Before I saw the elk, I visited Point Sublime and was able to see Pikes Peak and take in the full span of the bridge. I then got around to visiting the elk. One was near the fence; I said hello to it, and it laid down right there and then. Coincidence, I presume. After walking through the western town area, I saw a presentation about the gorge, bridge and railways at the theater, which also housed an exhibit of historical documents and pictures.

As I walked back across the bridge, I noticed a train coming down the gorge. This was the Royal Gorge railroad, and it was quite a long train. I'd like to take that train sometime; it'll give me a reason to return to the state. I've got plenty of reasons to return, based on all the attractions Colorado has to offer. Back to the gorge: I stopped at the visitor center and gift shop for a while but ended up leaving empty-handed. My last stop was the Silver Rock Railroad, a short loop passing by some real corny sights, such as Deadwood (a pile of dead wood) and Boot Hill (a pile of old footwear). Very punny!

After I left, I was hungry. I ended up stopping at Hank's Travel Center for lunch. It took a little bit for me to be waited on, but once I was, the food was all right. Then it was on to Pueblo and a chance to walk on their Riverwalk. I'd seen a flyer for the Riverwalk at one of my stops this week and thought I'd try it out. Would it be suitable for riding a bike there? It turned out not to be that suitable, but it was excellent for walking. One unusual sight involved two empty pop bottles bobbing about under a waterfall, unable to break free. This Riverwalk was nothing like San Antonio's Riverwalk, but it had a charm of its own. After I completed my walk, I got on I-25 and headed back to Colorado Springs, stopping at the Barnes and Noble in Pueblo for another magazine check (yes to latest New Scientist, no to latest CQ).

Back in Colorado Springs, I was thinking of what to have for supper. I was also thinking about checking out the nearby REI store, for which I had a gift card. My plan was to go to the REI store first, but I missed the turnoff for it. In the process of finding a place to turn around, I noticed a Qdoba Mexican Grill. That was where I ate supper tonight: a chicken quesadilla. At REI, I was having a hard time finding the bike supplies; they must have been moved to their winter locations. But I did find them, and I got three items: full bike gloves (meaning the fingers were covered), an additional water bottle holder for my bike, and a case for storing things that fits inside a water bottle holder. Then it was back to the hotel for the night, while I watched some of the Red Sox and Angels playoff game.


Yesterday, I was trying to decide whether to go to Cañon City or to Denver, eventually choosing Cañon City. So it made sense for me to head to Denver this morning. The weather for tomorrow and Monday was not supposed to be as good, giving me more reason to make the trip today. The distance from here was about the same as the distance between my home and Toledo (a bit longer, actually). I set off a little after 10 in the morning, after watching some of the opening moments of the Michigan State-Iowa game on ESPN2. Since XM was carrying the radio account of the game, I didn't miss a thing as I drove up I-25 into Denver. As I passed by the Air Force Academy, I could see some activity at the football stadium; they were getting ready for today's game with Navy. That explained the presence of the midshipmen at the hotel this morning; they were leaving at the same time I was.

My first destination for today was the Ham Radio Outlet store in Denver on Iliff Road. According to maps, I had two ways to get there and ended up using both of them. I went there via I-225, passing a bike path alongside the freeway. As I approached, the store was easy to spot; it was the one with the large antenna. It was a small store, but it had a lot of stuff. I didn't get too much today, just a couple of magazines, including that new issue of CQ Magazine, a calendar for next year, and a manual on emergency communications, which is something I'd like to get more involved with. I briefly considered an antenna mount for HF antennas, but I thought it best to go home and work with what I had first; those may yet be adaptable to my needs.

After I left the store, I picked up I-25 and went into downtown. I wandered all over, even passing by Coors Field, before finding a good place to park. It was the parking garage for the Denver Performing Arts Complex, and there seemed to be some event taking place at one of the theaters today. Exits for the garage didn't appear to be well marked, but I eventually figured out that I was parked on the same level as the theaters. And so, with map in pocket and camera bag over my neck and shoulder, I set off on a downtown hike. I went up to the 16th Street Mall and walked its full length in both directions. To the northwest, I encountered Union Station, which I had visited in 2004 on my train trip to and from San Francisco. I went on the Millenium pedestrian bridge, which took pedestrians to Commons Park along the riverfront, although I didn't go there. I saw a young couple having their picture taken; I suspected these were engagement or pre-wedding pictures. As I walked back, I knew I'd be walking through an area filled with restaurants, so I was wondering about what to have when all of a sudden, I noticed a BD's Mongolian Barbecue next to the Jet Hotel. No more wondering about lunch; I was going to eat there! The food was just as good as at their other restaurants I've visited in Detroit and Maryland. While there, I could see that the Michigan game had started. I had to use my cell phone to find out that Michigan State had held on to beat Iowa. I also had to use my phone as a watch, as I'd left mine at the hotel.

There were many street musicians along the mall; there was also an area where people gathered to play chess. I even saw a street entertainer dressed up as some 70's superhero freak, with the big Afro and everything. Free buses went up and down the street, but I didn't use them. I stopped at a Barnes & Noble but didn't get anything; I did not stop at the Virgin Megastore, but I briefly popped into the Denver Visitor Center. That might have been more useful at the start of the trip, or if I were spending more time in Denver. At the far end of the mall, I passed by the building for the two newspapers in town; it had an automated crawling headline service telling of what was going on.

The Colorado state capitol was across the street. One of the steps was marked "5280 Feet Above Sea Level", the true Mile High point. I took a picture of that step, along with survey markers above and below it. Is there some doubt about the true Mile High point? More like subsequent surveys with greater accuracy; the lowest marker is the most accurate, it turns out. Then I made my way back towards the parking garage. I wanted to make sure and pass by the convention center, for I knew there was a 40-foot-tall statue of a bear peeping into the center. And there it was. It was roped off so no one could approach it, but I took some pictures there. Then it was back to the Performing Arts Center and garage, and I left. Now I briefly considered going back to the Cherry Creek shopping center, but I decided I wanted to go back to Colorado Springs. So I drove back down I-25, bouncing between the Michigan-Illinois game and pregame activities for Texas-Colorado. Those Longhorn fans would be glad they came and saw the game, for Texas beat Colorado soundly. Michigan fans weren't happy, though; they lost.

There were occasional rain showers on the drive back to Colorado Springs, though nothing too heavy. I found myself getting tired, so I stopped at a rest area for a can of Coke Zero. As I approached Colorado Springs, I saw the game in progress at the Air Force stadium, and I could also see snow in the mountains. Pikes Peak was picking up some snow this afternoon. Back at the hotel, I didn't do much in the evening except have supper and watch football. I also made sure the antenna was positioned to pick up the local NBC station so I could record

Saturday Night Live

.


I blinked awake a few times in the middle of the night but went back to sleep. I got up for good around 6:15 and watched Saturday Night Live from last night. The reception was not as good as it should have been, for there were a number of dropouts that hindered my enjoyment of the program. There were fewer dropouts later in the program, which helped. After breakfast, I installed the second water bottle holder on the bike. Unfortunately, I couldn't put anything in it because the bike rack blocked access, and I didn't want to take the bike off the rack.

Today, I paid a second visit to the Garden of the Gods. When I visited last week, I made a note to myself to return to the gift shops for Christmas gift ideas. And I did just that, picking up some gifts for certain relatives. I can't mention what gifts and which relatives, for that would be giving away too much. I even got something for myself: a refrigerator magnet with a clip on it. Then it was time to go into the park itself. The north parking area was much busier than last Tuesday, but there were still several spots available. I walked slightly different trails than last week, giving me a somewhat different perspective on the rocks of the Garden. I took a hike on the Bretag Trail, which went around part of the park and took me back to the parking area. Then it was down to the Trading Post. I had the Lions-Bears game on my Sirius radio; the Lions were losing. I looked at hats, which didn't fit me that well, and walking sticks that were rather artistic as well as useful. But I didn't get anything except hungry, for it was time for lunch. I didn't feel like eating at the cafe here; I programmed the GPS to look for the nearest Souper Salad, and it guided me there. The food was as good as it was the other day.

After my lunch, I drove up to the shopping area north of town. I had thoughts of stopping at a Wal-Mart or Target, picking up a pack of handkerchiefs and maybe getting some extra cash. However, after stopping at the Best Buy and Barnes & Noble, I found myself getting quite tired and feeling run down. That was not a good feeling to have, and I vowed to take an Airborne tablet when I returned to the hotel. I had been doing a lot this week, and I probably was in need of a rest. Also, I would start the drive for home Tuesday morning, and I wanted to be in good shape for that. And there would be football on TV. So back to the hotel I went, and on went the TV. The Lions lost, disgustingly; the Texans also lost, disappointingly; but the Broncos were winning.

With the start of my return trip looming, I opened up my suitcase and packed away some things I would not be using on this trip anymore: travel literature, dirty laundry, those sorts of things. No need to pack in earnest until tomorrow. I went to a nearby Subway and brought back a BMT sandwich, eating it while watching Sunday Night Football on NBC. It was a little different from the sandwich as prepared at my normal Subway in Westland, but it was still all right. I started to download last week's episode of Brothers & Sisters from my iDisk but stopped after I saw it would possibly interfere with the recording of this week's episode (I would resume the download after the episode, and it would complete overnight). When the football game ended, I flipped over to TBS for the Red Sox-Angels playoff game, which the Angels won in 12 innings.

Brothers & Sisters

, which caught me up so that I could watch this week's. It should have recorded at home, but I was sure that it did not, as the system appeared to be down (it was not available for me to log in remotely, and Folding@Home work hadn't been done for the last week). I read some more of

Earth Abides

; I'd bought the book after hearing the radio adaptation on XM's Old Time Radio channel. I had breakfast, finishing the box of cereal I'd bought last week (one less thing to take back to Detroit). Taking a look out the window after the sun had come up, I'd seen a rabbit hanging around near my SUV. I'd seen that rabbit several times this week; it must live nearby. Pikes Peak was shrouded in clouds, but the skies were otherwise clear. I went to the front lobby to drop off two bills for mailing; on the way back, I noticed a tourist flyer for Dodge City in the information rack. I picked it up -- would there be time to go there tomorrow? After computing what it did to the trip mileage, I concluded there wouldn't be time to go there and do it justice.

My aunt and uncle are on the mailing list for Colorado Cyclist, a mail-order store based in Colorado Springs. My uncle suggested I check them out while I was here. Since today was my last opportunity to do so, I did. The store wasn't far from the Citadel mall; it was in a corporate park area. I went inside, and they had a few things, but not a lot when compared to their catalog, so I didn't spend much time there. I did go over to the mall, walk around for a bit and have lunch at Panda Express, and after that I went back to the hotel. Then I took a short hike on the Pikes Peak Greenway and the Cottonwood Creek trails -- a very short hike, less than an hour, but it got the blood circulating. Back to the hotel for more packing. Out to the Apple Store in the northern part of town -- saw some things I might be interested in getting, but didn't get any of them today. Back to the hotel for more packing, reading, guitar playing and what-not.

For supper, I decided to go to the Black-Eyed Pea, a restaurant chain in Texas and Colorado. I hadn't been to one all that often, but I felt like it tonight. And so I enjoyed a chicken fried steak dinner this evening. Afterwards, I drove back to the Garden of the Gods for one final visit this trip. The park was open until 11, although the visitor center had already closed. I entered from the south gate, passing by Balanced Rock and wending my way to the main loop, where I pulled over and walked to the central garden trail. The rocks looked a little different in the light of sunset than at the height of day. Then it was back in the SUV and back on the road to the hotel. I was listening to Sirius's Old Time Radio channel (programmed differently from XM's), which was playing episodes of

The Burns and Allen Show

(this one with Gregory Peck) and

The Lone Ranger

. Then it was time to wrap up most of the packing and take it easy for the rest of the night.




I woke up just before 5 this morning, checked my e-mail and took a shower. It was quite chilly in the room this morning, so I turned on the heat before taking that shower. I had breakfast around 6, then finished packing up. A little after 6:30, I got a luggage cart, loaded it up, and took it out to the SUV, where I loaded it up for the trip home. I had to adjust the securing of the bike to its rack in order to do so. By 6:50, I was ready to leave, but the front desk would not open until 7, so I sat in the lobby until it did open. It took a few minutes to check out, and then I walked out to the SUV. I took one last picture of Pikes Peak as the sun was beginning to rise, and I took pictures of birds with unusual black and white coloring that were out on the grounds. The rabbit that I'd seen around the hotel this past week was out, as well. By 7:15, I was on the road.

I didn't take I-25 out of town; I didn't need to. The closest way to get to US 24 was to take Woodmen Road across town. That was a blinding trip, as the sun was so low in the sky, I couldn't flip down the shade. Once I got to US 24, though, my trip went northeast, putting the sun mostly behind me. I was heading through the eastern plains of Colorado, and I could see Pikes Peak recede in the distance in the rearview mirror. I stopped for a restroom break and a chance to pick up some snacks at a truck stop in Limon. Then I picked up I-70 and stayed on it for the rest of the day, barring stops. XM, Sirius and iPod kept me occupied during the drive today, just as they had on the outbound trip.

For lunch, I stopped at the IHOP in Hays and had pancakes and bacon. It wasn't what I normally would have for lunch, but I was in the mood for IHOP. I had seen Waffle Houses in Colorado Springs but had not been to them, which was probably for the best. Onward I went across the state, making it to Topeka and picking up the Kansas Turnpike. I had supper at the turnpike service plaza closest to Topeka; it was a personal pan-type sausage pizza and a drink. It wasn't much, but it filled me up. Next came Kansas City, a city I'd never visited before. This was where my SUV had been built this past July (I did not drive past the assembly plant, though). It was getting dark by the time I arrived in town, and it was after dark when I crossed over into Missouri and the other Kansas City.

One of my goals for today was to make it past Kansas City so that I wouldn't have to contend with its rush hour tomorrow. I'd succeeded in doing so; now how much farther did I want to go? I saw a Hampton Inn around mile marker 20 and exited the freeway there. But before I went in, I got out my MacBook from the bag, logged in through my cell phone, and made a reservation for that inn. There weren't any other suitable hotels that close; the next closest in my direction of travel were in Columbia, and I thought that was too far for me to go (this was around 7:45 Central time, 11 1/2 hours after I started out this morning). I made the reservation and then checked in. Not long after I checked in, the presidential debate started. I paid it slight attention while I retrieved my e-mail, which proved to be difficult, as the hotel's wireless connection was real flaky. I had better results using my cell phone as an Internet connection.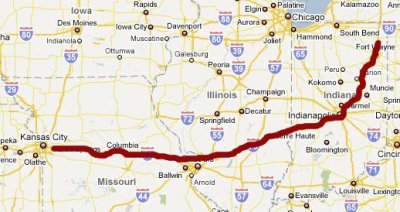 I woke up around 5:25 this morning. Once 6 o'clock rolled around, I went downstairs to the lobby for breakfast, having cereal, yogurt, a muffin and water. The hotel's wireless connection was still very flaky, making it difficult to do much web surfing. By 6:44, I was on the road. It was still dark, although it was becoming a bit lighter in the east. I had no problems with rush hour, for I was east of Kansas City heading out of town. I did have to contend with bright sunlight directly ahead, though, once the sun rose. I stopped a couple of times at truck stops for gas, snacks or restroom breaks. Oddly enough, at both times, I was stuck in traffic jams caused by flagmen.

Traffic got heavier as I approached St. Louis before noon. I did not plan to drive through town, for that would have been out of my way. No, I would take I-270 to the north and east, which would connect with I-70 again in Illinois. I saw a sign to take Highway 370 to 270 if I wanted to avoid St. Louis traffic, but I didn't do so. I didn't have a map handy, and I didn't know where this Highway 370 went, so I stayed on 70. As I drove, I was listening to Fox News with their reports on what Wall Street was doing. Then they switched to a speech by Democratic vice-presidential candidate Joseph Biden. I listened, and I reacted to it, but I'll not include my reactions here. So I'll just say that he was still speaking as I crossed the Mississippi into Illinois. I saw the Chain of Rocks bridge to the south as I crossed; I'd walked across that old relic of Route 66 before on previous trips.

I continued eastward on I-70, deciding to stop for lunch at Effingham. I wasn't sure where I wanted to eat, though I had several choices available. I almost ate at the Cracker Barrel, but then I noticed a Ryan's Steakhouse and decided to go there. No, I didn't have steak; I had their Mega Bar, a salad and meal buffet that made for a filling meal all on its own. There used to be a Ryan's in Westland until it turned into Fire Mountain (same ownership). I enjoyed the meal and enjoyed the break from driving. Then it was back onto the highway, continuing eastward on I-70. Within 45 minutes or so, I was crossing the Indiana border. I wasn't sure when I crossed into Eastern time, so I checked the time on my cell phone; it showed Eastern time, so I set the car clock one hour forward. With the time change came a realization that I might encounter Indianapolis's rush hour.

I had no real problems getting to Indianapolis. Now I planned to take the loop around town to get to I-69. I would have taken the west loop and north loop, but construction signs warned of long delays, so I went around the other way, the south and east loops -- or to put it in DC terms, via the outer loop as opposed to the inner loop. The drive around Indy went all right, although I started feeling more and more like a bathroom break would be advisable. I had passed up some opportunities on the south side of Indy to take a break because I was listening to an interesting program on XM's Old Time Radio channel, "Behind the Mike", a program about radio behind the scenes, circa 1940. As I turned onto I-69, traffic slowed down. I saw a helicopter hovering ahead, and I got concerned that there was an accident up ahead. But there wasn't, or if there had been, it was all clear, for traffic got up to speed in short order. I found a gas station off of Highway 37, where I filled my gas tank and emptied my own, so to speak. Then it was northeastward on I-69.

Now I faced a decision: did I want to stop somewhere for the night, or did I want to press on to home? I felt like I could go on for longer, but I decided that I would stop. It would be getting dark soon, and I did want to watch

Pushing Daisies

this week. I couldn't count on it being recorded at home due to the problems I'd noted earlier. So I stopped at a rest area, got out my laptop, and looked for hotels in Fort Wayne or northward. I decided on a Holiday Inn Express in Auburn, even more so because I had enough frequent stayer points for a free night there.

On the way to the hotel, I stopped at an Arby's for takeout, planning to eat it in my room. I got checked in and set up to record

Pushing Daisies

in HD. Setting it up was not a trivial process: first, I had to connect everything, then I had to scan for channels. Then I had to retrieve program information for those channels. As it was, the program had started already, so I started to watch it in regular definition on the hotel TV, switching over to the laptop's HD when it was ready to go. I had my supper, which wasn't as good as I thought it would be. Then I received a phone call, so I started to record the show manually. And it worked! Wish I could say the same for the remote for the TV -- well, it worked, just not very well. There were far too many times I had to repeat a key press to get the TV to respond.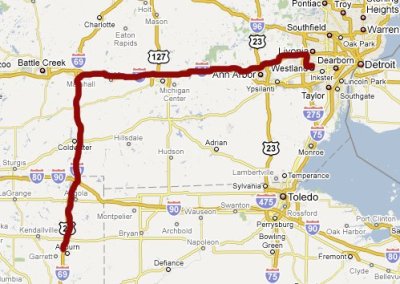 I woke up once in the middle of the night to use the restroom, then didn't wake up again until 6. That was the soundest night of sleep on my trip for a while, for some reason. Did it have to do with being on Eastern time again? I don't know. I turned on the TV, put on the Weather Channel, and saw that sunrise wasn't till 7:45. I looked out the window and saw that it was foggy. There was no need to hurry to hit the road, so I enjoyed my breakfast down in the lobby rather leisurely. However, I didn't feel like staying around town until the Auburn Cord Duesenburg museum opened at 9; I did want to get home. So I left around 7:40 and headed north on I-69. WJR was booming in this morning, so I listened to that for a while.

The drive into Michigan was uneventful, both along I-69 and I-94. I didn't encounter much construction, so I made good progress. When I turned onto M-14, I considered myself in the home stretch. It wouldn't be long before I was home. Nothing seemed unusual to me on the way home, except for the sharply lower gas prices. And so, at around 10:40 in the morning, I pulled into my garage. I was home.

As soon as I made it home, the first thing I did was hit the restroom. The second was to check on my iMac, the one that had stopped on me and wasn't visible remotely any more. I noticed that the clocks in the kitchen showed signs of power failure. Checking the iMac, I saw it was completely off, as opposed to being asleep; it shouldn't have been either. I turned it on, and it came up normally. There were signs of TV recordings cut off, which told me when it had happened. Apparently, the power went out the first Monday of the trip, when I arrived in Colorado. The iMac was not configured to restart when the power came back on; I configured it so that it would do so in the future. Then I took the bike off of the rack, unloaded the SUV, and removed the bike rack. Later in the day, the backlog of mail would arrive, and life would gradually return to normal.

THE END



©2008 R. W. Reini. All rights reserved.

Written by Roger Reini
RevisedOctober 13, 2008