Travelogue: Bike the Drive, May 2012

By Roger W. Reini




This is the story of a short trip over Memorial Day weekend in 2012, a trip to Chicago to participate in Bike The Drive. I had participated in that event three times, in 2008, 2009 and 2010, but I'd skipped last year.

Friday May 25

I took today off as a vacation day, mainly because I had not taken two days off for Dayton Hamvention and related activities this year (there was a conflicting event that I attended, and that didn't require that I take any vacation). Today wasn't entirely work-free, though; I checked my e-mail twice, and I stayed alert for a message to approve some drawings -- a message that never came, by the way. While I waited, I packed the car and wrote out some bills. That was a painful experience. The last bill went out as the mail lady was here to pick up and deliver the mail. Waiting for me was my license plate tag for 2012; I made sure to apply it right away.

Around 12:30, I was ready to hit the road. Once I left the house, I had to visit the nearest credit union office to deposit a check and to pull some money for the trip. Once that was done, I was able to set off. Now I had made reservations for Saturday and Sunday in Chicago (the suburb of Skokie, to be precise), for I might have had to postpone my vacation day and leave Saturday morning. But I did take the vacation day, and I could head out. I'd stop somewhere en route (more on where later).

This wasn't going to be a speedy drive across Michigan. No, I wanted to drive across on old Michigan Avenue, old US 12, meaning the highway that roughly parallels I-94, not the current US-12. I took Ford Road to Plymouth Road, which took me into Ann Arbor, and Jackson Road, which took me out. I followed the old road through Chelsea, Grass Lake and Jackson, through Albion and Marshall. I hadn't had lunch, and so I stopped at a McDonald's in Marshall. It was good to take a break.

The drive across the state was going a bit slower than anticipated. I figured I would do well to get on the freeway and avoid Battle Creek and Kalamazoo, both places where the route of Michigan Avenue becomes a little indeterminate. And so I took I-94 from west of Marshall to just west of Kalamazoo. Here, I took US 131 north and got back on to Stadium Drive, which was old Michigan Avenue. As I drove west, I saw a sign welcoming me to Texas Charter Township. I thought about taking a picture of it, but I'd passed it by. But I reconsidered my decision and doubled back to the sign, after which I took that picture.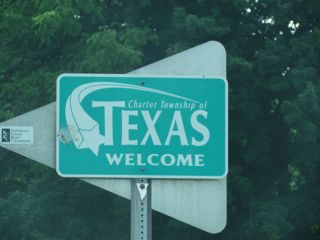 As I left Kalamazoo County, the roadway name became the Red Arrow Highway, its name during the auto trail era before the US Highway system was established. There was a Red Arrow Motel in Dixboro near Ann Arbor, and there were a number of Red Arrow references along the road as I went through Paw Paw, Coloma and Watervliet. Eventually, I was passing through Benton Harbor; traffic was busy due to the US Senior PGA Championship taking place in town. I'd stay on the Red Arrow Highway into Indiana, through Michigan City and to a point where I could pick up US 20 into Portage.

Portage was where I would be staying tonight. I'd be staying at the Days Inn, close to I-94 and the Indiana Toll Road. The check-in process went reasonably well, and soon I was in room 124 for the night. Contrary to what the room number suggests, room 124 was on the second floor, not the first. It had a view of a courtyard, the picnic courtyard, but nobody was picnicking today. It was actually a bit chilly for that.

Now what would I do for supper? My lunch was late, so my supper would be late as well. It would be easiest to walk over to Denny's, but I really wasn't in the mood for Denny's. Flipping through the literature in the room, I came across an ad for El Cantarinto, a Mexican restaurant in downtown Portage. That sounded appealing to me, so I noted the directions and set off there. The restaurant was in an old Pizza Hut building and seemed to be a bit busy. But parking lot appearances were deceiving, as it wasn't super busy at all. I was seated right away. Of the dishes on the menu this evening, the chicken fajitas looked most appealing. In fact, they were quite good. I'd go back to that restaurant if I ever found myself staying in Portage again. I stopped for a bottle of pop and a snack at a gas station across the street from the hotel; the gas station was Shell, but the convenience store was named "Luke" (huh?). Then it was back to the hotel to rest up and plan tomorrow's ride. As I went back to the room, I could hear some rather powerful and intense gospel music coming from the hotel's meeting rooms; a local church was having a service this evening. I couldn't hear it from my room, though, so it didn't interfere with my rest.

Top

Saturday May 26

My sleep wasn't the greatest. I'd not brought the CPAP machine in from the car, and I think that not using it hindered my sleep. So I didn't feel all that relaxed when I woke up for good for the day. I did try the breakfast bar in one of the meeting rooms; it was on the order of breakfast bars at other hotels, perhaps a bit smaller, but it was all right. I had a danish and a dish of corn flakes or frosted flakes, I'm not sure which.

The hotel was just outside of what I consider the boundaries of greater Chicago, located east of the intersection of I-94 and the Indiana Toll Road. That meant that shortly after I checked out and left the hotel, I was unofficially in Chicago. Officially, I had a good ways to go yet. Traffic on 80-94 wasn't bad on this Saturday morning, nor was it on the Bishop Ford Freeway or the Dan Ryan Expressway. I didn't have any problems heading toward downtown at all. I saw the signs for gas stations; prices in Illinois were well over the $4 a gallon mark, much higher than in Michigan and Indiana. Was I glad I'd refilled in southwestern Michigan!

I don't think there were any problems on the Kennedy Expressway heading out of town, none that I recall, at least. As I headed northward, I saw a billboard from Wyoming Tourism promoting Devil's Tower as being seven Water Towers high. If all went well, I'd be seeing Devil's Tower for myself the week of July 4. I-94 turned off onto the Edens Expressway, and that was traffic-jam-free all the way to Dempster and beyond. But I turned off onto Dempster to go to the Linne Woods Forest Preserve, my morning destination. I had parked there last year for a bike ride on the North Shore Trail, and today I would do so again for a ride on the same trail, this time in the opposite direction.

When I arrived, I had to visit the restroom quite badly, so my first destination was the restroom building. Was it locked? No! Hurray! That business concluded, I parked a bit closer to the trail and got ready to ride. I unlocked the bike from the rack, then removed it from the rack. I used bungee cords to attach my pannier bag to the back of my seat, placed my water bottle in its holder, unzipped the pants legs from my pants, thereby turning them into shorts, applied sunscreen, put on my head covering and my helmet, and then I put my camera bag over my neck. The car was locked, and I got ready to ride.

I pedaled down to the sidewalk, which would give me good access to the trail, and then I took the North Shore Trail heading north. Soon, I was in a wooded area, criss-crossing occasionally with a horse trail. The sites were familiar here, for I had been on this part of the trail up to Old Orchard Road. As I got to Golf Road, however, the skies ahead looked a bit threatening, but I thought little of it. When I reached Old Orchard Road, I thought I saw a flash. Lightning? I didn't hear any thunder, so I continued northward. When I got to Glenview Road, though, I saw a flash AND heard thunder. That was the signal to turn around and head back to the car, head back to shelter. My ride for the day would be cut short, it seems. I heard a few more cracks of thunder, and I kept up a steady pace, hoping and praying I'd make it back before the rains came. I did.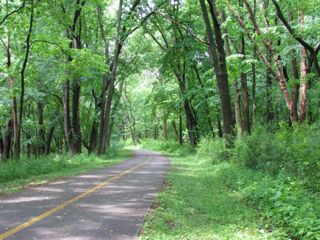 After loading the trike on its rack and preparing to leave, I decided to check the local weather radar on my iPad. What it showed was promising: the only big storm in the area was the one now north of me, and it was heading east, with nothing off to the west. Perhaps I was too hasty to cut short the ride. Based on that knowledge, I took the trike off of the rack again and resumed the ride. Before pedaling in earnest, I tried to draw water from a hand pump in the forest preserve, but I had no luck in doing so.

Soon I was back up to Glenview again, but this time, I continued onward. There were some puddles in the trail, and my arms and hands got wet from the spray, but not my back because this was a trike and my back was not in the line of spray. As I pedaled, I rode up and down one bridge over a major highway, and eventually I could hear a constant roar of traffic from the Edens Expressway. The trail crossed under the expressway, then paralleled it on the other side. Soon, it ended at the Skokie Lagoons, merging into another trail that made a loop around the lagoons. I took that trail in a counter-clockwise direction. And soon, I encountered a deer in the woods alongside the trail. We looked at each other briefly, but before I could get my camera out, he or she had walked away. Rats!

I had a few other photo opportunities, mainly with wildflowers and the landscape of the lagoons, but I did see a large turtle alongside the trail. He wasn't moving anywhere, and so I had plenty of time to get out my camera and get camera-closer but real-world far away, thanks to the zoom lens. I pedaled onward, and at one point I thought I saw a family with a very large dog. No, it wasn't a dog, it was another deer bounding away! But I was too slow with the camera again. No picture. I'd pedaled to the south boundary of the Chicago Botanic Garden, but I didn't enter. No, I finished the loop around the lagoons and took the trail back to my starting point. Thanks to the aborted trip, I pedaled 28.29 miles.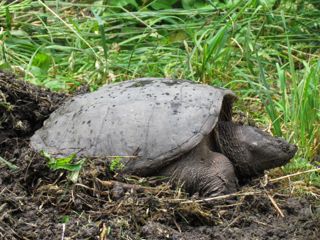 Now I was hungry. What to do for lunch? I thought about Sweet Tomatoes, the salad buffet restaurant. Was there one close by? The iPad said yes, up in Glenview or Northbrook. I drove up Waukegan Avenue to reach the restaurant. When I got there, I recognized it from last July. I had forgotten about this one, but once I saw it, I recognized it. The cuisine was the same, which was all right by me. The output of the soda fountain for caffeine-free Diet Coke looked very weak, but it tasted fine to me. So did the soups and chili, the muffins and the salads. After a good ride, that was a good meal. Afterwards, I went over to the nearby REI and found an extension handle for the camera that could be used to take self-portraits. Then it was off to the hotel.

For the next two nights, I'd be staying at the Hampton Inn on Old Orchard, across the expressway from the shopping center of the same name. It was a fairly large hotel, rising 8 stories in height. I would be in room 535 on the fifth floor these next two nights. My room had a small refrigerator and a microwave. After unpacking, I turned the air conditioning down to 69 to remove some stuffiness from the room, and then I lay down on the bed for some rest. Did I actually nap? I'm not sure, but I definitely rested. When I got up, a couple of hours had passed, and it was closer to suppertime. Did I want to go out tonight? There was a Bakers Square nearby. Or maybe I could just pick something up from the store; a Jewel Osco store was close by, too. In fact, this was the same neighborhood where I had stayed last July.

When it came down to it, I wasn't terribly hungry for another restaurant visit, so when I went to the store, I picked up two Lunchables along with a 12-pack of pop and some snacks. That would be my supper this evening, and that was all right. I'd had a good, late lunch.

Top

Sunday May 27

Unlike last night, I did bring in the CPAP machine this evening, and I made sure I used it. I think I slept better than last night, although I did have to get up pretty early this morning. Today was the day for Bike The Drive, the one chance all year bicyclists have to ride on Lake Shore Drive, as opposed to along it on the Lakefront Trail. I woke up around 4:30 Central time (5:30 Eastern) and made my usual morning e-mail and web checks. I wouldn't be able to eat the breakfast provided by the hotel this morning; I'd be out before the lobby restaurant opened.

I left the hotel around 5:10 in the morning. Lake Shore Drive was now officially closed to motorized traffic, except for portions of a single lane in each way to reach 18th Street and the Museum District, as well as Soldier Field. I'd need that open lane, for I had pre-paid for parking at Soldier Field at a substantial savings over what I would have paid at the Grant Park garage, which is where I've parked in the past. But I'm jumping ahead slightly. I traveled southward along the Edens, enjoying the light traffic early on a Sunday morning. There were a couple of other cars with bikes on racks; I have a feeling they were heading downtown to Bike the Drive. When the Edens merged with the Kennedy, I saw a few more vehicles with bikes. As I continued southward on the Ryan to reach the Stevenson, I didn't see any more vehicles with bikes; they must have been parking elsewhere in the Loop or nearby. I could turn onto the Stevenson heading east, and while I couldn't exit onto southbound Lake Shore Drive (closed for the event, remember; a single police car blocked the exit), I could take the northbound exit, and that would take me to 18th Street, which I then took to reach the Soldier Field North Garage.

There were a lot of riders in the garage with me in this early part of the ride. I got my bike off the rack and prepped it for the ride. I took the green parking stub I received on entry but not the pre-paid permit as I pedaled in the garage, looking for the exit. I found the pedestrian exit, which contained a restroom and payment stations. Should I have brought the pre-paid permit with me? I decided that I should have, and so I pedaled back to the car to retrieve it, then pedaled back to the exit. I parked and used the men's room before leaving the garage. My first sight was a wall of honor with symbols of the nation's military; this was Soldier Field, after all. The sidewalk led to the Field Museum and also to the street; all the riders seemed to be pedaling this way. There was a barricade across the street; once I crossed that, I and the other riders were now on Lake Shore Drive, a bit south of the official entry point. Perhaps we shouldn't have entered there, but we did, and we were now on our way.

I was wearing my rider number in two places (on my shirt and on my helmet) and was wearing my wristband, so I was official and legal. I was headed northbound, and I continued northbound past Grant Park and the fountain, past the marinas and started up on the curve for the bridge over the Chicago River. I stopped midway to take some pictures; when I rolled down, I hit over 23 miles an hour. The left lane was occupied by the speediest riders, who no doubt were achieving 23 mph with pedal power. That would have been tough for me! The road had a number of bumps in it as I headed northward, up and down multiple overpasses. The high rises on the left and the shoreline on the right made for a very scenic ride. There were the occasional photographers, official and unofficial, and there were ride officials and volunteers sprinkled along the route. At Fullerton Avenue, the riders were forced into two lanes for a wristband check; anyone without a wristband was considered to not be a legitimate rider and was forced to leave the road.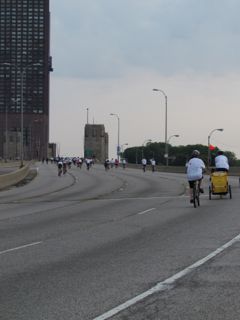 As I passed the exit for Irving Park Avenue, I saw a road sign blunder. The street was an Illinois state highway, but the sign at the exit was for US Highway 19, which was nowhere near Chicago. Somebody goofed! Perhaps it was the same person who put up a US 59 sign in Milford, Michigan, when it should have been M-59.

At Bryn Mawr, riders could go straight and make a U-turn to immediately start riding south, or they could exit and visit the rest area. I chose to exit. It was a very crowded rest area, and it was difficult for me to navigate in my trike. I nibbled on cookies, ate a banana, and had a Clif bar as my snack/breakfast; I filled my water bottle with water; and I visited the restroom. Now I was ready to resume the ride. I adjusted my camera bag so that it was at my right side, which made it fairly comfortable to ride (no bag getting squished into my stomach/diaphragm) but also made it hard to see at a glance what gear I was in. The ups and downs of the roadway made it necessary to shift gears frequently. I pulled over once or twice to take some pictures, for I could now see downtown straight ahead, and that made for great photo opportunities.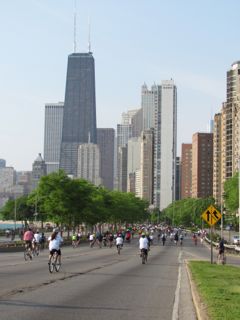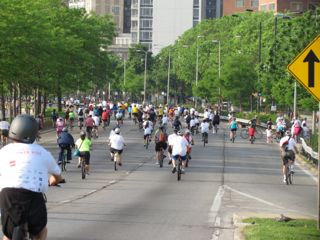 Pedaling up the Chicago River bridge was a chore, even with being in a low gear. Some riders walked their bikes up the bridge. To me, it wasn't as steep as the Ambassador Bridge, which really WAS a chore to pedal. Soon, I was over the top and heading down. I wonder what the ride would have been like had the old S-curve bridge still been in place? There'd be no way to know. Now I was riding through the launch area, stopping at the rest area for some more snacks and a water fill-up. I thought about using the restroom, but I didn't really have to. Now I set off again, this time for the southbound ride. This was a bit flatter, but it was scenic in its own way, passing the museums, Soldier Field, McCormick Place, etc.; the lakeshore was still off on the left.

There was another checkpoint at Oakwood; I had no problems getting through it. Near the checkpoint, though, I saw a rider who had crashed and was receiving treatment. It didn't appear to be terribly serious, but it certainly could not have been fun for the downed rider. Three years ago, my uncle crashed elsewhere on the course, cracking a rib but not realizing it until several days later.

The south turnaround was at 57th Street, right in front of the Museum of Science and Industry. To me, it seemed much busier than the north rest stop; there was actually a line for the porta-potties here. Water was on the hill, and food was down on the roadway. I partook of both and rested for a bit before setting off on the last leg of the trip. By now, the sun was out, and it was getting warm. I'd re-applied sunscreen in a few places, but what I really wanted was shade. As I pedaled northward, I saw and heard a group of men running, calling out a military cadence. When I got close enough, I saw that they were wearing Chicago Fire Department t-shirts, so I presume they were either firefighters or trainees. Either way, they were getting thumbs up from the riders as they rode past, and they got a thumb up from me, too. I couldn't give them two thumbs up, for then I wouldn't be holding onto my handlebars, and the trike isn't that stable when being ridden no-hands.

The ride continued. I know the end was in sight, but my energy was flagging a bit. Here came Soldier Field again; I'd now unofficially completed the ride, but I still had a mile or so to go to reach the official endpoint. Another pass past Grant Park, a turn, and there I was, back at the rest area. I still didn't need to use the restroom; also, I was a little concerned about the safety of my trike. I filled my water bottle again and got another snack before heading to the post-ride festival. I could hear a soul group on the stage performing songs from the '70s and '80s as I pedaled around the field. I saw the booths that had been there in the past (REI, Jamba Juice, Clif Bars, the breakfast booth, etc.). The big NBC peacock from NBC5 was there in the northeast corner, as it had been in the past. I pedaled over to a shaded area in the northeast corner of the park. I didn't need a chair; my trike had its own, and that was very convenient. Here, I could cool down and do not much of anything. It had gotten warm enough and sunny enough that I wanted to stay in the shade for a while. I took my helmet off to help cool down some more. While I cooled off, I took some pictures of the festival, which would probably turn out similarly to the ones I'd taken in previous years.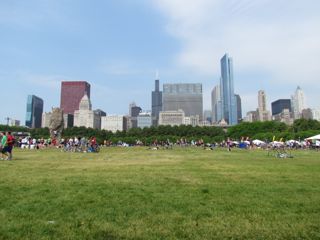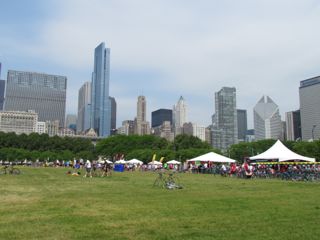 I had one more goal today for riding. Since I was in the area, I wanted to ride on Northerly Island, the former home of Meigs Field, the small airport located right downtown and made famous in Microsoft Flight Simulator. The post-ride festival was still going on, and riders were still straggling in. I crossed Lake Shore Drive and got on the Lakefront Trail, taking it down to the Museum District. It was necessary to get up on the street level to ride to the island, which wasn't officially an island because it was tied to the mainland at the Adler Planetarium. Some maneuvering around got me to the island and its path. There was no shade on the island, so it wasn't terribly crowded. It was a nice pedal around, perhaps 1.6 miles long. I saw the old control tower for Meigs Field, and I could see downtown in the distance -- very picturesque. Once around, and that was it for me. It was time to leave.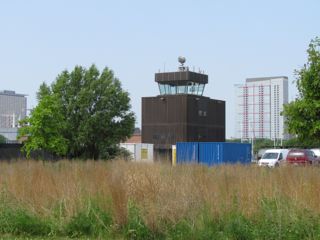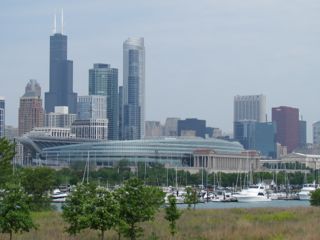 Back at the parking garage, I couldn't figure out how to use the pre-paid permit with these pay machines. Others were having the same problem; I decided to take it to the exit gate and see what happened. And so I pedaled into the garage, enjoying the slightly cooler temperatures. I loaded the bike onto the rack, noting the mileage: 37.92 miles. When I started the car and headed to the exit, I gave the green ticket and the pre-paid parking permit to the attendant; that was the proper thing to do, no need to bother with the pay machine at all. And now I was ready to head out. But where to go? I didn't feel like going anyplace else except back to the area of the hotel, so I got onto Lake Shore Drive, which was now open to car traffic again, and took the Stevenson to the Ryan and then the Kennedy and Edens. Outbound traffic was in great shape on the Kennedy; not so the inbound traffic! I was enjoying the air conditioning and the opening moments of the Indy 500.

It was lunchtime, and I was hungry. Having passed on the opportunity to go to Bakers Square last night, I would not pass today. It looked busy from the parking lot, but it really wasn't that busy. I brought my MacBook Pro inside to update my Facebook status, telling of the ride, and checking e-mail, letting relatives know I'd completed the ride. I was getting a lot of comments from friends about the ride. I also saw some pictures from the choral performance taking place at the Baha'i House of Worship. Part of me would have wanted to go there, but the proper attire for Bike the Drive and the proper attire for a House of Worship were mutually exclusive. Besides, I was sweaty and dirty. I ordered a chicken tender meal and enjoyed it. Then I went over to the Barnes & Noble at Old Orchard to get a Sunday New York Times. Of course, I couldn't park in front of the B&N; I had to go down a ways to the parking garage before I could find a parking spot. I was not happy about that. On my way to the bookstore, I passed by Wilde and Greene; I remembered that name from last year's visit, for they were conducting a hiring fair at the Doubletree hotel I was staying at. I'd pay them a visit on the return trip. At the bookstore, I ended up just getting the paper. I visited the Apple Store briefly but didn't get anything, and then I decided I was getting tired and really needed to rest. I popped into the Wilde and Greene as I walked past; it consisted of a restaurant and a market, with the setup reminding me of Movenpick Marché or Richtree Markets in Canada (they are affiliated with Richtree, in fact). But all I wanted today was something to drink, so I got a can of La Croix flavored sparkling water. Boy, that tasted good! Then it was back to the hotel to cool down and shower.

Back in my room, I watched the tail end of the Indy 500 as Dario Franchitti won for the third time, putting him among the elite drivers at the Speedway. I download my pictures from this weekend, identified them, and posted some of them to Facebook. I took a shower and got out of my sweaty clothes (not in that order!). I rested and read for a while, at least until the Coca-Cola 600 came on. I was sore, and I needed to rest.

After the ride, I wasn't really in the mood to go anywhere for supper. But I didn't have to; there was a Ruby Tuesday connected to the hotel, something rather unusual for Hampton Inns. I could be in the mood for Ruby Tuesday, and I was. I would have an Asiago sirloin steak with rice pilaf and the salad bar, and those made for a pretty good meal. Then it was back to the room for the evening, continuing with the race and with other things. I started to pack, as well, not that I had that much packing to do. And lastly, to bed.

Top

Monday May 28

My CPAP machine has the capability of humidifying the air it blows, but not when you've left the humidity tank at home (deliberately, to avoid its complications). I woke up with a very dry mouth in the middle of the night and opened a can of pop to drink. It was caffeine-free, yet I couldn't immediately go back to sleep, and so I stayed up to work on this guide and to check e-mail. Later, I was able to get a bit more sleep.

This morning, I could partake of the breakfast downstairs in the lobby. It was pretty busy when I went down around 7 AM. I had scrambled eggs that were liberally sprinkled with parsley (or something green), a turkey sausage patty, some home fries, a danish, and a raspberry yogurt. The meal was all right -- not 5-star cuisine, but it was all right.

I wanted to get an early start, and so I checked out and left before 8 (9 Eastern). Thanks to today being a holiday, I did not encounter any traffic problems on the Edens, Kennedy or Ryan Expressways, nor did I have any problems on 80-94 in Indiana. On the radio, I had on the RadioClassics channel, and it was airing two specials from the late Norwin Corwin: "On A Note of Triumph", celebrating V-E Day, and "Between Americans", which originally aired on the day of the attack on Pearl Harbor. Very apt programming for Memorial Day, obviously.

The drive through Indiana was uneventful, and I stopped at the Michigan rest area to use the restroom. A little farther down the freeway, I stopped for gas at a truck stop in Sawyer. The drive through the rest of Michigan proved uneventful as well, and by 1:30, I was near Ann Arbor. I estimated I'd be in Wayne County by 2; I was, by 1:45. Then I estimated I'd be at I-275 by 2; I didn't quite make it, but the freeway was in sight from Ford Road east of Lilley. And 11 minutes later, I was pulling into the garage at home. Time to unload the trike and the SUV; time to unpack; time to watch last night's Mad Men; time to rest from my vacation.

Top


THE END

Top


©2012 R. W. Reini. All rights reserved.

Written by Roger Reini
Revised June 1, 2012