Go Home!
Episode Guides and Reviews
Series
The Tracey Ullman Show (Fox)
Tracey Takes On (HBO)
Visible Panty Lines (Oxygen)
Three Of A Kind (BBC)
Girls On Top (ITV)
Commentaries on Three Of A Kind and Girls On Top
Specials
Tracey Ullman: A Class Act (ITV)
Tracey Ullman Takes On New York (HBO) (draft)

Other Reviews
Tracey Takes On - the book
Tracey Takes On - the first two videos
TTO Fern & Kay video
The Big Love (play from 1991)
Video Archive
What I have
What I want
Miscellaneous
including Musings, the guestbook, character tallies, etc.
Other Sites
Official
Tracey Takes On (her own) (inactive)
HBO's TTO site (inactive)
Purple Skirt
Unofficial
Andrew Mitchell's Tracey Ullman "Go Home" Page
Yahoo Group: Totally Tracey Ullman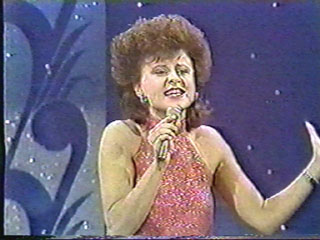 "It was twenty years ago today..."
February 2004 has a number of significant anniversaries related to music and entertainment. It's the 45th anniversary of The Day The Music Died (the deaths of Buddy Holly, Richie Valens and the Big Bopper) -- the 40th anniversary of the Beatles' first appearance on The Ed Sullivan Show -- and the 20th anniversary of Tracey Ullman's first appearances on American TV.
Back in February 1984, Tracey was already very well known in her native Britain. She'd had a couple of successful TV series (Three Of A Kind and A Kick Up The Eighties), a going stage career and three Top 10 singles ("Breakaway", "They Don't Know" and "Move Over Darling"). And now it was time to break "They Don't Know" in America. So she came over for two major appearances, one on MTV and one on the Tonight Show.
She was a guest VJ on MTV for eight days, filling in for J. J. Jackson and doing whatever VJ's do. And on the Tonight Show, she sang "Move Over Darling" and "They Don't Know" to an appreciative audience in the theater and over the airwaves (you can read about it here). She also taped an appearance on Solid Gold that would air in March. And thus began the American phase of Tracey's career, a phase that continues to this day.
Personal Recollections
I can say and do say that I have been a fan of Tracey's since 1984. Unfortunately, I cannot say that I've been a fan since February 1984. Back in 1984, I was a junior at Michigan State. The dorms did not have cable back then, so there was no way I could have seen her on MTV. And I believe her Tonight Show appearance was on a Friday night. I wasn't much of a party person, but I generally did not spend Friday nights watching the Tonight Show. It wasn't until April 1985 that I saw a repeat of that episode (it repeated on a Monday night, and I knew to be on the alert for her).
No, my first exposure to Tracey was in March -- March 24, to be exact. It was spring break at Michigan State, and I was staying with my aunt and uncle in Dearborn Heights. Earlier that week, I'd taken the train to Chicago and spent a night there. And now, it was Saturday, and I'd be heading back to East Lansing the next day to get ready for spring term. Star Trek -- the original; the Next Generation had not yet come to pass -- aired at 6 o'clock that night on TV 50, and Solid Gold came on afterwards. Around the halfway point in the program, host Marilyn McCoo introduced Tracey and "They Don't Know". I don't remember my exact thoughts when I first saw her, but after seeing the clip again, I would have probably thought something like "Hm, she's kinda cute" and "That's a catchy song." By the time the song ended, I was intrigued. I resolved to look for the song when I got back up to State. I found the cassette of You Broke My Heart in 17 Places at the State Discount store in Meridian Mall in Okemos. I put it in my tape player, and I was hooked. And that continues to this day.
Page written by Roger Reini
©2004 R. W. Reini
Last modified: April 20, 2008