When I was young, I used to ride my bike to elementary school and then rode around the neighborhood and eventually all over League City. In college, I used several bikes to get around campus and around Lansing all year long. But when I started working and got a car, the bike riding stopped for several years. In 2006, though, I got back into the riding habit thanks to my aunt and uncle, who belong to the Slow Spokes of Macomb (so do I, even though I live in western Wayne County).

Here's my regular bike, a Trek Navigator 200 I got in 2006. Yes, it's in a hotel room; I brought it in to keep it safe the night before the Bike the Drive ride in 2008. The unusual seat is aftermarket; I got because the regular seat made me numb in sensitive areas of the anatomy.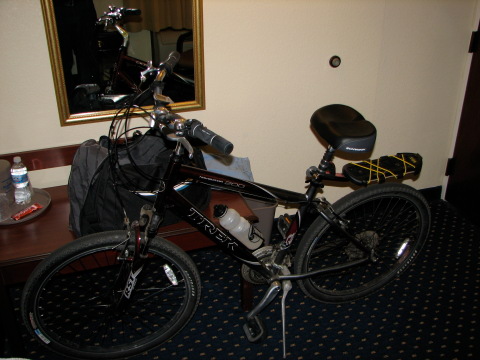 And here is my recumbent trike, a Sun EZ-3 USX acquired in 2007. I took this at Lake Erie Metropark.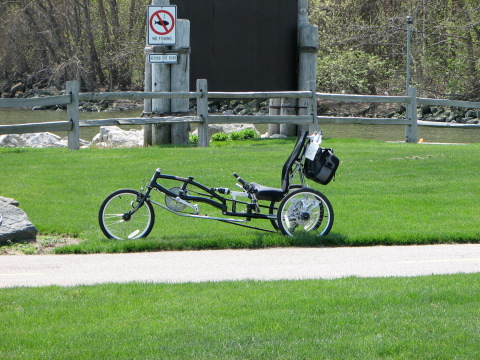 Here are some of the rides I have made, some of which I repeat fairly regularly:

Metroparks -- Willow, Oakwoods, Lower Huron frequently; Kensington, Lake Erie and Hudson Mills less frequently; Stoney Creek and Metro Beach, occasionally
Hines Drive, especially the portion between Ann Arbor Trail and Outer Drive
A back streets route from my house in Westland to Dearborn, then along the Rouge Gateway Trail up to Hines Drive and then back home
The I-275 Bikeway
Clinton River Trail in Oakland County
Macomb Orchard Trail in Macomb County
Part of the Paint Creek Trail in Oakland County
Huron Valley Trail and the South Lyon Trail in Oakland County
Jefferson Avenue and Lakeshore Drive in the Grosse Pointes and St. Clair Shores
Rural Essex County, Ontario, to Amherstburg
Along the St. Clair River from Algonac to Marine City, across the river into Ontario, down the river to Walpole Island, and back to Algonac
The Metro Grand Spring Tour in southern Wayne County
The Farm Lake Tour (30-mile route) in western Wayne and eastern Washtenaw counties
The Falling Water Trail southwest of Jackson
In 2009, I rode across the Ambassador Bridge as part of the special Bike The Bridge event. Hopefully, it will become a regular event.
The riverfront trail in Windsor, Ontario
The streets of Old Sandwich Towne in Windsor, as well as other neighborhood streets
I've never pedaled the PEAC ride, but that's because I've supported it via my amateur radio activities.
And here are some rides outside of metro Detroit that I've done:
Lake Shore Drive in Chicago and the Busse Woods Forest Preserve in suburban Cook County
Along the Galveston seawall and through the city of Galveston
The Pike2Bike, an abandoned section of the Pennsylvania Turnpike near Breezewood, PA
Trails near Washington, DC: the C&O Canal, the Mount Vernon Trail, and the Washington & Old Dominion Trail
A section of the Lincoln Highway in Cheyenne, Wyoming
A trail in Colorado Springs
E-mail: Contact Page
Last updated September 8, 2009